I may get
paid
for ads or purchases made through links in this post.
Heading to Utah?  Check out these Zion National Park Hikes to help plan your trip!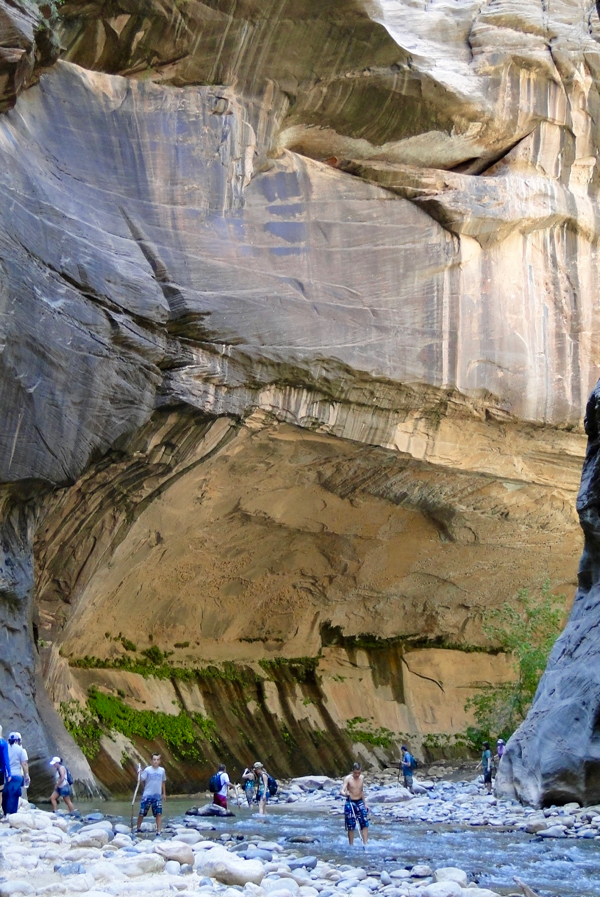 Planning a trip to Zion National Park?
With its colorful cliff walls, narrow slot canyons, towering waterfalls, and miles of scenic hiking trails, Zion has so much to offer!
However, because there is so much to do, it can be a bit tricky trying to narrow it all down.  Don't worry, though: these Zion National Park Hikes will show you the most scenic trails + tips on when to visit and what to bring to Zion!
Are you ready to explore Zion National Park?  Let's get started…
Related:
Zion National Park Hikes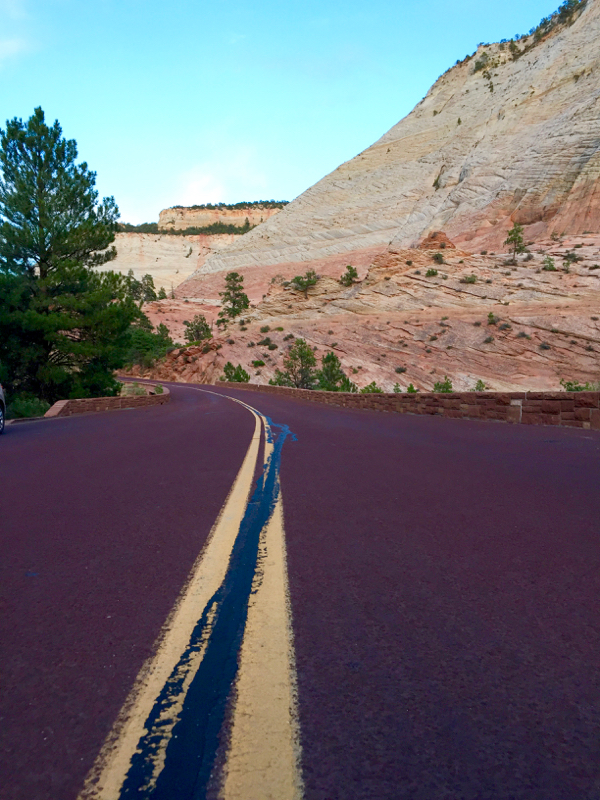 Best Hikes at Zion National Park:
Angel's Landing (5.4 Miles Roundtrip)
Angel's Landing is by far the most epic and thrilling of all hikes in Zion!
You start by gradually working your way up the red canyon walls, before entering a mini canyon, up high.  After that canyon, you hike up "Walter's Wiggles", a series of scenic switchbacks with a rather funny name.  Then, after ascending Walter's Wiggles, you come out onto a narrow ridge, with long drop-offs on both sides and a chain running down the middle for support.  Crossing the ridge is the fun part of Angel's Landing!
After the ridge, you finally reach the top of Angel's Landing!  The views from there are absolutely breathtaking… it's the kind of place you want to hang around for awhile and enjoy the scenery!
Note: to do this hike, you'll need to hop off the shuttle at Shuttle Stop 6 (The Grotto)
Hiking up the red cliff walls.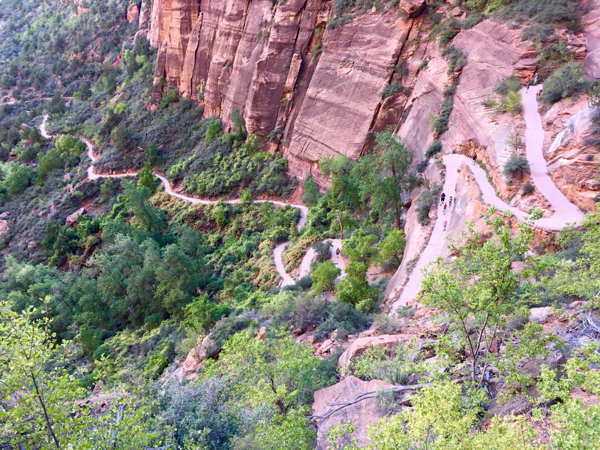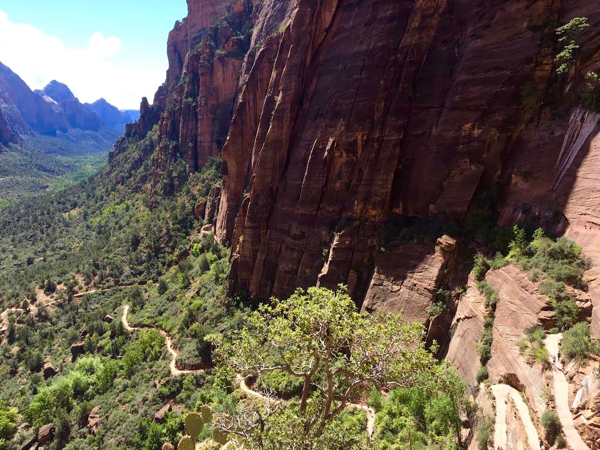 Ascending Walter's Wiggles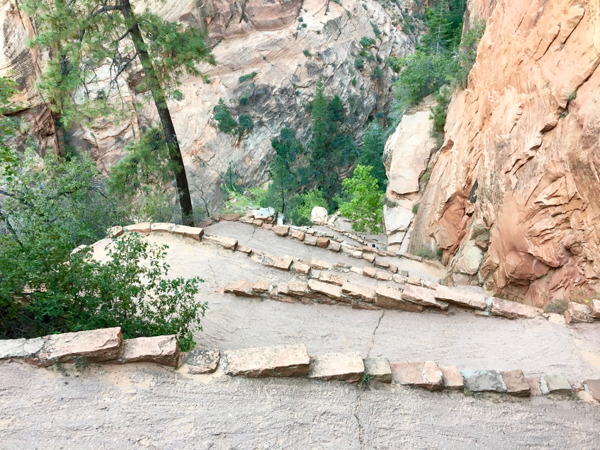 The narrow ridge line with the chain!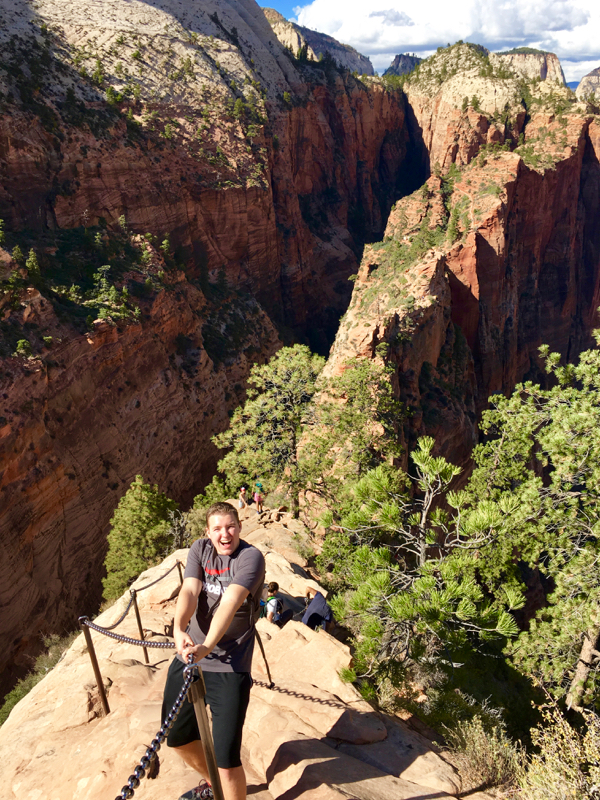 The view from the ridge line.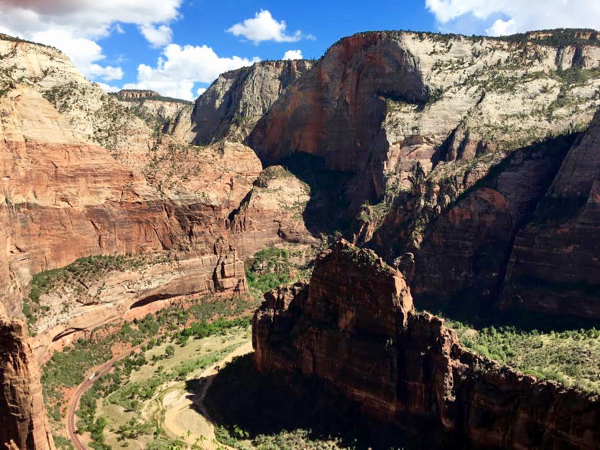 The view from the top of Angel's Landing!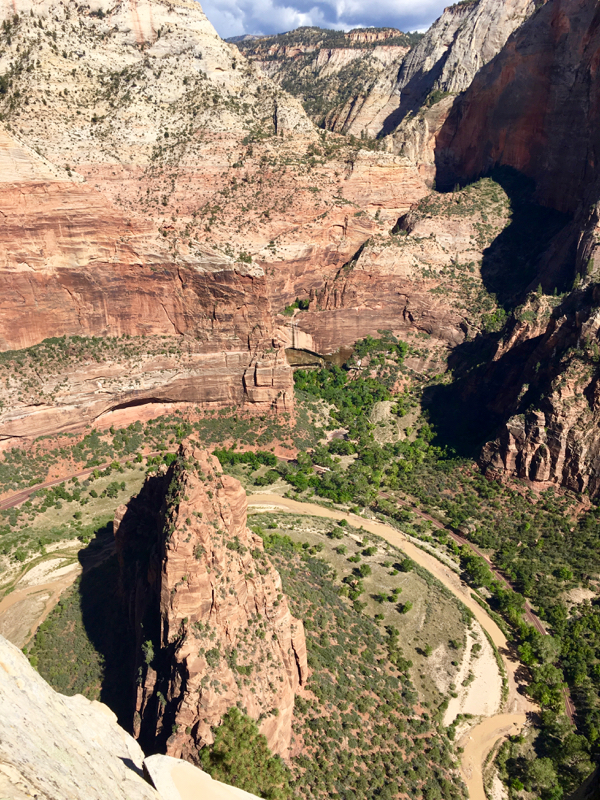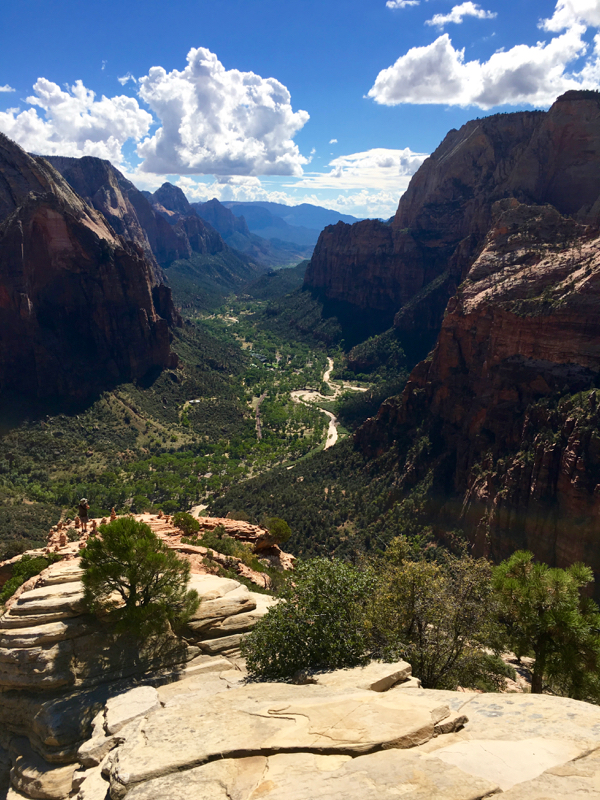 Hidden Canyon (2.4 Miles Roundtrip)
This trail is located literally right across the canyon from Angel's Landing.  It offers scenic views of Zion Canyon, before going straight up into a lush, mini slot canyon up high!
Note: you'll need to hop off of the shuttle at Shuttle Stop 7 (Weeping Rock)
Hiking up into the canyon.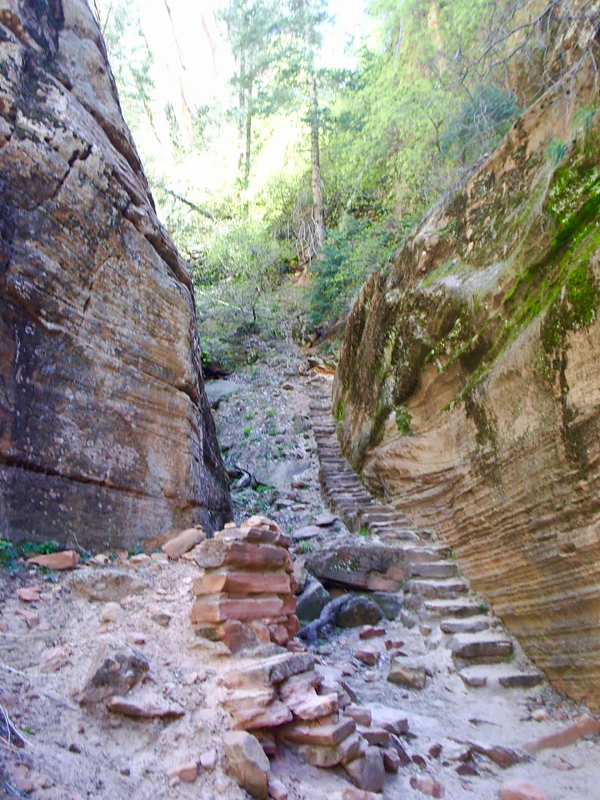 The slot canyon!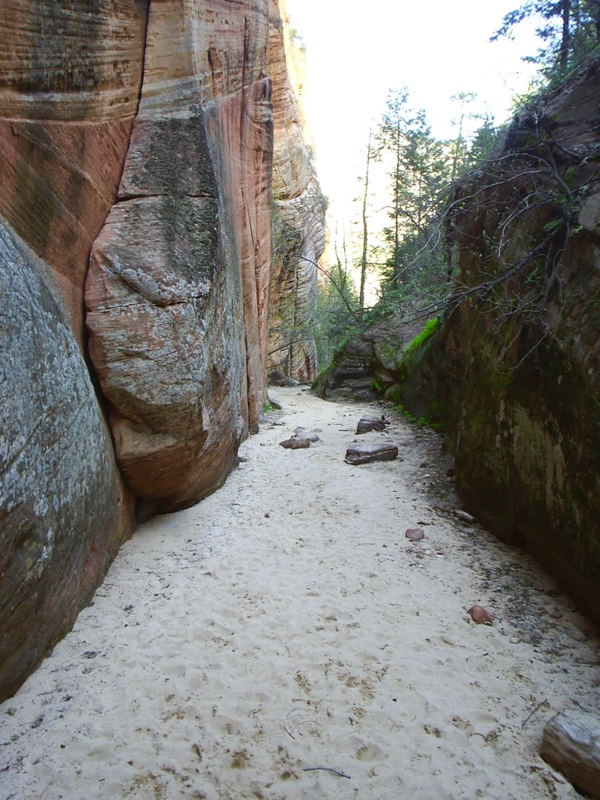 The Narrows Day Hike (2+ Miles Roundtrip)
The Narrows is one of the most scenic in the park, and my favorite of the Zion national park hikes!
To do this hike, you start by hiking the 'Riverside Walk', a paved trail that runs between the Virgin River and the cliff walls for 1 mile.  Then, the paved trail ends, and the Narrows begin!  At this starting point, there's a pile of driftwood hiking poles that come in really handy when crossing the river.
So, pretty much, you can hike back for as far as you want to… the beginning of the trail usually tends to be crowded, but once you get back 1-2 miles, things quiet down.
Note: you'll need to hop off of the shuttle at Shuttle Stop 9 (Temple of Sinawava).  It's also the very last shuttle stop.
The Riverside Walk.  Zion Canyon is a lot smaller at this point!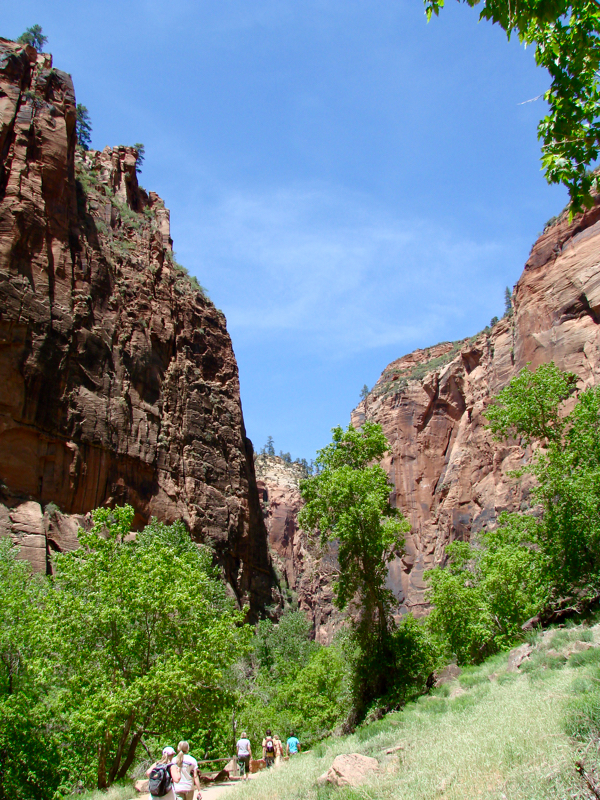 The Narrows, a couple of miles upstream from the endpoint of the Riverside Walk.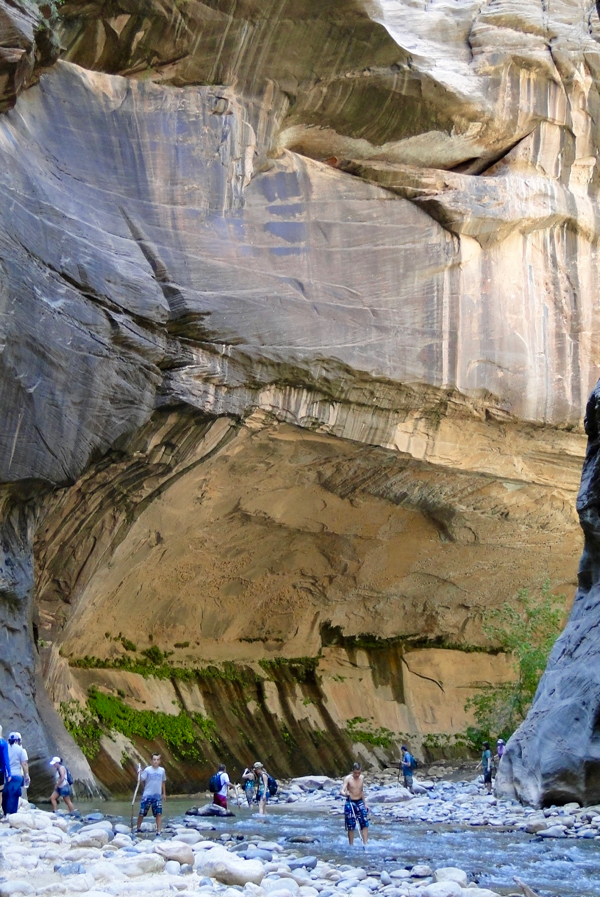 Weeping Rock (0.4 Miles Roundtrip)
Weeping Rock is an overhanging section of cliff that you can walk under, with drops of water that constantly drip down.  The hike there is short and easy.  Really, if you've never seen a rock cry before, here's your chance!
Note: you'll need to hop off of the shuttle at Shuttle Stop 7 (Weeping Rock)
The Great White Throne framed by Weeping Rock.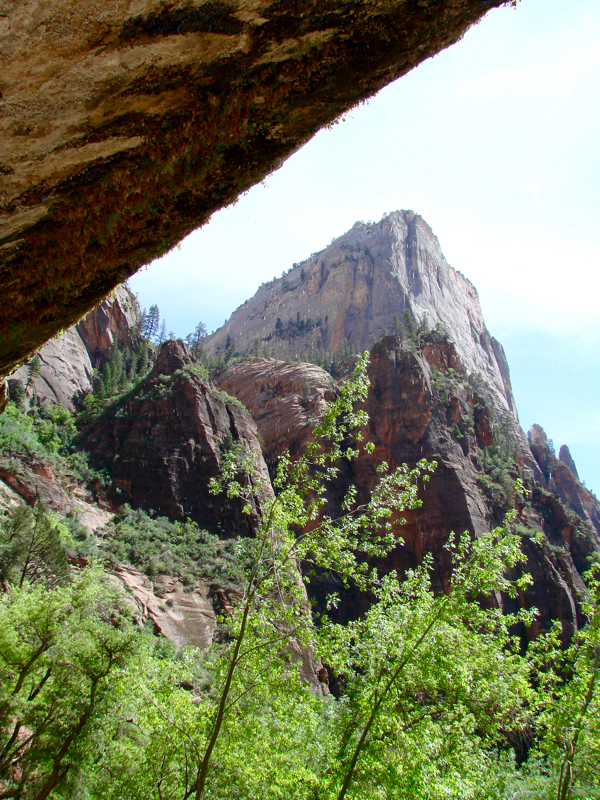 Emerald Pools (1.2-3 Miles Roundtrip)
The Emerald Pools are 2 levels of pools you can visit, connected by a middle trail.
The Lower Emerald Pools are easier to get to – there's only 1.2 miles roundtrip of hiking, with an elevation change of about 70 feet.  There are two streams that run over the cliff face, and the waterfall becomes extremely powerful in spring!  If you don't have very much time, you should stop here and enjoy the falls.
However, if you have more time on hand, I recommend hiking up to the Upper Emerald Pools.  A powerful waterfall tumbles over a towering cliff face, which makes this the much more dramatic of the waterfalls.  To get up to this point, you'll need to hike 3 miles roundtrip, with 350 feet of elevation change.
Note: you'll need to hop off of the shuttle at Shuttle Stop 5 (Zion Lodge).
The Upper Emerald Pools waterfall!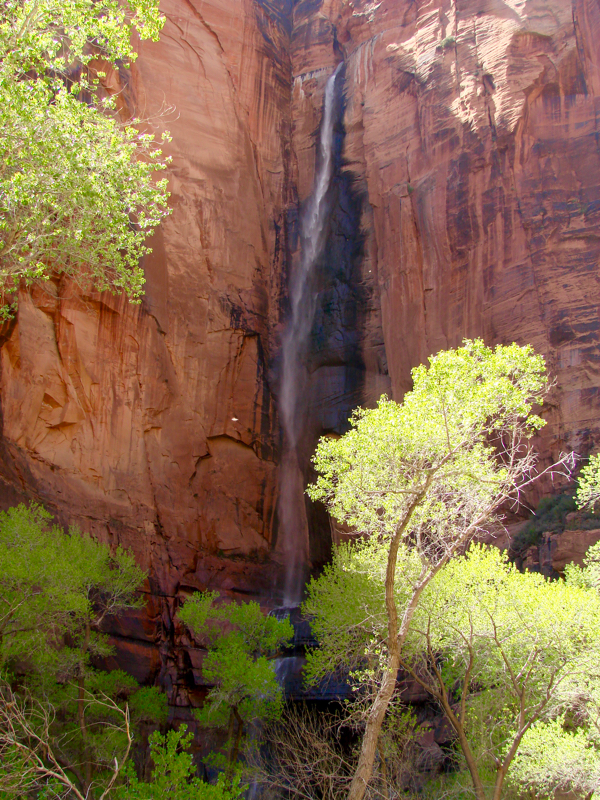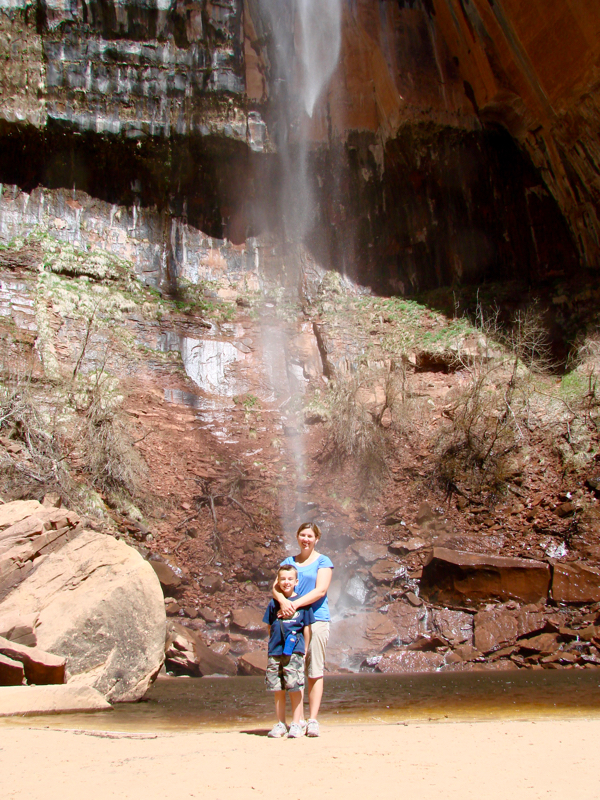 Pa'rus Trail (1.7 Miles from the Watchman Campground to Canyon Junction)
This scenic paved trail runs along the Virgin River from the Watchman Campground, in Springdale, to Canyon Junction, where you can catch a tram up Zion Canyon!
Canyon Overlook Trail (1 Mile Roundtrip)
This short trail offers sweeping views over the steep cliff faces of Zion Canyon.  The trailhead is located along the Zion-Mt Carmel Highway, on the eastern end of the long tunnel.  Overall, it's the perfect introduction, or last hurrah to Zion!
The end of the Canyon Overlook Trail, taken from different trips.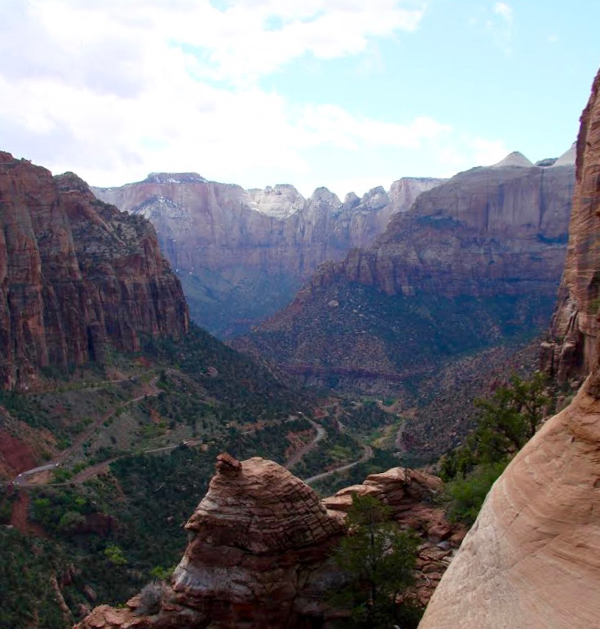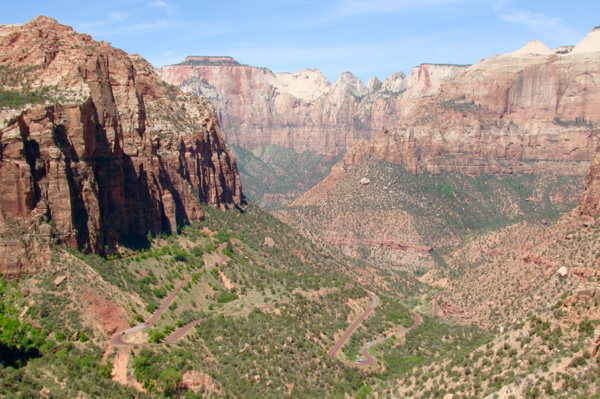 Rock Scrambling (Pull-Off on Road is 4 Miles East of Canyon Overlook Trail, and 0.7 Miles West of Checkerboard Mesa)
If you want some choose-your-own-trail time, you need to check out this epic spot to go rock scrambling off of Highway 9!  After you park at the pull out, on the side of the road, you can go hike in either direction, going wherever you want to!  Just stay off the road, it can be fairly busy. 😉
Rock Scrambling!  Can you see the road way down low?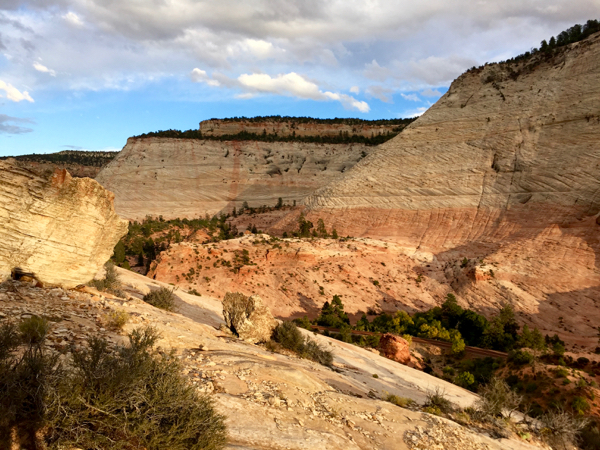 Timber Creek Overlook Trail – Kolob Canyon Area (1.2 Miles Roundtrip)
This short hike, located in the Kolob Canyon District of Zion, is a great way to see some breathtaking canyon views!
Best Viewpoint at Zion National Park:
Checkerboard Mesa
After your Rock Scrambling session, you can stop by Checkerboard Mesa, a scenic pullout 0.7 miles West of the rock scrambling area.  If the Canyon Overlook Trail is the best 'last hurrah' trail, Checkerboard Mesa is the best 'last hurrah' viewpoint!
Note: after you see this unique rock, you can continue your Utah adventure with a trip to Bryce Canyon National Park! (See below for details)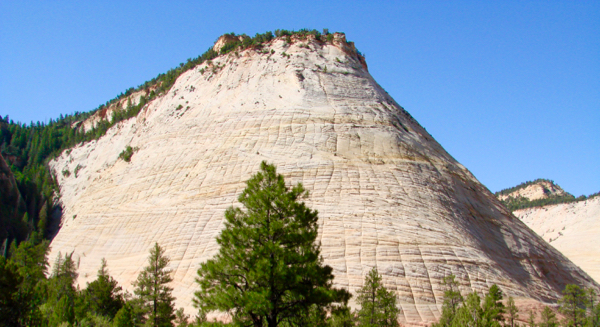 Zion National Park Hikes – Best Day Trips and Nearby Destinations
Bryce Canyon National Park (Springdale is Approx. 1 Hour 45 Minutes from Bryce Canyon City) – With towering reddish-orange hoodoos, filling a huge amphitheater way up at 9,000 feet in elevation, Bryce Canyon is a totally interesting and unique park to visit, and complements a trip to Zion very nicely!  Check out these Bryce Canyon Travel Tips for the best hikes, viewpoints, and tips for visiting Utah's most unique national park!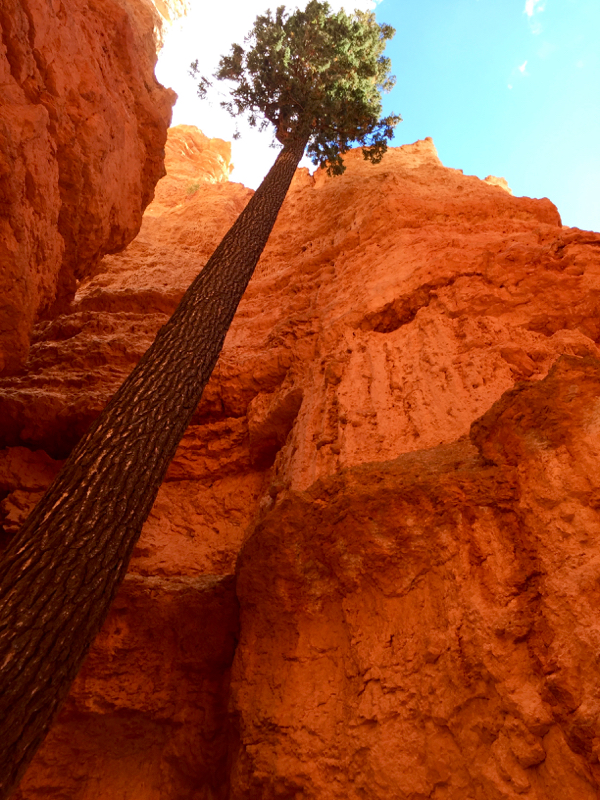 Cedar Breaks National Monument (About 1 1/2 Hours) – This huge amphitheater is basically like a mini Bryce Canyon, and there are a couple of breathtaking viewpoints!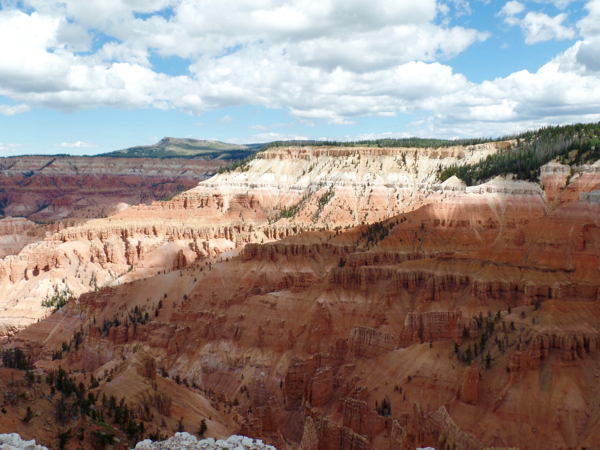 Coral Pink Sand Dunes State Park (About 1 Hour) – For the chance to see pink sand dunes, this state park is totally worth the visit!
Snow Canyon State Park (About 1 Hour) – This Utah state park, home to an amazing sandstone canyon, has many amazing hiking trails and so much more!
Great Basin National Park, Nevada (About 3 Hours and 20 Minutes) – This mini mountain range is not only home to the tallest mountain in Nevada and the only glacier in the state, but a few groves of Bristlecone Pines (the oldest trees in the world) and a cool cave system!
Valley of Fire State Park, Nevada (About 2 Hours and 15 Minutes) – This crazy red rock wonderland, just an hour from Las Vegas, has many short hikes to incredible places and two unbeatable campgrounds!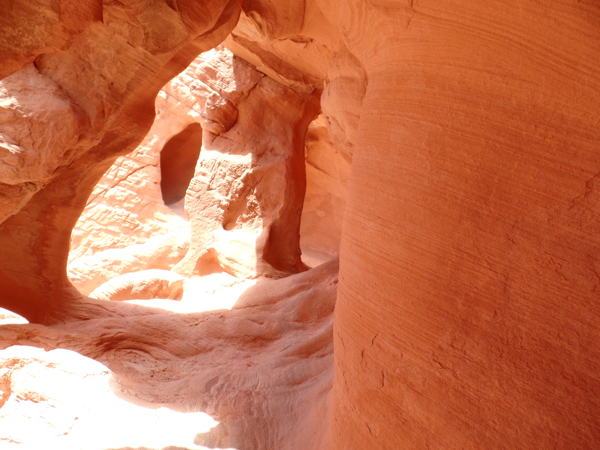 Page, Arizona (About 2 1/2 Hours) – Some things to do in this northern Arizona town include renting a boat and exploring Lake Powell, going into Antelope Canyon, seeing Glen Canyon Dam, and visiting the famous Horseshoe Bend! (Below)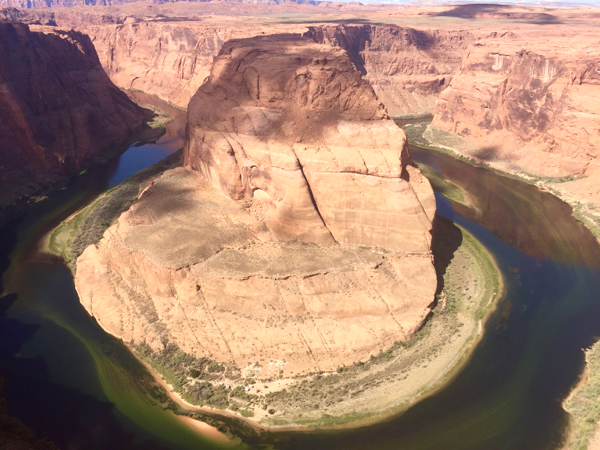 How to Get Free Stuff for Your Zion Trip
By bringing the right things, you're visit to Zion can go from good to great!  After many visits to the Zion, I've compiled the best things you'll want to pack for the Zion.  But first, pick up some Free REI Gift Cards to make the shopping a whole lot cheaper! 😉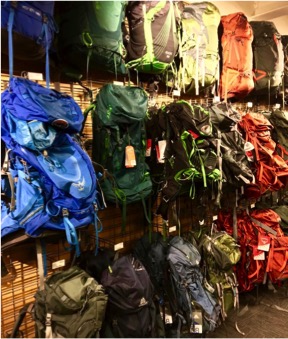 What to Bring to the Zion:
Okay, now to the essentials!  If you're going to do any hiking whatsoever, you'll need to bring some sturdy hiking shoes.  You'll need a good sturdy pair of water shoes for the Narrows.  Also, in Zion, the weather changes fast – so stay warm with a fleece and dry from the thunderstorms with a rain jacket.
The sun can be pretty intense during the summer months, so don't forget a pair of sunglasses.  Don't forget – a hiking daypack is your best friend while hiking. In it you'll carry your camera, fleece, rain jacket, and other belongings.  And last, bring a National Geographic Zion map.  It's highly detailed with all of the trails, and is waterproof and tear-resistant.
Entrance + Things to Know:
Entrance to Zion is $30, and good for 7 days.  However, you can visit Zion for FREE with these Free National Park Days 2017!
Visit Zion in Spring or Fall for the best weather.  Winter is freezing, and summer is extremely hot!
You'll need to take the Zion Shuttle to do all of the hikes listed here, except for the Canyon Overlook Trail, Rock Scrambling, and Checkerboard Mesa.  Fortunately, it's free to use, too!
At dusk, look for longhorn sheep roaming around – it's epic wildlife spotting for free! 😉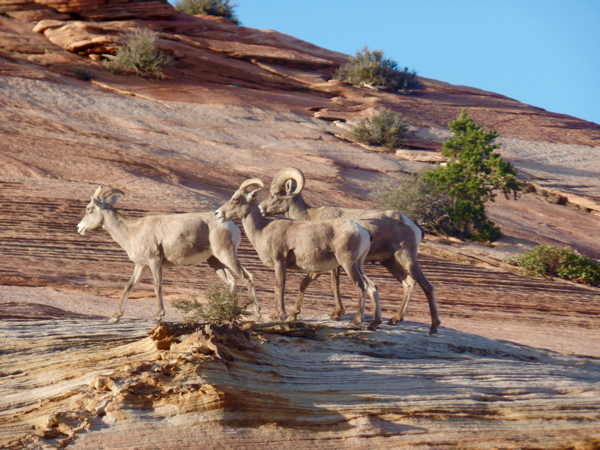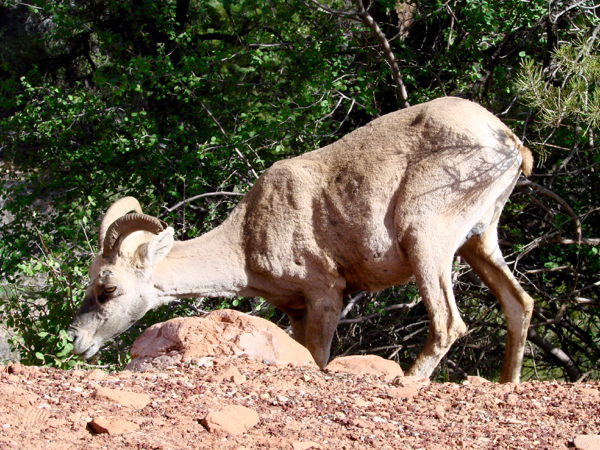 For more handy hiking gear to bring along, check out this Backpacking Gear Guide.  If you're visiting Zion with your baby, check out this useful  Baby Travel Free Stuff.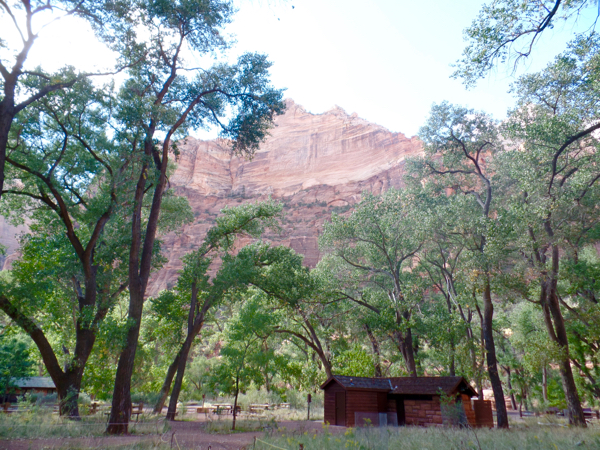 To put it simply, Zion National Park is an amazing travel destination!
From the sweeping views at Angel's Landing to hiking through the Narrows, and the thundering waterfalls at the Emerald Pools… Zion really does have it all.
Now that you've seen these top Zion National Park Hikes + Travel Tips, keep planning your Southwest road trip with these National Park travel tips below!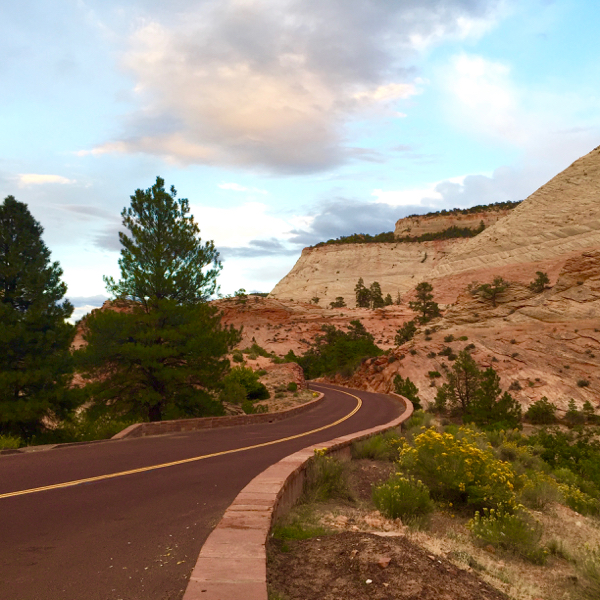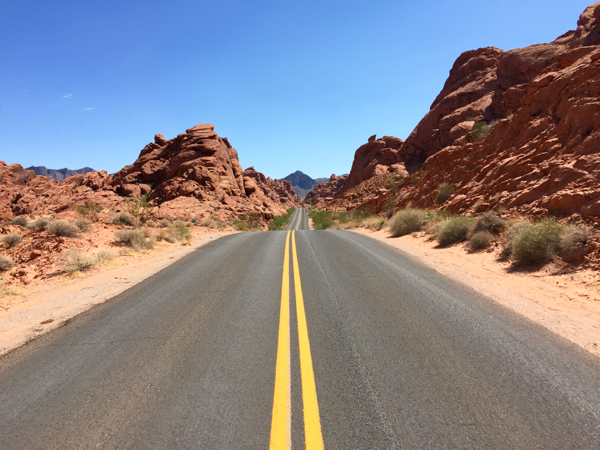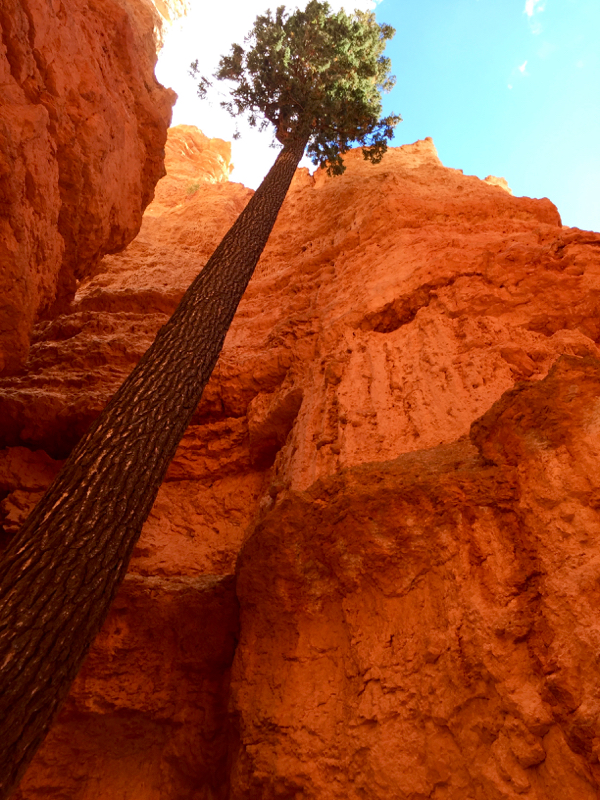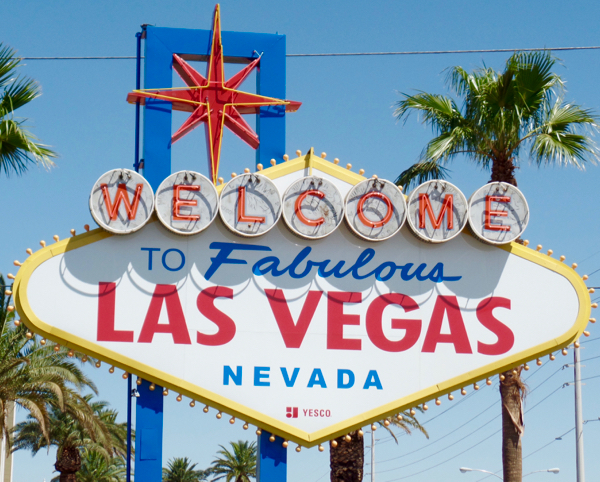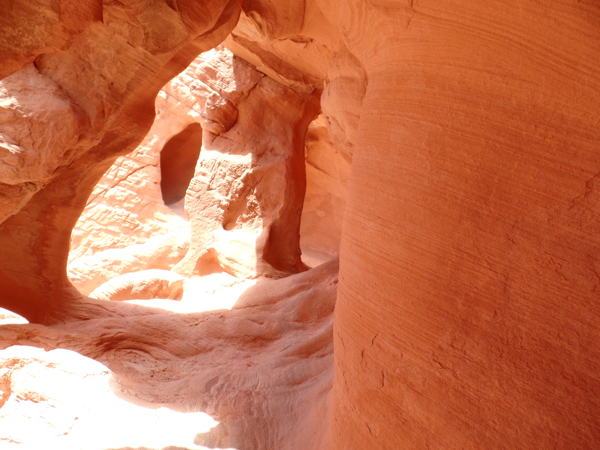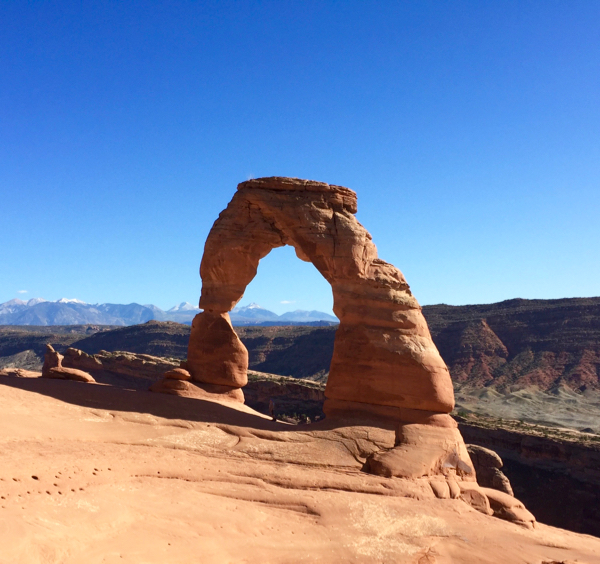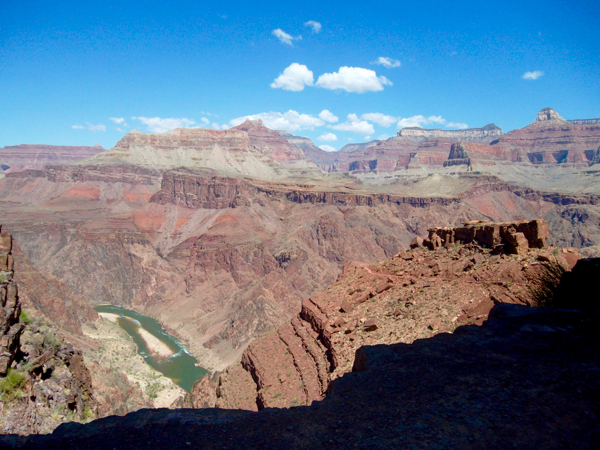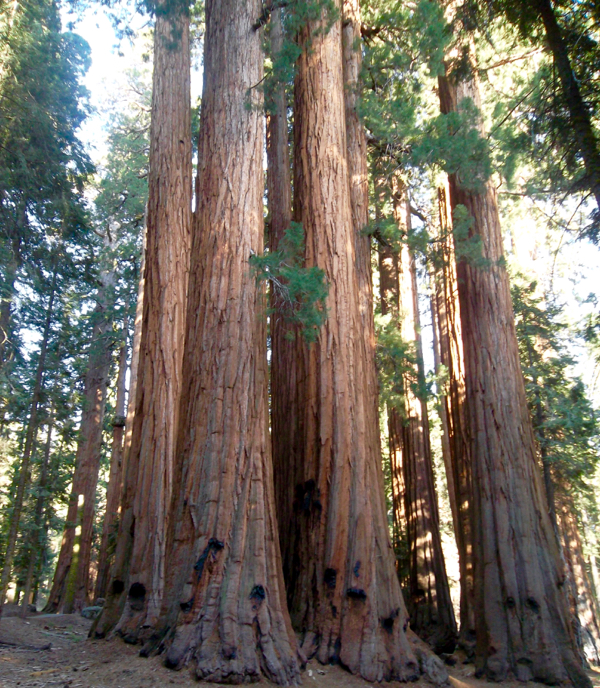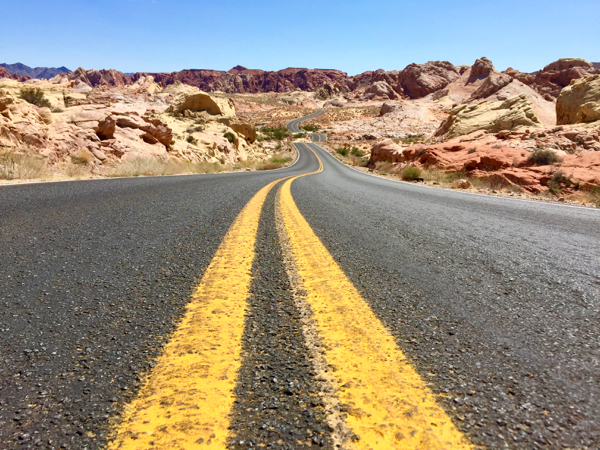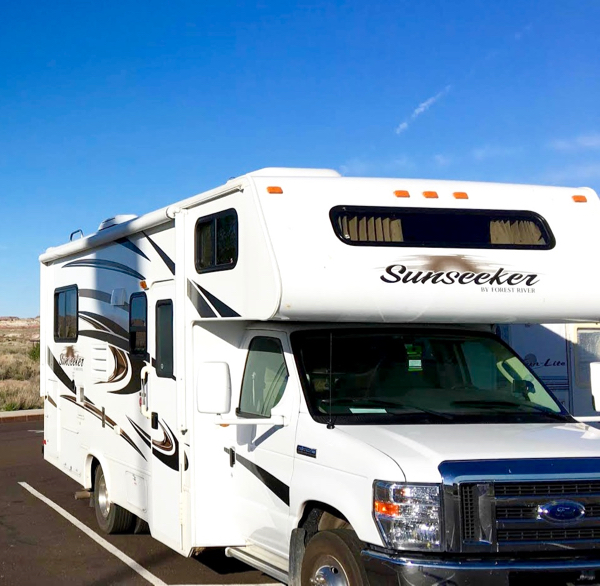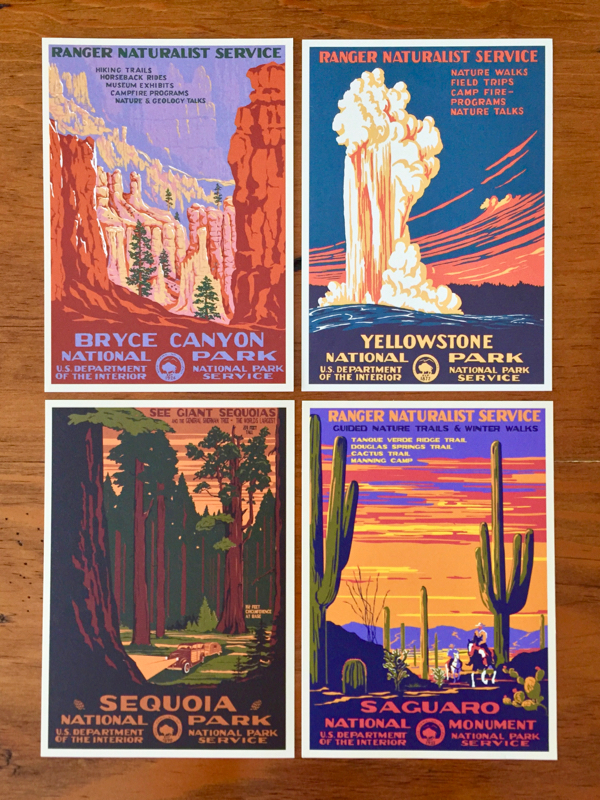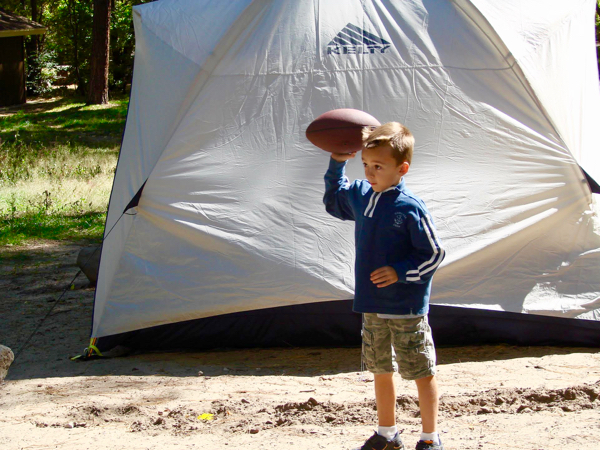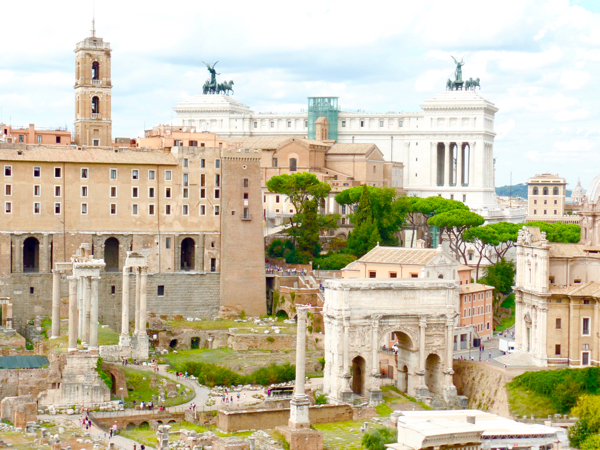 Now that you've seen these Zion National Park Hikes, don't miss out any longer!  Follow along with Never Ending Journeys for more fun Travel Tips and Inspiration!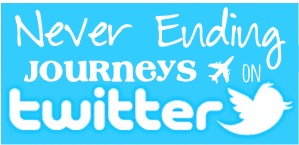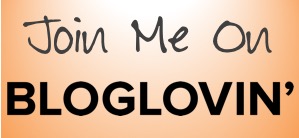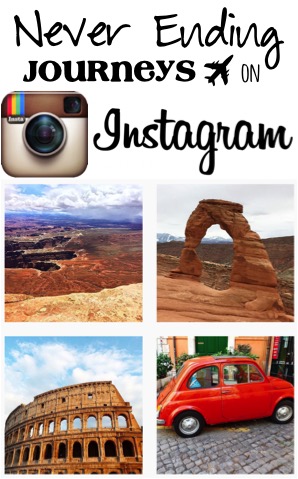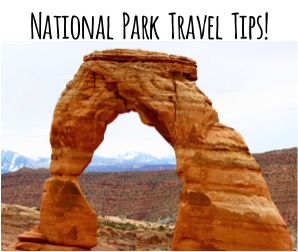 Have YOU ever been to Zion National Park?
What are YOUR favorite Zion National Park Hikes?  Leave a comment & share!