I may get
paid
for ads or purchases made through links in this post.
Planning your next RV camping trip?  Check out these RV Organization Ideas to help maximize every inch of space in your motorhome or trailer!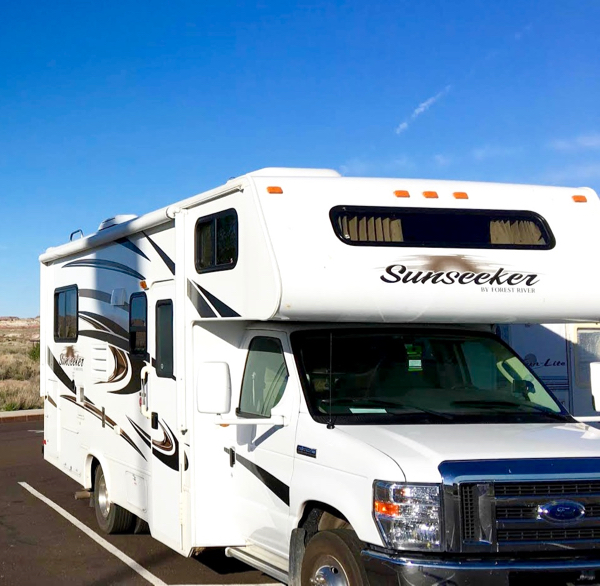 Planning your next RV camping vacation or road trip??
Traveling in your RV is unbeatable.  There's just something about driving around with everything… including the kitchen sink! Taking your RV on a road trip, even to the most remote location, still feels like a first class vacation.
To make your RV even more useful, I want to share with you some creative RV Organization Ideas that will help you get the most out of the space in your RV while on the road!
These motorhome camping gear tips are about to make your RV become more functional than you ever imagined.  Your home-away-from-home is about to get a serious upgrade…
Related:
RV Organization Ideas
RV Organization Ideas – Kitchen Organization: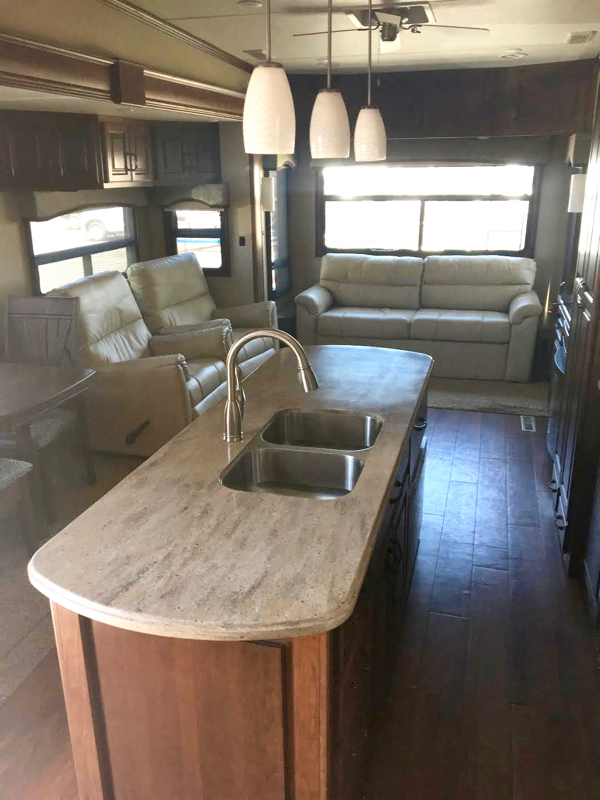 1. Pop A Plate
Tired of those large stacks of paper plates in the corner of your kitchen counter??  It's time to get a Pop A Plate!  The Pop A Plate is a dispenser that holds 125 plates, and you can easily refill it when it runs out!
2. Wall Mounted Food Dispensers
Being able to serve food quickly and on-the-go is important for those days when it's time to pack up, and move on to your next destination.  You can get Wall Mounted Food Dispensers, which not only help free up more counter space, but also make serving cereal and other dry foods simpler!  Talk about a fun way to serve food!
3. Square Food Containers
Are you tired of dealing with odd sized food packages that don't fit in your RV's cabinets??  Trust me, I know!  The best solution is to get some Square Food Containers, which minimize wasted space in your cabinets!
It's time to say goodbye to those strange Tetris-like formations that odd shaped food packages create in your cabinets. 🙂 Say hello to more added space for food, and much easier accessibility!
4. Pop A Napkin
Just like the 'Pop A Plate' above, the Pop A Napkin dispenser helps free up cabinet and counter space!  It removes the need for a tall stack of napkins in your kitchen!
5. Banana Hanger
With their rather odd shape, bananas take up a lot of space.  Don't worry, though.  You can get a Banana Hanger, which hangs a bunch of bananas, so they don't need to take up any counter space!  This is seriously one of those fun yet practical things every kitchen needs!  No need to leave home without your Potassium rich bananas!
6. Hanging Fruit Basket
So, there's an easy solution to keep your bananas organized… but what about the rest of your fruit??  The Hanging Fruit Basket is the easiest way to add the most fruits and veggies storage in your kitchen!  After a long road trip, fresh fruit sure beats fast food!
7. Fruit Hammock
Don't have enough extra space for the hanging fruit basket?  Well, you can get a Fruit Hammock instead, which attaches below your upper kitchen cabinets.  It really does hold a ton of extra fruit… or at least a few pounds!
8. Under the Cabinet Spice Rack
Don't leave home without your spices!  Vacation is no time to start eating food without your favorite spices.  There's an easy (not to mention interesting) way to bring your spices along for the ride… with this Under the Cabinet Spice Rack!
This way you can still cook all of your favorite recipes… and keep those spices from flying around when you drive!
9. Pop A Bowl
Yes, there is a dispenser that you can get for your paper bowls, too!  The Pop A Bowl dispenser is another excellent way to save space in your kitchen!
Getting the Pop A Plate, Pop a Napkin, and Pop A Bowl trio is one of the most creative and inexpensive ways you can organize your RV kitchen!
10. Store Extra Food in Mason Jars
Mason jars aren't only super trendy, but also excellent containers to store food in!  With their tight-sealing lids, they really are an easy way to keep all of your extra food organized!
11. Easy Upcycling Ideas
No space is going to be wasted in your RV!  Now that you've got some Mason Jars to store your food in, the next step is finding a place to store the jars.  If you go to the underside of the cabinets, and screw the jar lids into that wood, you can simply twist the jars on and off whenever you need to get inside of them!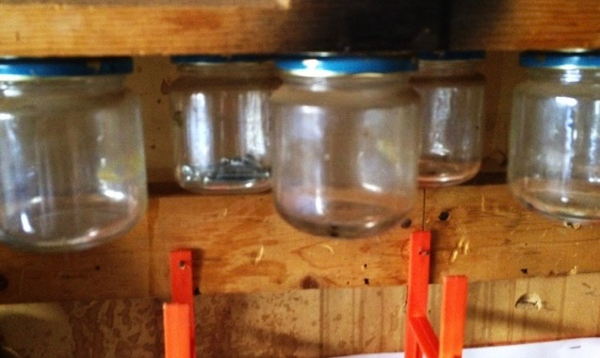 12. Foldable Tea Kettle
Crave a morning cup of hot tea in the morning?  There really is nothing quite like stepping outside, smelling the fresh air, all with a nice mug of hot tea in your hand.
Only problem is, tea kettles aren't exactly known for their tiny dimensions, if you know what I mean!  The solution: get a foldable tea kettle, which flattens down and easily fits inside of any cabinet or drawer!
13. Nesting Dishes
If you want to do any real cooking, you'll need some cooking dishes and measuring cups to help.  But… they always seem to take up so much space!  A set of 'Nesting Dishes' is the solution!  Having a set of measuring spoons, cups, and cooking bowls that all conveniently fit inside of each other will save you valuable cabinet space! This is seriously one of my favorite RV organization ideas!
14. Collapsible Bowls
Another simple trick to save space with your dishes is with a set of Collapsible Bowls.  There's no need to stack your ceramic or plastic bowls sky-high when you could simply use collapsible bowls instead!
15. Dish Cradles
A classic way to waste space in your cabinets is by stacking your plates vertically. Dish Cradles are a simple trick to help your plates fit in a tight space!  With dish cradles, you can store your plates using half the space.
Now that you've got dish cradles for your ceramic plates, it's time to keep them safe when you drive!  This How to Safely Pack and Move Plates tip shows how stacking foam plates between your ceramic ones will help keep them safe when your on the road!
Note: modify the foam plates to fit the contours of your dish cradles.  That way, you can keep your plates efficiently stacked, and safe!

17. Pan Organizer
Pans… whether you want to make eggs, bacon, pancakes or a grilled cheese sandwich, you really can't leave home without them.  But how do you make pans fit well in an RV?  Avoid the space wasting clutter of a pile of pans in your cabinets with a Pan Organizer!  Seriously… they help save so much cabinet space!
18. Mug Holder
Having mugs for coffee, tea, and hot chocolate is a necessity for any camping trip in the RV, right??  Save your cabinet space for other essentials and use a Mug Rack instead for all your mugs.  This way you can bring your mugs along, without using any cabinet space!  That's a win-win!
19. Magnetic Tape
Tired of constantly losing your knives in piles of cooking utensils in the kitchen drawer??  It's time to put an end to that sharp edged clutter with some Magnetic Tape.  Attach the Magnetic Tape to your kitchen backsplash and then hang your knives on the tape!
20. Lazy Susan
A Lazy Susan is seriously the ultimate cabinet organization tool!  Basically, it's like a rotating plate that spins for easy reaching to small spices, dishes, etc.,  You'll never have to reach way back in your cabinets… just spin the Lazy Susan around and bring the items to you!
21. Door-Mouted Kitchen Garbage Can
With a small amount of space to work with, finding a spot for the garbage can be a bit challenging.  The simplest solution is to buy a Door Mounted Kitchen Garbage Can!  That way, you can conceal the garbage can behind your cabinet doors.
Here's a frugal trick to save loads of cash on garbage bags: use grocery bags instead of buying garbage bags!  Seriously, this simple hack has saved me so much cash over the years!  Also, to keep these grocery bags contained and organized, check out this DIY Grocery Bag Dispenser!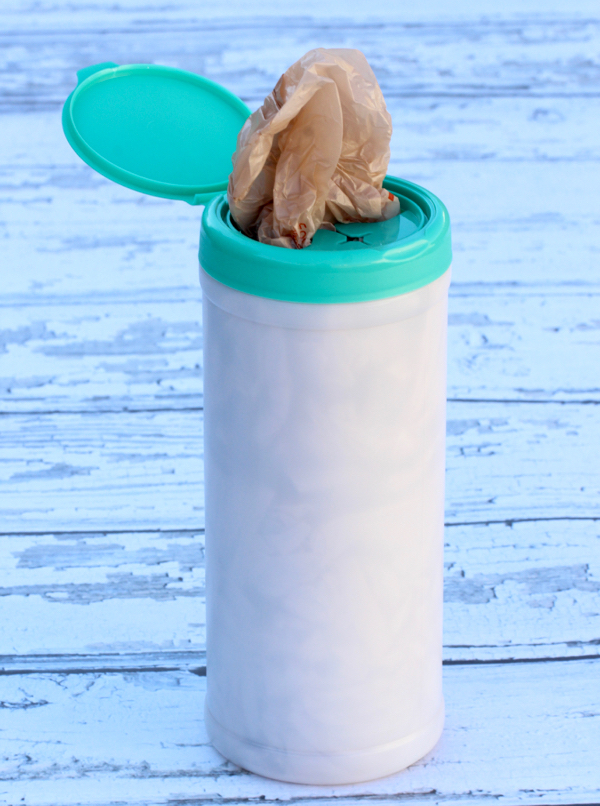 23. Roll-Up Over the Sink Drying Rack
Your sink takes up a lot of space in your kitchen, so why not try to maximize it for multiple purposes??  The first step to utilize this space is by getting a Roll-Up Over the Sink Drying Rack.  That way, you can turn half of your kitchen sink into a drying rack while not in use… which frees up more space on your counter tops!
24. Over the Sink Shelf
Getting an Over the Sink Shelfis simply one of the easiest ways to add some additional storage into your tiny kitchen!  Whether you need a spot for hand soap, dish rags, or other accessories…  this is such a simple trick to maximize space around the sink!
25. Store Things in Your Crockpot, Microwave, and Oven When You Drive
When you're not using them, crockpots, microwaves and ovens essentially become empty 'storage' space.  Why not store some odds and ends in them when you're driving?  After all, organization is all about finding the empty nooks and crannies where you can store your belongings, right? 🙂 These Moving Packing Tips and Tricks will show you how you can turn your crockpot into storage space!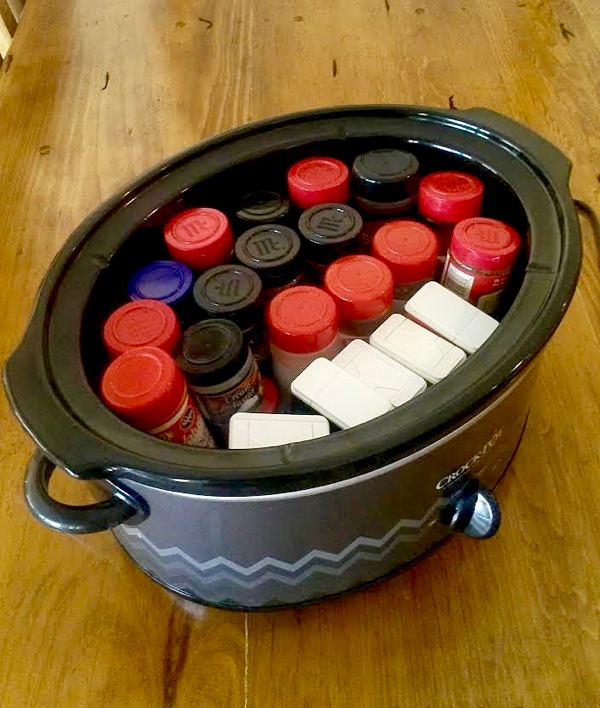 RV Organization Ideas – Bathroom Organization:
26. Use a Shampoo Dispenser
A fun way to store shampoo for in your RV shower is by using a Shampoo Dispenser!  It takes up zero shelf space, and honestly is a very fun touch for any RV bathroom!
27. Shoe Organizer (For Toiletries)
Using a Shoe Organizer is the ultimate way to store toiletries in your bathroom!  Whether you want to put large shampoo bottles (for longer trips), hairbrushes, combs, soaps, or other toiletries, it's a serious space saver!
Any RV medicine cabinet can get so unorganized and out of hand… but it doesn't need to be!  Check out these Easy Tricks for Organizing Your Medicine Cabinet to help keep it clean and tidy!  The magnetic strip inside the door adds extra storage, too!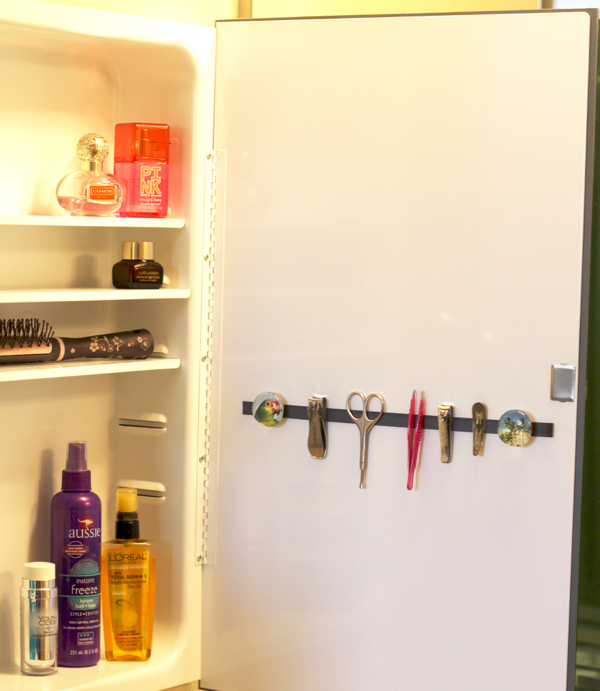 29. Hideaway Hooks (For Towels)
Need an easy trick to help make your RV bathroom feel a lot larger??  Skip the oversized towel holder and hang your towel on a Hideaway Hook instead!  After you get the towel on the hook, you can fold it up so your towel won't fly off when you drive!
30. Over-the-Cabinet Hair Dryer Rack
Don't have a good spot for the hair dryer??  Instead of storing it on the bottom of your bathroom cabinets, get an Over the Cabinet Hair Dryer Rack instead!  Just another simple trick to add more space to your RV bathroom!
31. Cabinet Toilet Paper Holder
If you have an extra bathroom or kitchen cabinet door that's not being used, add a Cabinet Toilet Paper Roll Holder.  It really does help free up more cabinet space, and makes your toilet paper more accessible! 😉
RV Organization Ideas – Bedroom + Closets:
32. Bedside Caddy (+ Use Your Nightstands for Clothes Storage)
Don't have a nightstand??  Not a problem!  You can put your nightstand essentials in a Bedside Caddy, which hangs below the mattress.
Now if you do have a nightstand, you can use that for extra clothes storage (put vacuum packed airtight bags in it) to maximize the space!
33. Under the Bed Storage
The area under your bed also presents some great room for storage.  Using Under the Bed Storage Bags is a genius way to utilize this space, and helps you store extra clothes, blankets, and more!
34. Vacuum-Sealed Bags
Clothes can quickly take over the space in an RV… although, they don't need to!  Use Vacuum-Sealed Bags to store extra clothing, and you'll be amazed at how much space you'll save!  Say goodbye to the clothes storage crisis, and say hello to a more efficiently organized closet!
Want an easy way to store all of your jewelry??  This Jewelry Organization in an Ice Cube Tray tip will show you how you can turn a basic freezer item into a handy storage spot for your jewelry!  How simple is that?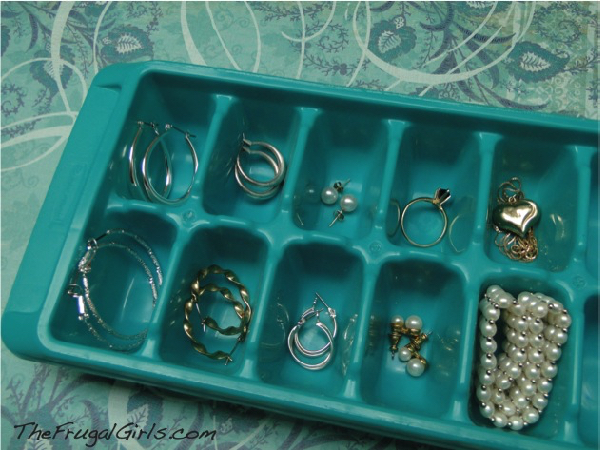 36. Ultra-Slim Hangers
Forget those large hangers at home, an get some Ultra-Slim Hangers instead.  I love using these to add extra space in my closet.  You can seriously take so many more shirts just by changing out your hangers!
37. Arrow Hanger
Don't have closet space for your shirts?  Not a problem!  You can get an Arrow Hanger, which folds right out and presents a new closet / hanging spot!
RV Organization Ideas and Tips: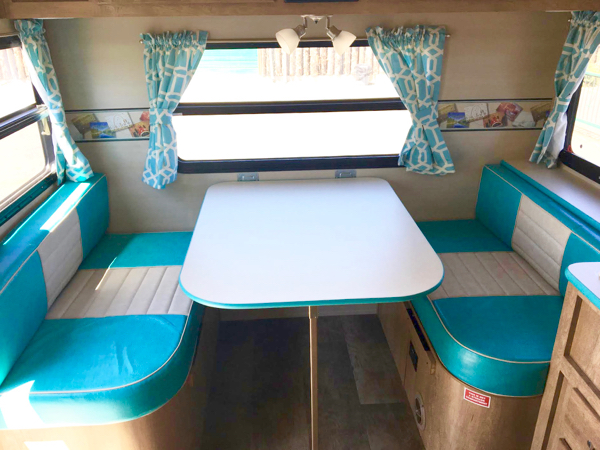 38. Slide-Out Drawers
A genius way to add some extra storage in your dining area is by adding slide out drawers underneath your dining table!  It's such a convenient spot to store your phone, maps, pen and paper, etc!
39. Use Velcro for TV Remotes and Cords
Tired of misplacing your TV remotes?  Or are your cords taking over?  I totally understand!  Here are two ideas to fix these problems…
1. Attach velcro to the bottom of your remote, and a spot on your wall.  Then, just place your remote on the wall when you're not using it… such an easy trick to keep your remote in sight!
2. Wrap some velcro around bunches of cords.  That way, your cords will all stay tidy!
Gotta have music when you're camping??  A frugal and space-saving alternative to the bulky stereo speakers is this DIY Phone Speaker hack!  How easy is that?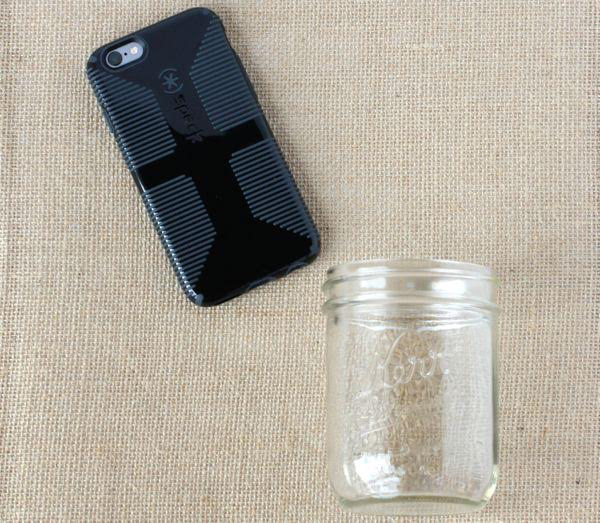 41. Collapsible Ottoman With Storage
Want an easy way to add a ton of extra storage… with style??  A Collapsible Ottoman With Storage really is the best of all worlds!  Not only is it a relaxing place to kick your feet up, but also a great storage space inside!  I love using these to store extra blankets, books, etc.  And, it can even collapse down when you're not using it!
42. File Holder
Need a spot to store travel itineraries, reservations, receipts, or coupons??  Or, do you work from home and need to bring your some documents and other paperwork along with you?  An expandable, portable File Holder is the perfect solution!
43. Wall Hooks
Wall hooks are always handy places to store belongings like key rings, hats, visors, sunglasses, etc.  Hang one by your door for easy grab-and-go organization!
44. Broom Holder
Did you know… broom holders make excellent spots to store your flashlights??  Place a Broom Holder by your wall hooks near your door, then you can easily grab your flashlight when you go outside at night!
45. Over the Cabinet Paper Towel Roll Holder
Paper towels are really one of the handiest thing you can have when traveling in your RV!  They help clean bathrooms, kitchens, messes, can be used as makeshift plates, and so much more!  Using an Over the Cabinet Paper Towel Roll Holder is such a great space saving trick!
RV Organization Tips – Basement and Exterior Storage Compartments:
Your RV 'Basement' (the area underneath your motorhome, accessible from the exterior) offer tons of extra space to store belongings!  If you organize the space properly, it's crazy how much extra storage space you can add to your RV!
There are also so many potential storage spaces on the exterior of your RV, too!  Check out these RV Organization Ideas for your basement and exterior below…
46. Tackle Box
Tackle boxes aren't only for fishermen!  They make excellent places to store small odds and ends. (think batteries, screws, nails, tacks, rubber bands, paper clips, super glue, etc)  They're portable, and perfect for toting around!
47. Cooler
Isn't it crazy how fast our small RV fridges can fill up??  Here's a simple solution that doesn't require buying a new fridge: Heavy Duty Coolers!  Yetis are about as good as they come, and can keep food cold for days!
48. Over the Seat Organizers
Another ridiculously simple RV organization hack is to use Over the Seat Organizers on the front seats of your motorhome, or on the back of seats in your trailer tow vehicle!  It's such a simple way to add tons of storage!
49. Ladder Bike Rack
Did you know that your RV ladder can be used to hold a bike rack?  RV Ladder Bike Racks help you efficiently place your bikes up high, so you can still use your hitch for a cargo carrier!
50. Cargo Carrier
Now that you have your bikes on a ladder bike rack, you can use your hitch for a Cargo Carrier!  These are great for hauling extra gear, coolers, etc!
Isn't it amazing how many simple ways you can add loads of space to your RV?  Try using these RV organization ideas to simply for your next adventure!  Then… check out these RV decor ideas and travel tips for epic destinations below…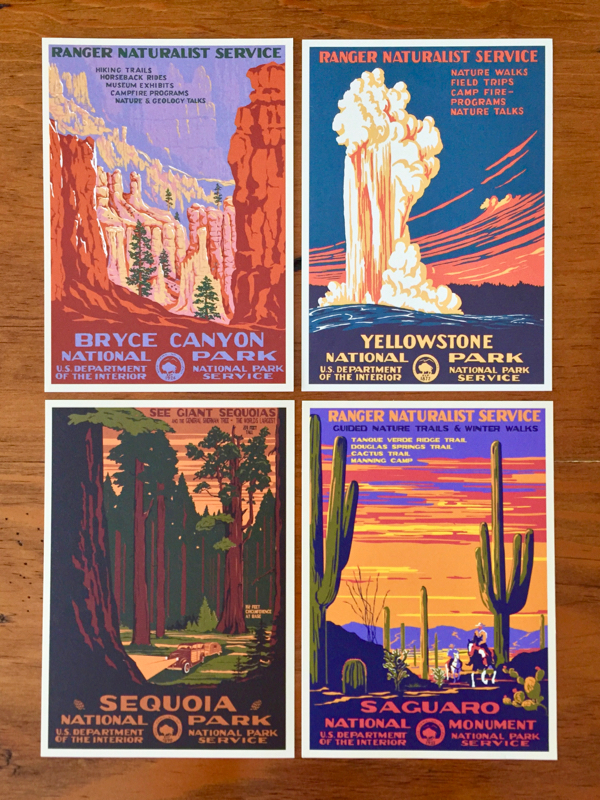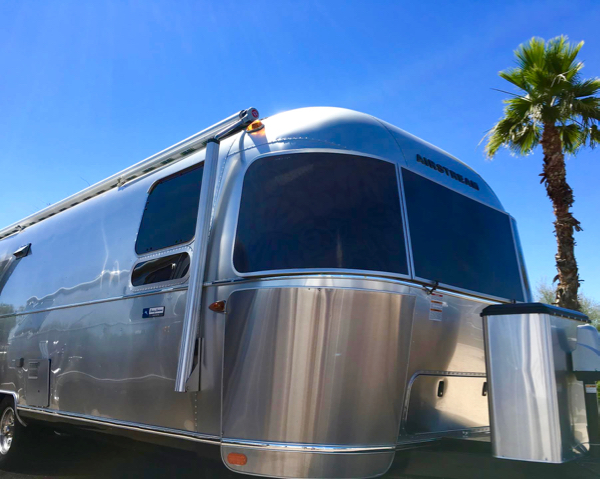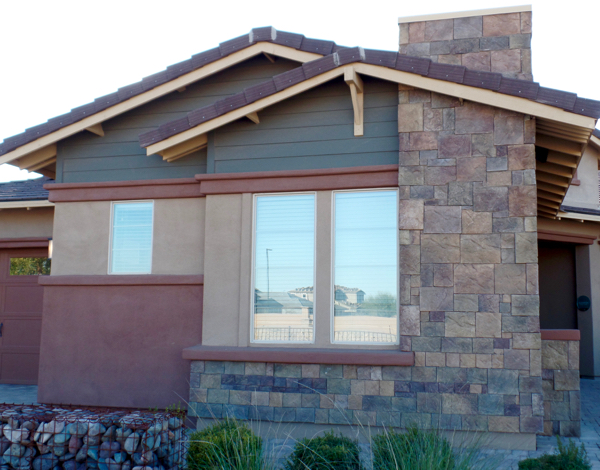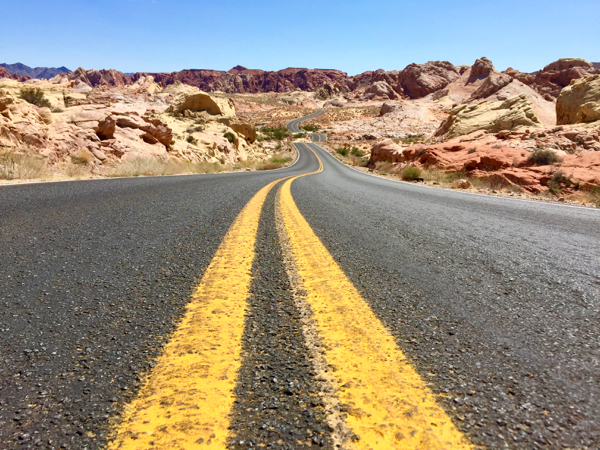 Don't miss out!  Now that you've read these RV Organization Ideas, follow along with Never Ending Journeys for more fun Travel Tips, Easy Recipes, and Organization Hacks!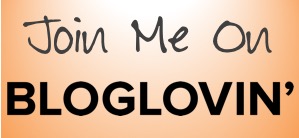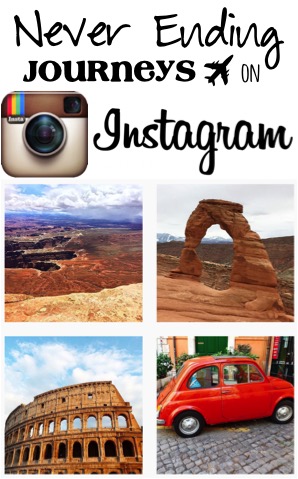 What are YOUR favorite RV Organization Ideas or Space Saving Hacks??
Leave a comment & share!