I may get
paid
for ads or purchases made through links in this post.
Heading to Utah this year?  Do yourself a huge favor and use these Bryce Canyon Travel Tips to plan your trip!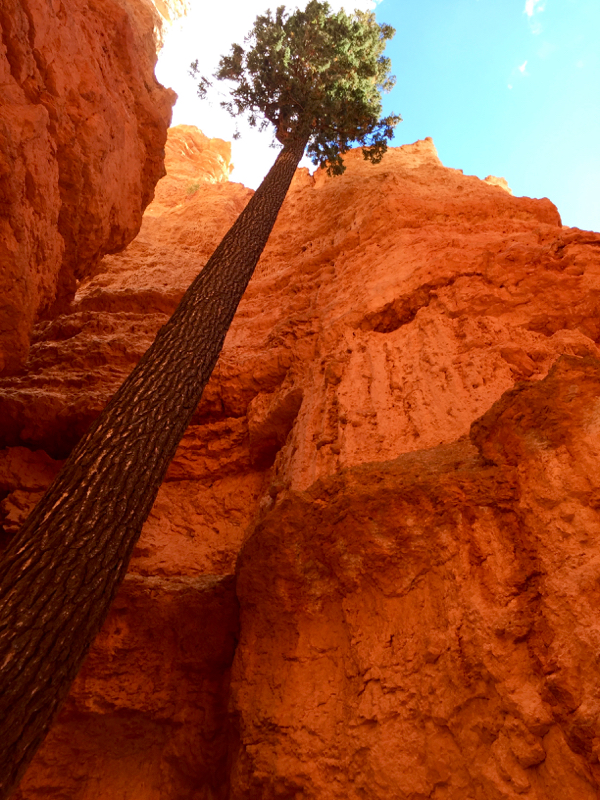 Planning or dreaming of a trip to Bryce Canyon?  After hiking through its narrow slot canyons, taking in scenic waterfalls, and craning your neck to look up at towering reddish-orange hoodoos, it really is one of those places that you'll fall in love with and want to keep visiting over and over again! (I speak from experience on that matter.)
These Bryce Canyon Travel Tips will show you the best Bryce Canyon hikes, viewpoints, day trips, tips for your visit to Bryce + more!  But remember: after you visit once, you'll already be booking your second visit before you return home! 😉
Are you ready to start exploring Bryce Canyon National Park?  Here we go…
Related:
Bryce Canyon Travel Tips

Best Hikes at Bryce Canyon:
Wall Street to Queens Garden (Approx. 3 Miles)
Warning: if you hike this trail, you will end loving it and wanting to hike it several more times in a row!
To do this hike, you start at Sunset Point, and take the Navajo Trail down into 'Wall Street', an extremely narrow slot canyon!  And, once you hike through the slot canyon, you'll see some soaring Douglas Fir trees that will make your neck sore from looking up… and you won't even mind!
After you pass the tall trees, the canyon widens out, and you'll walk along the floor of the Bryce amphitheater for about one mile, before coming to a three-way junction in the trail.  Be sure to take the Queen's Garden trail after you get to the junction!  Over the course of the next 2 miles, you very gradually ascend from the floor of the canyon to the rim of the amphitheater, and the last 20 – 30 minutes of the hike have really incredible views!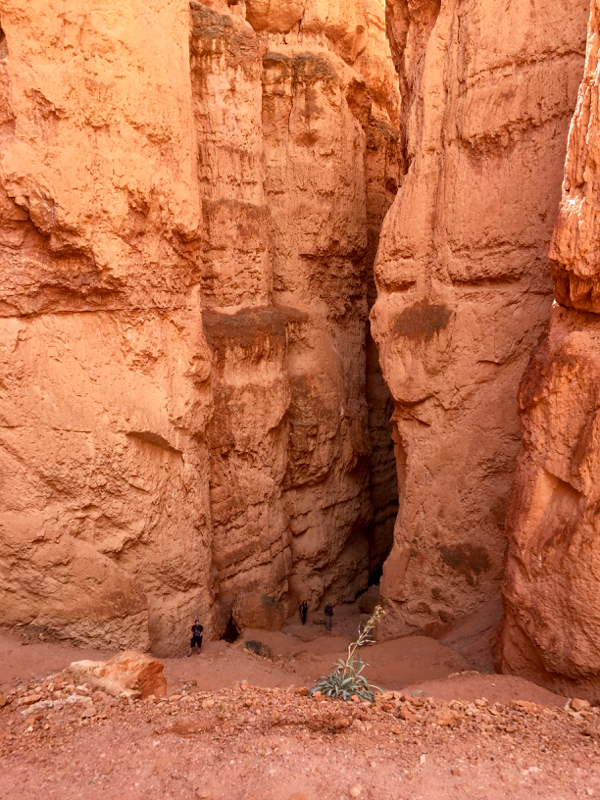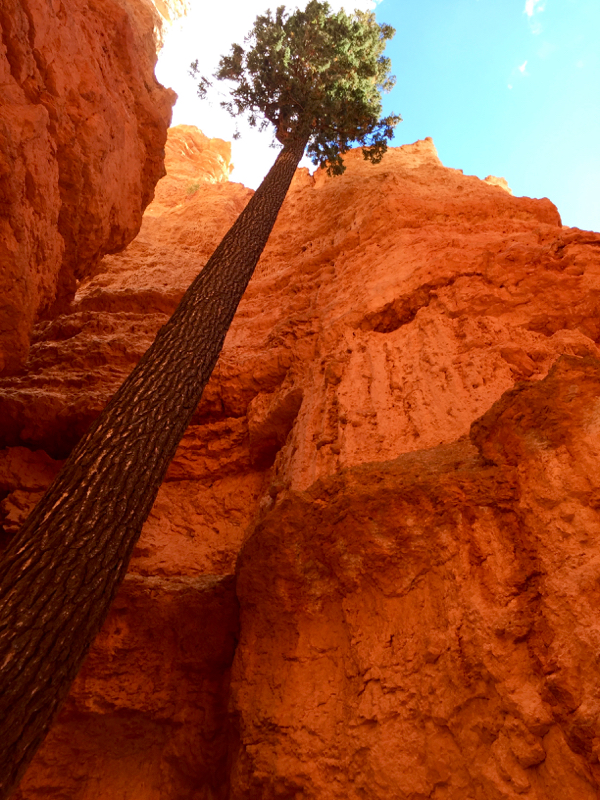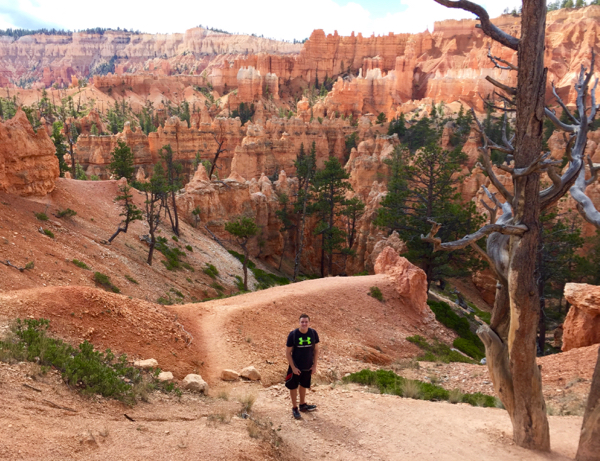 Fairyland Loop Trail (8 Miles)
If you want to hike a trail and have the entire canyon to yourself, I recommend hiking the Fairyland loop trail!  When I last hiked it, I only encountered 20 or so people the entire hike.  And like every other trail in Bryce Canyon, the views are simply amazing!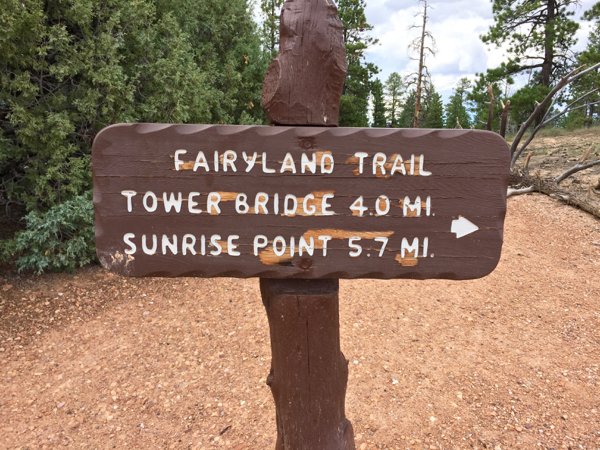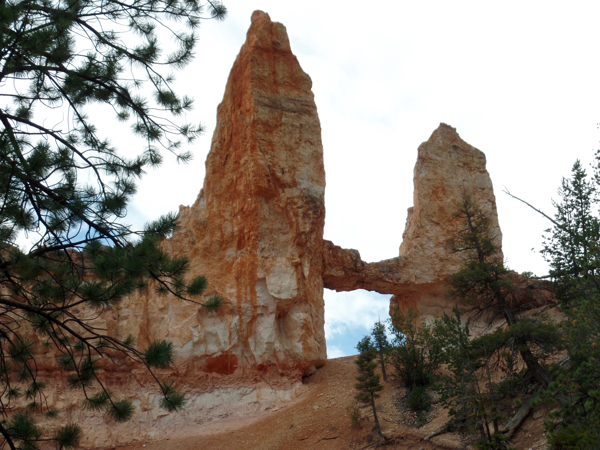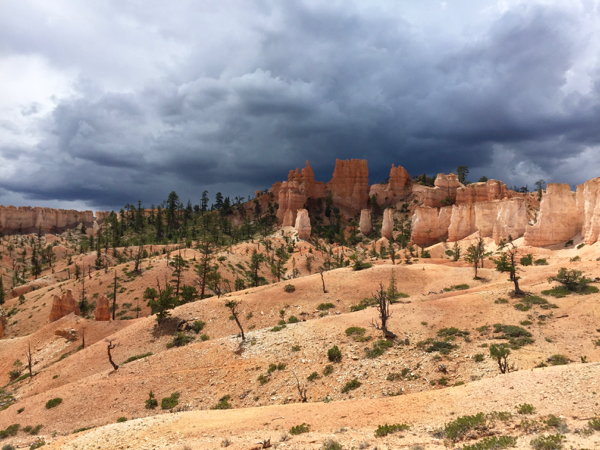 Bristlecone Loop (0.8 Miles)
This quick loop trail, at the southern end of the Bryce Canyon Road, will take you through a grove of Bristlecone Pines, gnarly and hardy little trees that happen to be the oldest in the world!
Waterfall at Mossy Cave Trail (0.8 Miles)
Tucked away in a little scenic valley, this waterfall is one of the less visited attractions in the park and one of my favorite hikes at Bryce!  You start by entering a wide, short canyon, hiking along a fast-flowing stream with orange hoodoos towering over you.  You cross the stream twice, on sturdy metal bridges, and you can see the waterfall for the first time from the second bridge!  If you keep on hiking, you'll come to a split in the trail.  Staying to the right will bring you right up to the waterfall.  The waterfall is especially beautiful in the Spring, when the water flow really picks up from all of the snowmelt!
What about the cave, though?  After all, it is called Mossy Cave Trail, right?  If you also want to see the cave, you'll take a left at the trail's junction.  As the name of the trail suggests, it really is a cave with a mossy entrance! 🙂
If you're going to day trip down Highway 12 to Capitol Reef (see below), that's a great time to hike the Mossy Cave Trail, as it's right on the way there!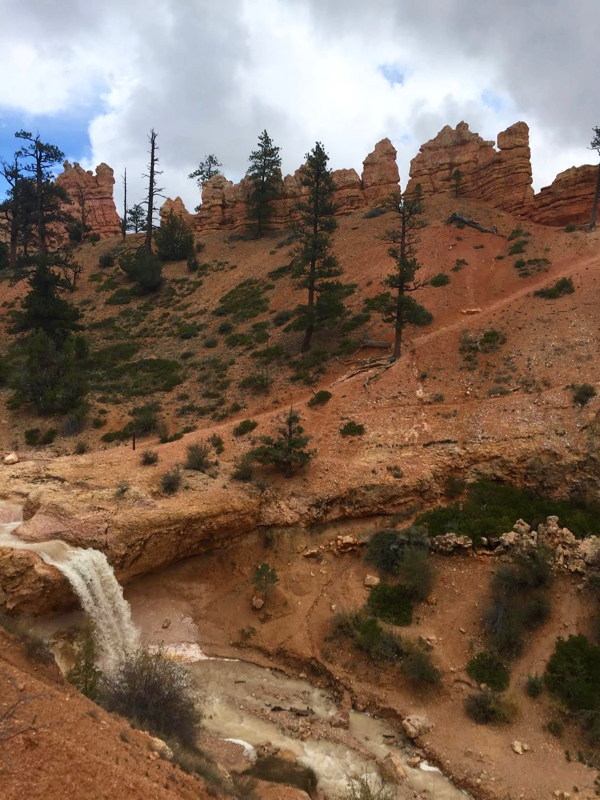 Rim Trail (11 miles)
Chances are, you'll find yourself on the Rim Trail at one point or another, hopping to and from different viewpoints and trails.  It's the only trail that stays open during the winter, and the views of Bryce Canyon blanketed in freshly fallen snow are always breathtaking!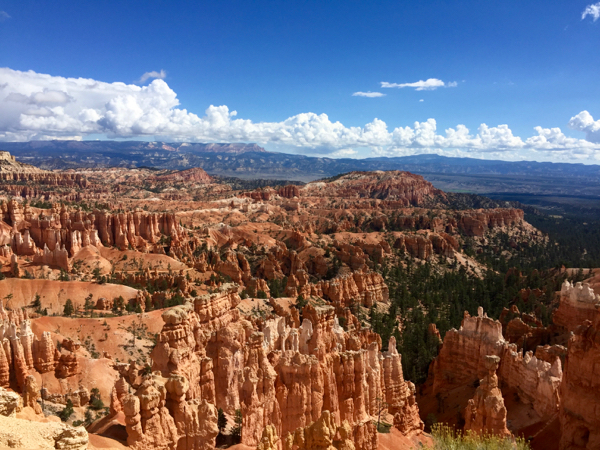 Best Viewpoints at Bryce Canyon:
Rainbow Point and Yovimpa Point – These adjacent viewpoints, both located at the southernmost end of the park road, offer tremendous views over the whole natural 'Grand Staircase' geological area, with so many different layers of rock over thousands of feet in elevation difference!
Natural Bridge – Utah may be famous for being the home of Arches National Park, but it's not the only place you're gonna find incredible natural arches… Bryce Canyon's Natural Bridge is equally as impressive!  The arch is truly gigantic, over 200 feet tall!
Bryce Point – At the southeastern end of the humongous Bryce Amphitheater, this viewpoint is a favorite for sunrise, sunset, and wildlife viewing!
Inspiration Point – Another great viewpoint at the Bryce Amphitheater.  It's the place to go in order to get inspired!  Seriously. 🙂
Sunset Point – Another one of Bryce's beautiful viewpoints, Sunset Point is the starting point for a few trails, including Wall Street.
Sunrise Point – This viewpoint offers excellent views to the east, over the low farming towns and the Grand Staircase-Escelante National Monument.  It also happens to be the top place to be at sunrise. (huge surprise!)
Fairyland Point – A quiet viewpoint, this is also the starting point for the Fairyland Loop Trail.
Natural Bridge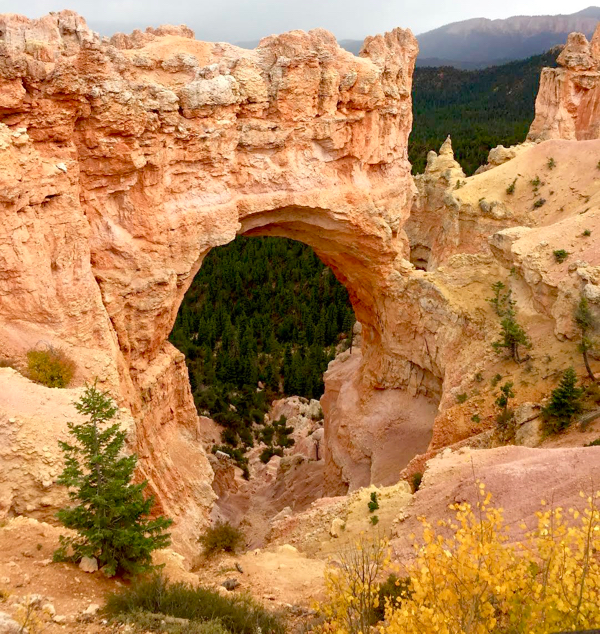 Sunrise Point

Bryce Canyon Travel Tips – Red Canyon
Located in southern Utah's Dixie National Forest, you'll pass through Red Canyon on Highway 12 if coming from the west. (Think Zion, Las Vegas) This neat little area may be overlooked, but sure beautiful… it's like a mini, quiet Bryce Canyon!  There are a handful of hiking trails to choose from, as well as a scenic bike path and a campground!
Bryce Canyon Travel Tips – Best Day Trips and Nearby Destinations
Zion National Park (About 2 Hours to Springdale)
With its towering canyon walls, lush vegetation, breathtaking waterfalls, and narrow slot canyons, Zion National Park is one of those places that needs to be seen to be believed!  Check out these Zion National Park Hikes to find the 7 best hikes in this amazing national park!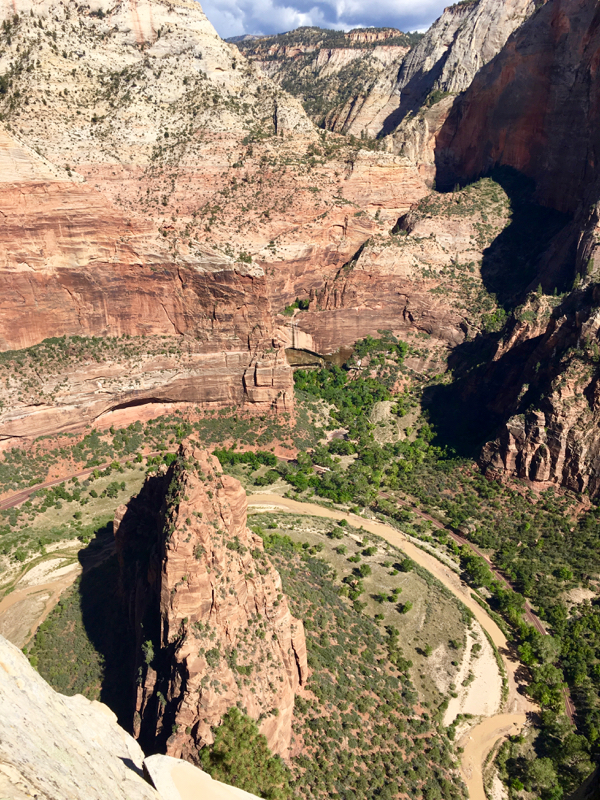 Cedar Breaks National Monument (About 1 Hour and 15 Minutes) – This huge amphitheater is basically like a mini Bryce Canyon, and there are a couple of breathtaking viewpoints!
Coral Pink Sand Dunes State Park (About 1 1/2 Hours) – For the chance to see pink sand dunes, this state park is totally worth the visit!
Snow Canyon State Park (About 2 1/2 Hours) – This Utah state park, home to an amazing sandstone canyon, has many amazing hiking trails and so much more!
Great Basin National Park, Nevada (About 3 Hours and 15 Minutes) – This mini mountain range is not only home to the tallest mountain in Nevada and the only glacier in the state, but a few groves of Bristlecone Pines (the oldest trees in the world) and a cool cave system!
Valley of Fire State Park, Nevada (About 3 Hours and 40 Minutes) – This crazy red rock wonderland, just an hour from Las Vegas, has many short hikes to incredible places and two unbeatable campgrounds!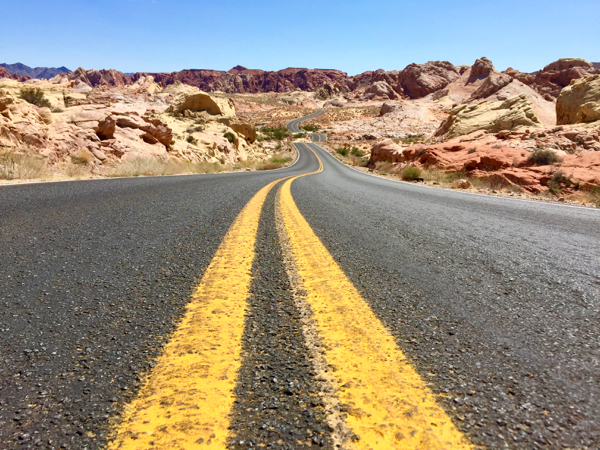 Page, Arizona (About 2 1/2 Hours) – Some things to do in this northern Arizona town include renting a boat and exploring Lake Powell, going into Antelope Canyon, seeing Glen Canyon Dam, and visiting the famous Horseshoe Bend! (Below)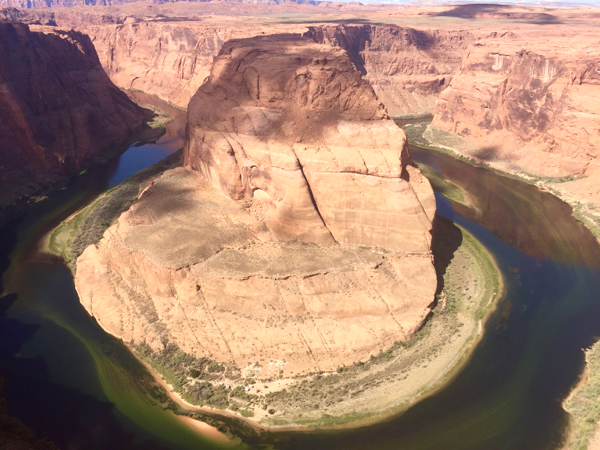 Highway 12 Scenic Drive: Road Trip to Capitol Reef National Park (2.5 Hours)
There's no wonder why Utah's Highway 12 is named an All-American Highway.  In a nutshell, this drive takes you down from the high forests of Bryce Canyon, past a handful of high desert towns and farms, before crossing the 11,000 foot Bluebell Knoll and then descending to Capitol Reef's Waterpocket Fold.
Starting from the town of Bryce, drive east on Highway 12 for 5 miles to the Mossy Cave Trail.  Because the trailhead is literally right on Highway 12, it's a great beginning to the scenic drive! (Look above for trail details)
The waterfall at Mossy Cave Trail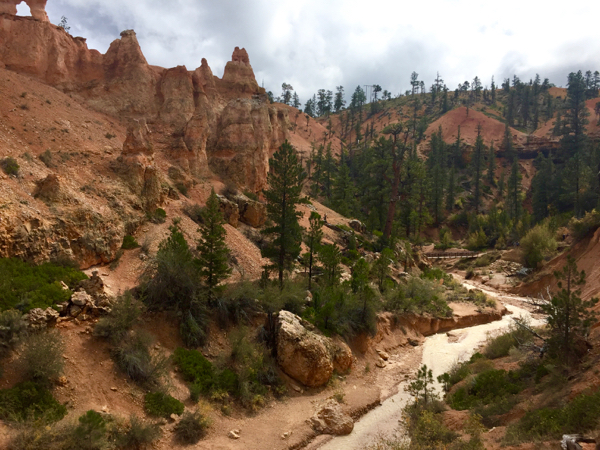 After you hike the Mossy Cave Trail, you'll drop down into a farming valley, and pass through the small towns of Tropic and Cannonville, and continue on to Escalante Petrified Forest State Park.  Overall, it should be about a 50 minute drive through scenic farmland.  Also, along this stretch, you'll pass by the road to Kodachrome Basin State Park, home to 60-something red rock pillars!
A view over the town of Escalante from the state park.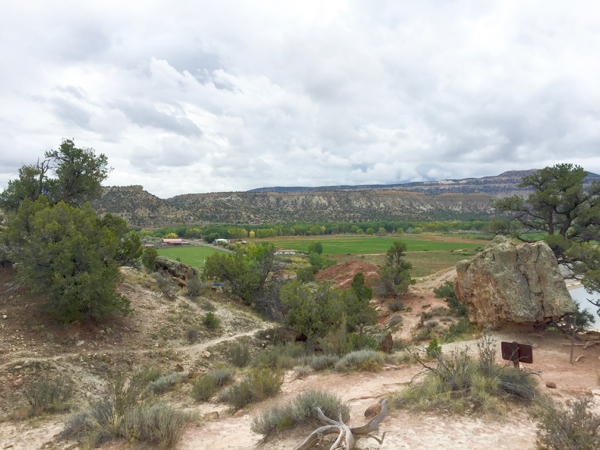 Escalante Petrified Forest State Park
There is an $8 fee to enter Escalante State Park.  The park has a 1 mile loop trail (Petrified Forest Trail) and an additional 0.75 mile loop (Sleeping Rainbows Trail).  I recommend hiking both trails, which is 1.75 miles in all, to see the most petrified wood.  Along this hike, you'll see logs, parts of logs, and broken bits of the amazing multicolored wood!  Plus, some parts of the trail offer scenic views over the nearby reservoir and town of Escalante.
Petrified wood logs!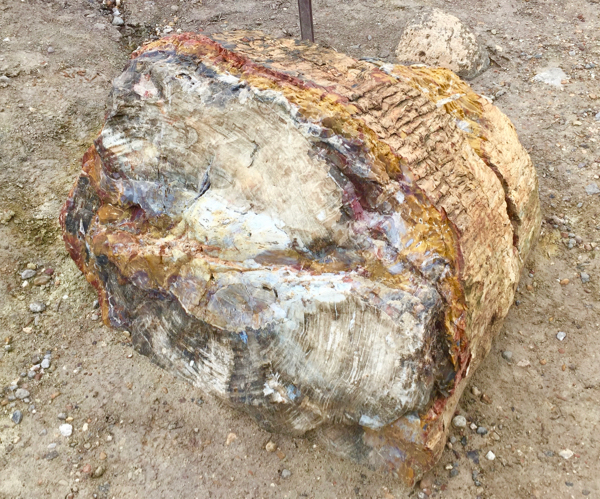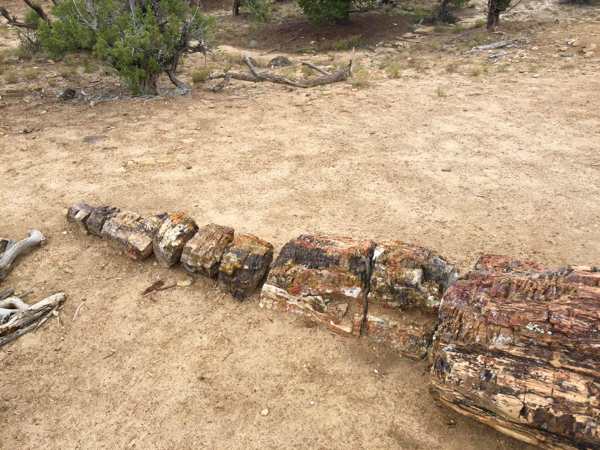 Head of the Rocks Overlook
After seeing the petrified wood, continue driving east for about 10-15 minutes to the Head of the Rocks Overlook.  From here you'll see the high desert terrain and Highway 12 as it winds its way around the crazy landscape!  Soon after this viewpoint, you'll pass by the trailhead for Lower Calf Creek Falls, a truly amazing oasis in the desert!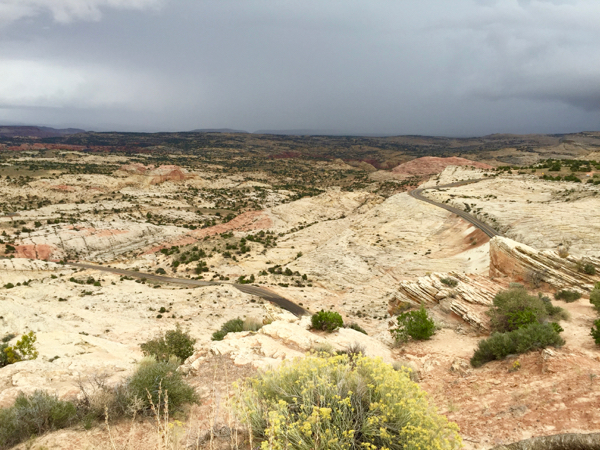 From the Head of the Rocks overlook, it's about a 1.5 hour drive to Capitol Reef National Park.  Along the way, you'll pass over the Bluebell Knoll, topping out at an elevation of 11,000 feet.  Knolls are rather high in Utah!  If you drive across the knoll in the Fall, you'll be rewarded with beautiful colors on the trees!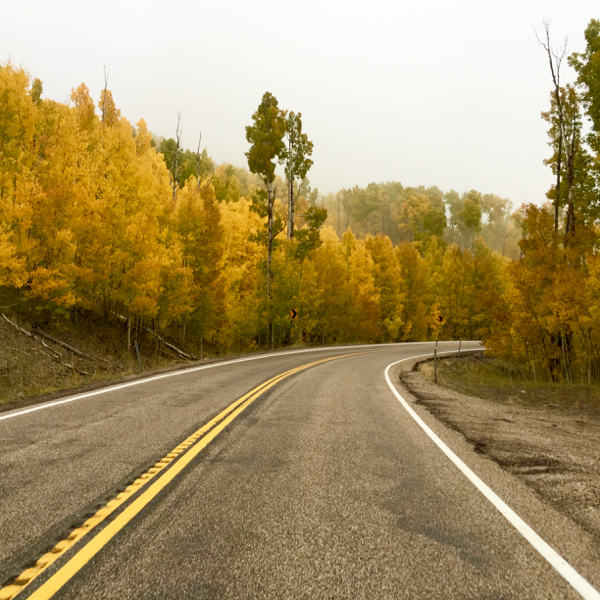 Capitol Reef National Park:
Once you start descending from Bluebell Knoll, your breath will be taken away with amazing views of the Waterpocket Fold, a 100 mile stretch upheaval of cliffs!  Then, when you reach the town of Torrey, you'll take a right onto Highway 24, and then it's an easy 15 minute drive to the Capitol Reef National Park Visitor Center from there!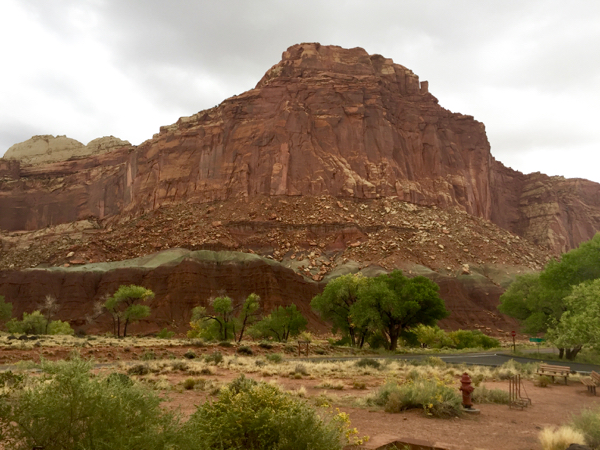 The top hike I recommend in Capitol Reef is Hickman Bridge Trail (1.8 miles roundtrip), which is located  2 miles east of the visitor center.  The trail starts between the Waterpocket Fold and Fremont River, before ascending to a high plateau with great views over the 'Capitol Dome' rock feature!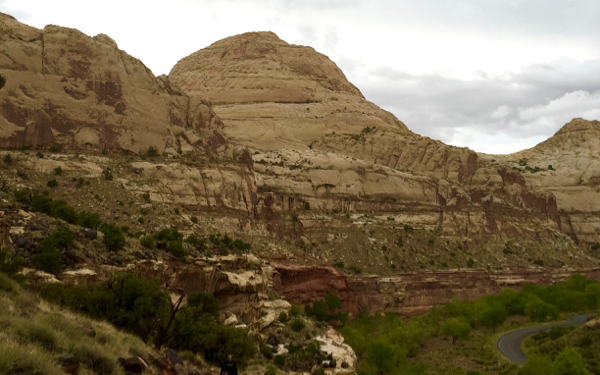 After that flat area, the trail follows along a wash through a canyon, before coming to Hickman Bridge!  This huge arch is a seriously amazing place to hang out for a while.  With views of white rock domes in the distance, a lush creek trickling through, and one ginormous arch, this is truly one of Utah's hidden gems!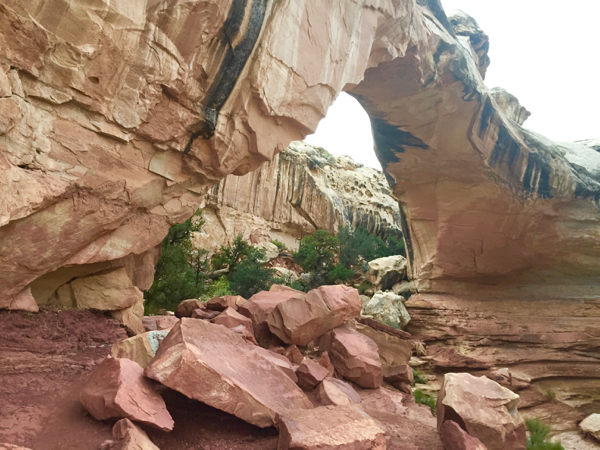 Overall, the drive along Highway 12 to Capitol Reef is one of my favorite Utah experiences.  Ranging from 4,000-11,000 feet in elevation, passing through forests, canyons, farms, small towns, and so much more, this is one of the most memorable and enjoyable drives in the country!  Keep reading these Bryce Canyon Travel Tips below for tips on when to visit and what to bring on your Utah vacation…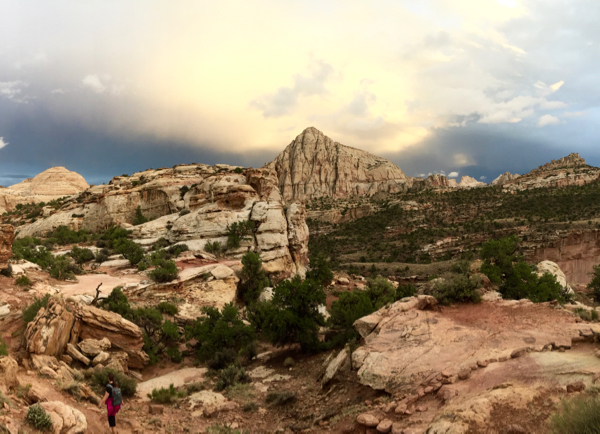 How to Get Free Stuff for Your Bryce Canyon Trip
By bringing the right things, you're visit to Bryce Canyon can go from good to great!  After many visits to the Bryce Canyon, I've compiled the best things you'll want to pack for the Grand Canyon.  But first, pick up some Free REI Gift Cards to make the shopping a whole lot cheaper! 😉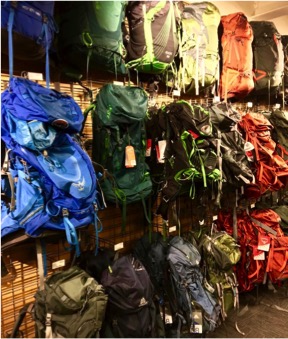 What to Bring to the Bryce Canyon:
Okay, now to the essentials!  If you're going to do any hiking whatsoever, you'll need to bring some sturdy hiking shoes.  Also, Bryce Canyon's high elevation means the weather changes fast – so stay warm with a fleece and dry from the thunderstorms with a rain jacket.
The sun can be pretty intense during the summer months, so don't forget a pair of sunglasses.  Don't forget – a hiking daypack is your best friend while hiking. In it you'll carry your camera, fleece, rain jacket, and other belongings.  And last, bring a National Geographic Bryce Canyon map.  It's highly detailed with all of the trails, and is waterproof and tear-resistant.
Bryce Canyon Travel Tips: Entrance + Things to Know
Entrance Fee is $30, and good for 7 days.
During the summer months, Bryce Canyon has a free shuttle service.  If you'll be using the shuttle, check out the operating times here.
Bryce Canyon is approximately 1 1/2 hours from Kanab,  1 3/4 hours from Springdale (Zion NP), and 4 hours from Las Vegas.  Before driving, always double check with google maps and the local radio station for any accidents and road closures.
Bryce Canyon Travel Tips: When to Visit
Like the rest of Utah, Spring and Fall are the best times to visit, with nice, cool weather… but look out for those thunderstorms that seemingly roll in out of nowhere!
If you plan a visit during the summer, early morning or evening hikes are best, when the weather is cooler.
Winter is the perfect time to take a walk along the rim trail and catch a beautiful snowy landscape!
Bryce Canyon National Park Travel Guide – Camping at Bryce:
Having camped at Bryce in the past, I can speak from personal experience on the matter.  And I'll say, it's an absolutely amazing experience!  Being in the park, and close to the action is really the best way to go.
There are two campgrounds in Bryce: Sunset Campground and North Campground.  Both are less than a mile apart, so neither has a better location, really.  Having stayed at the Sunset Campground in the past, I enjoyed waking up early, heading to the rim, cooking breakfast, and all around having a lot of fun!
With so many amazing hikes and viewpoints, Bryce Canyon is really one of the most spectacular places you can visit in Utah… and the world, for that matter! 😉 Now that you've read these Bryce Canyon travel tips, go check out these National Park travel tips below…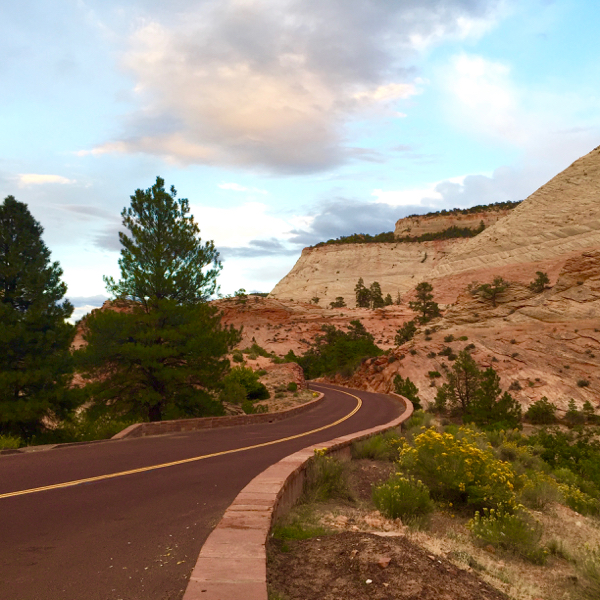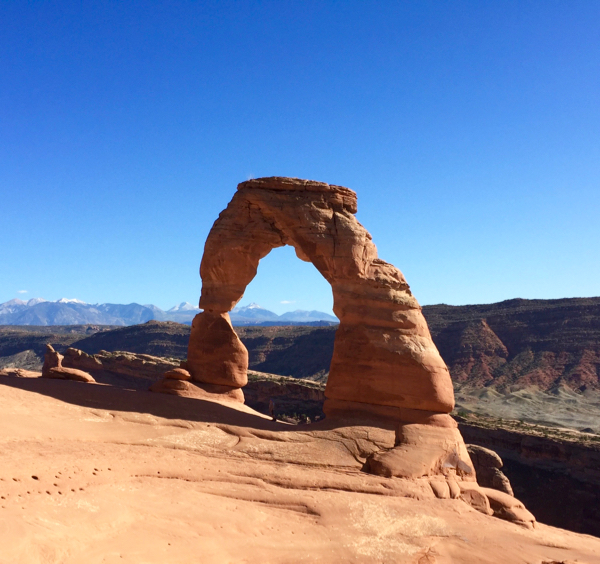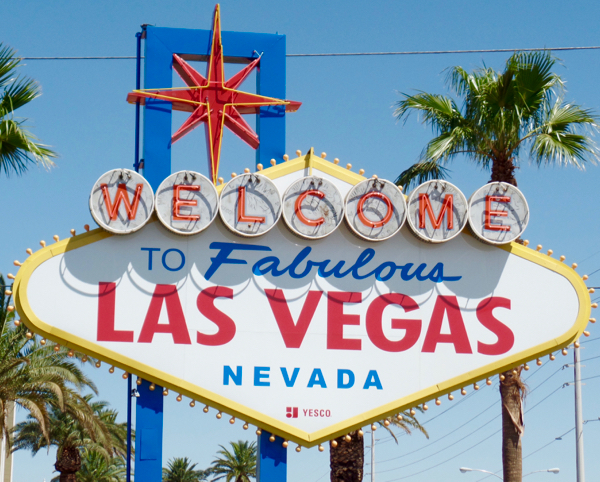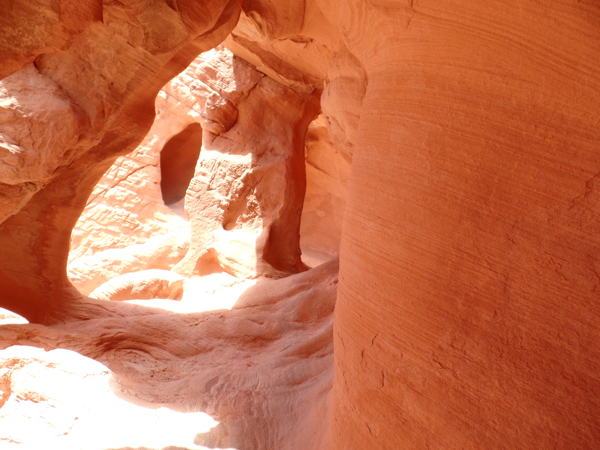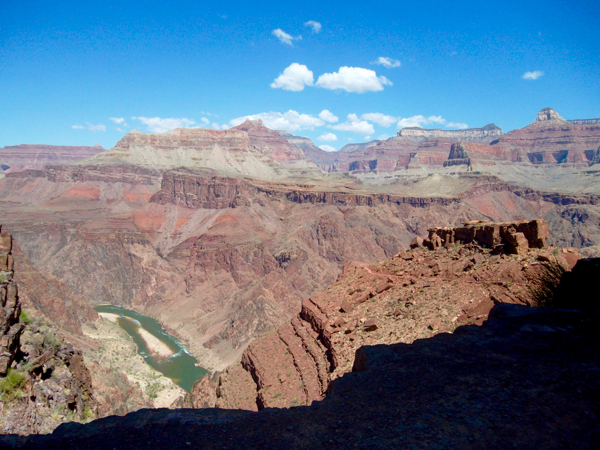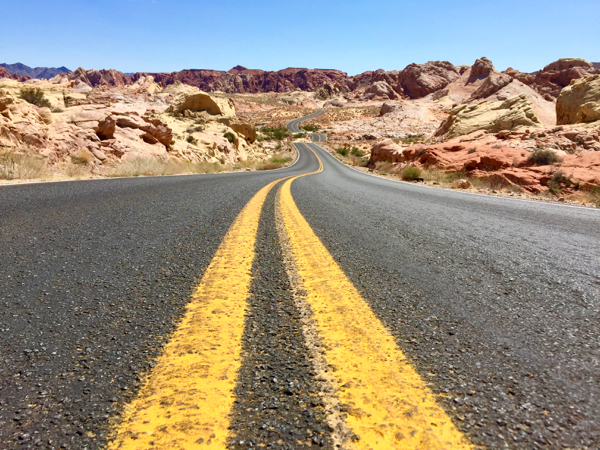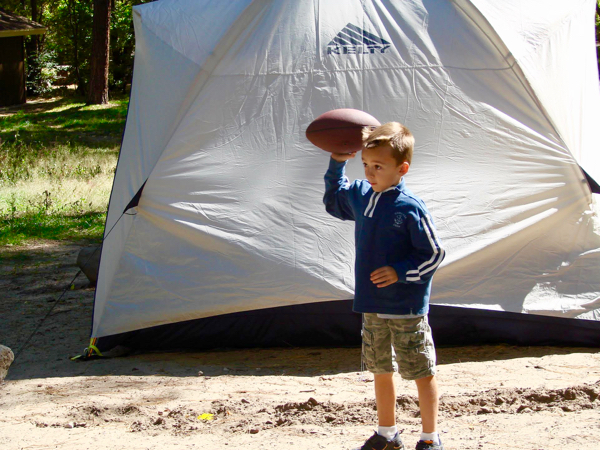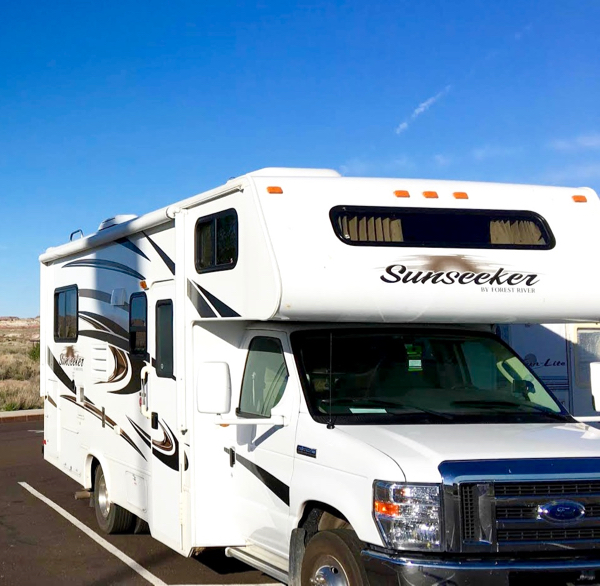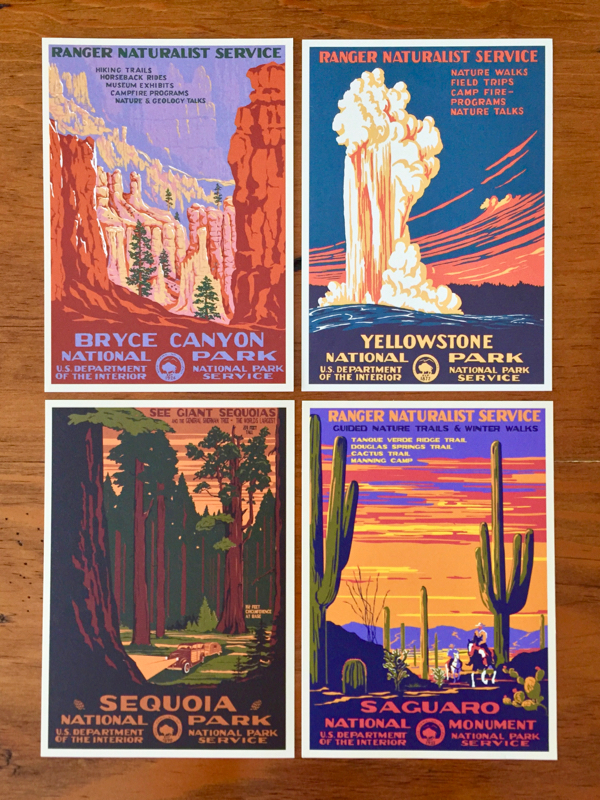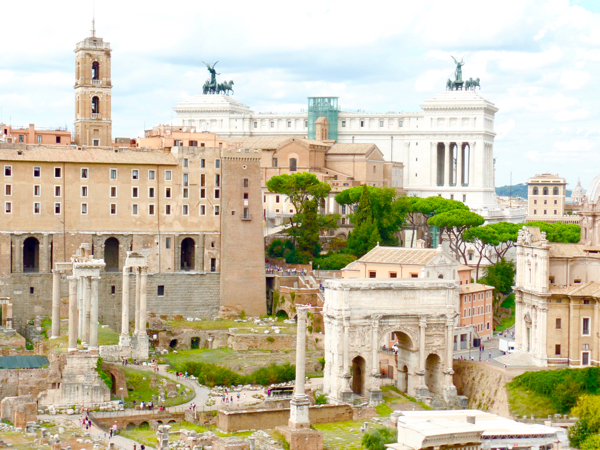 Don't miss out!  Now that you've read these Bryce Canyon Travel Tips, follow along with Never Ending Journeys for more fun Travel Tips and Recipes!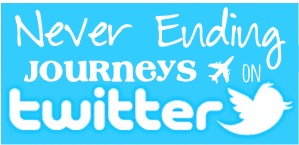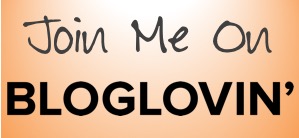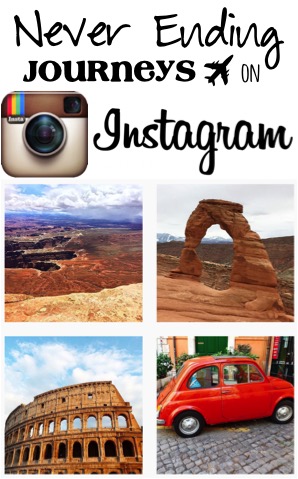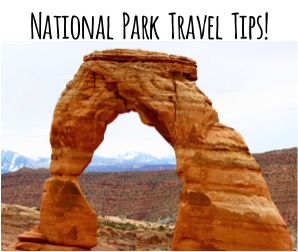 Have YOU ever been to Bryce Canyon?
What is your favorite part of the Bryce Canyon Travel Tips?  Leave a comment & share!