Make your next trip to Utah the best yet with these Arches National Park Hikes!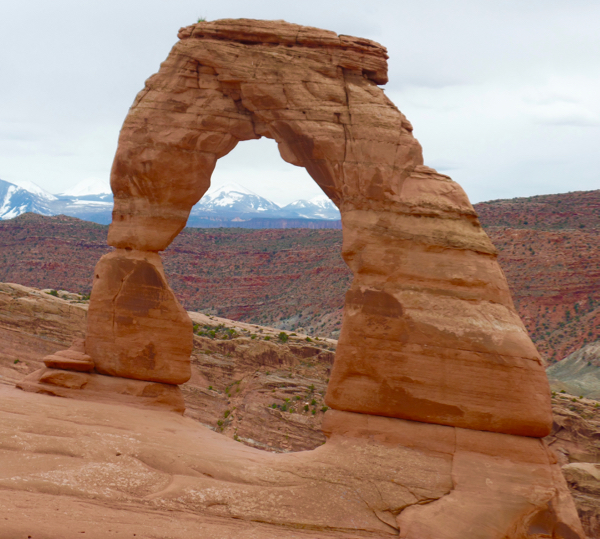 Heading to Utah?  You need to read these top tips for
Arches National Park Hikes
before
you go!  With so much to see, trying to narrow it all down into a short time frame can be tough!  Don't worry, though… here you can find all of the best arches, viewpoints, and even tips to outsmart the ever changing weather!
Now, are you ready to start exploring Arches National Park?  Don't leave home without reading these tips first…
Related:

Arches National Park Hikes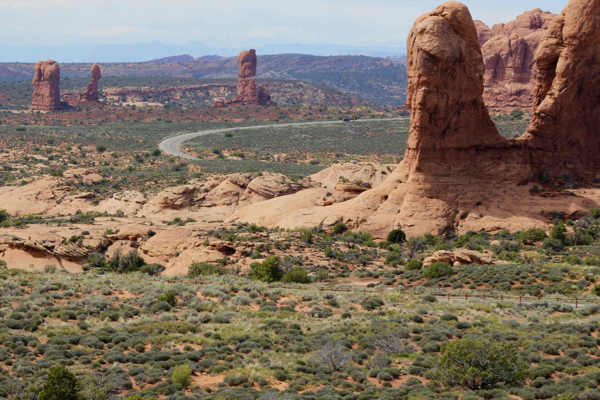 Best Easy Arches National Park Hikes
Delicate Arch (3 Miles Roundtrip)
Let me put it this way: if you only have enough time to visit one arch, it needs to be Delicate!  The hike to Delicate Arch provided amazing views along the entire trail.  But when I turned the very last corner of the trail and saw Delicate Arch for the very first time, it literally took my breath away!  The arch frames the beautiful snowcapped La Sal mountains and looked truly surreal.
To truly appreciate this arch, you need to hike down underneath the arch.  You'll see how massive this arch really is, over 80 feet tall!  This arch isn't only found on the Utah state license plate.  Long story short, this arch became famous when the Olympic Torch was carried through it for the 2000 Salt Lake City Winter Olympics.  The trail up to the arch is definitely one of the best hikes at Arches… and one of the best in Utah!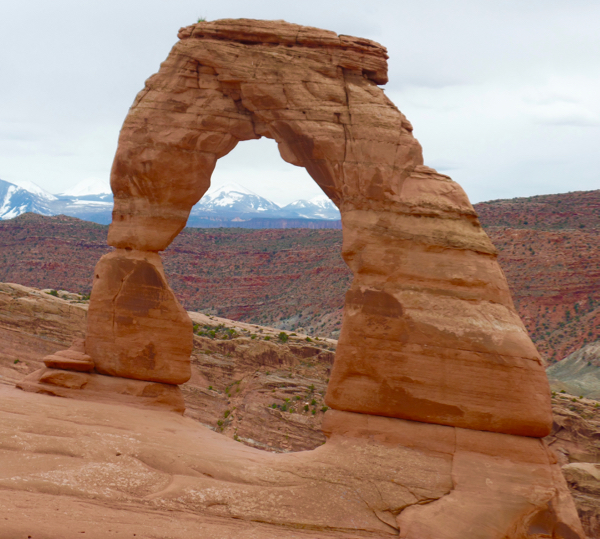 Sand Dune Arch (0.3 Miles Roundtrip)
Sand Dune Arch is hidden in a maze of giant red rocks, making the hike to this arch truly breathtaking!  You start out walking on a smooth and very wide trail.  The path narrows as you enter the canyon and the trail becomes sandy.  The trail slices right between the towering red rocks, before finally arriving at the arch, which is on the right hand side.  At sunrise and sunset, the arch looks its finest.  You can't afford to miss this beautiful arch, which is one of Arches' hidden gems!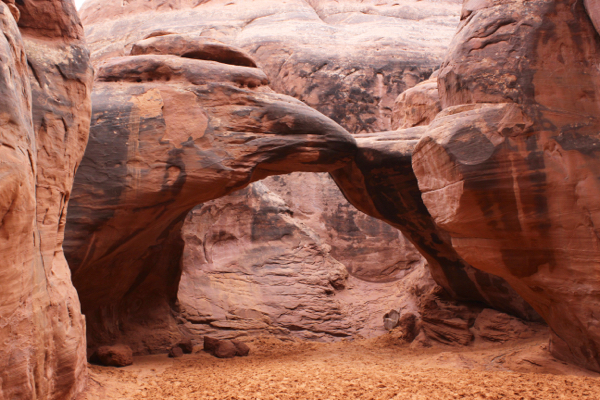 The Windows (1 Mile Roundtrip)
If you want the biggest bang-for-the-buck, you need to take the time to hike the two short trails at the end of Windows Road!  There are 3 arches within just one mile of the parking lot.  On one side of the parking area you can take a short hike to the North and South Windows, and Turret Arch.
On the other side of the parking lot you'll find Double Arch, which was featured in the beginning of Indiana Jones: The Last Crusade!  Double Arch was one of my favorite arches in the park.  Once you climb up into the base of the arch, the views become even more impressive.  I had a very hard time leaving this place!
North and South Windows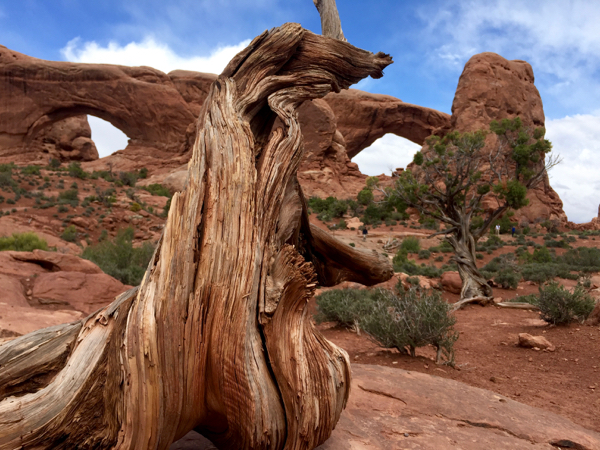 Turret Arch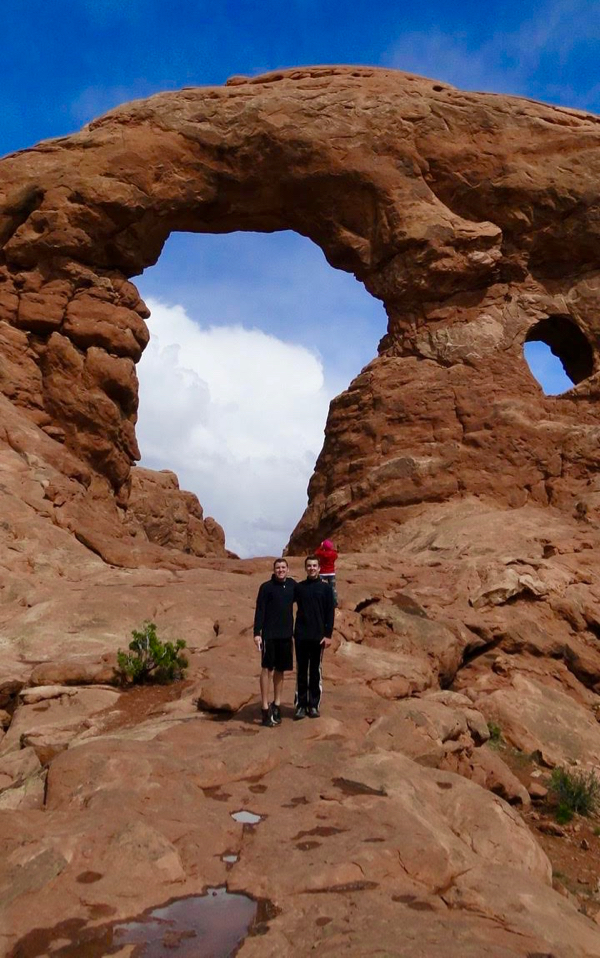 Double Arch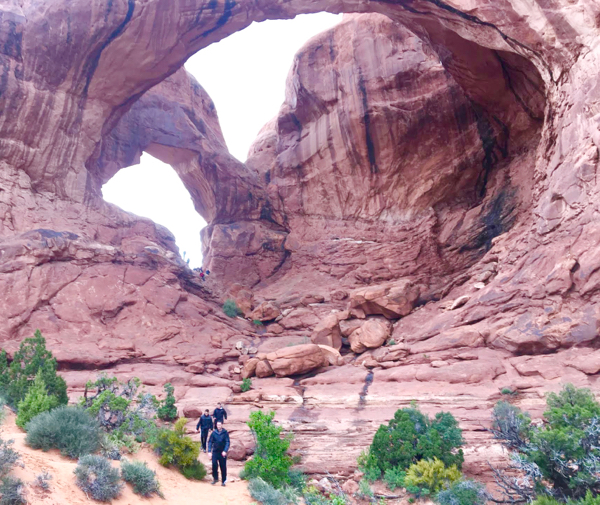 Balanced Rock (0.3 miles)
Arches' most unusual attraction, Balanced Rock's off-balanced shape is something that you'll need to see to believe!  The trail is very easy, and the parking lot for it is right off the main road.  You'll miss out if you come to the park to only see arches, because this fascinating rock is really one of Arches' most incredible rock formations!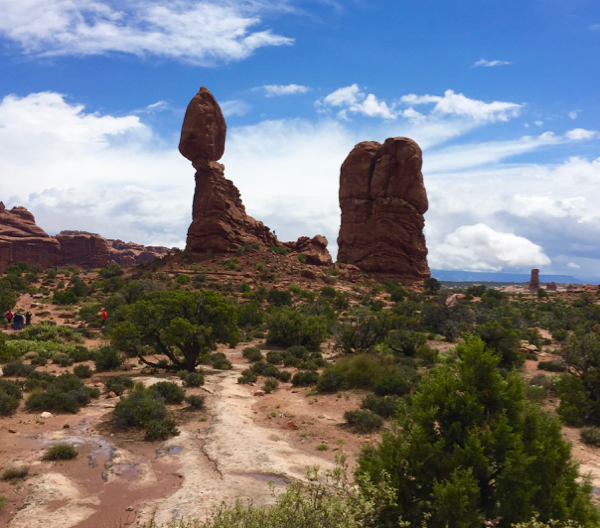 Devil's Garden Trail to Landscape Arch (1.6 Miles Roundtrip)
The most imposing arch in the whole park, Landscape Arch is one of my favorites, and is unbelievably long and narrow!  The trail starts by entering  a narrow canyon.  It quickly exits the canyon, and winds around towering red rocks, before approaching Landscape Arch.  The first sight I got of Landscape Arch took my breath away!  The irregular shape of the arch makes it hard to believe how long it has survived through so much crazy weather!
Note: If you don't have much time, hike the Devil's Garden Trail to Landscape Arch.  However, if you have ample time on your hands, hike the trail up to Double O Arch and back, which is 4.5 miles roundtrip.  That way, you'll see even more magnificent arches!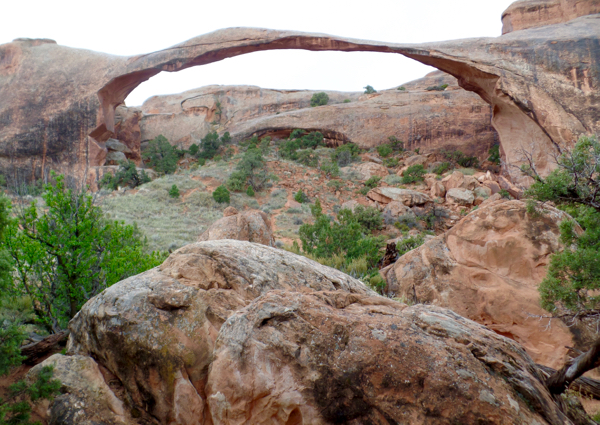 Before You Go: Things to Know
The Arches Visitor Center is ridiculously close to Moab: only 10 minutes away!
Arches National Park has one main road going through it, and it takes about 30 – 40 minutes to drive from the Visitor Center to the Devil's Garden Trailhead, which is at the the end of the road.
When there's a thunderstorm, stop wagging your selfie stick in the air… put your rain jacket on and find cover!
Before You Go: When to Visit
If you like to freeze to death, or if you like to wither like a raisin in blazing hot sun, then I suggest you visit Arches in the winter or summer.  For the rest of us folks that like nice weather, I recommend visiting Arches in the Spring and Fall.  Like the rest of Utah, Spring and Fall (March-April and the second half of September-October) are the best times to visit.

Before You Go: What to Wear
Don't Smother Your Feet in Blisters! (Wear Sturdy Hiking Shoes)
No – Converse or other wimpy shoes will not make the cut for hiking!  It's so important it is to wear sturdy, broken-in hiking shoes that feel comfortable… especially on the hike up to Delicate Arch!  So, grab yourself a nice pair of hiking shoes, and avoid blisters on your feet – a souvenir you don't want to bring home!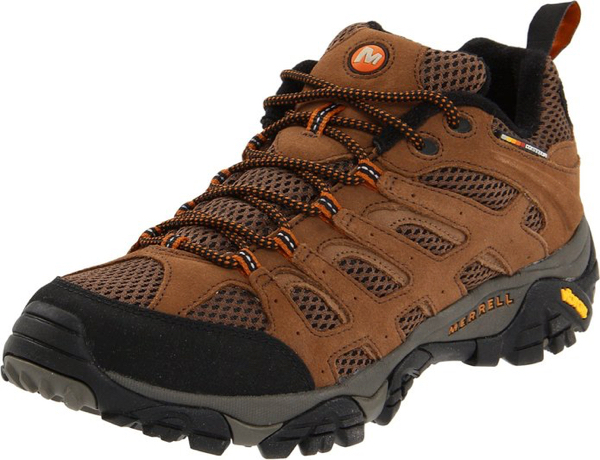 Don't Freeze to Death!  (Bring a Fleece)
At Arches, believing the weatherman's word is like believing a criminal's story…  it can be so inaccurate!  Here's an example of it: when we were going to hike the Devil's Garden Trail, the weather forecast said it was supposed to be sunny and warm, but surprise surprise… it was miserably cold and hailing on us!
Moral of the story:  Don't catch pneumonia and be sick for weeks… bring a fleece instead!
Avoid Getting Soaked for the Entire Day! (Bring a Rain Jacket)
Once again, don't believe the weather forecast!  Arches really does have some of America's most unpredictable weather!
When we went there,  the sky was completely blue and sunny as we drove to the Devil's Garden Trailhead in the late morning.  We started slowly heading towards Landscape Arch, and within minutes, the sky suddenly became dark and overcast!  Then, after we reached Landscape Arch, we heard thunder, and got hailed on!  Had it not been for our rain jackets to stay dry, the day would have been ruined… however, we were able keep having fun hiking, after the storm passed!
Moral of the story:  Don't let a 20 minute thunderstorm ruin the entire day… bring a rain jacket instead!!

If you'll be traveling with your baby to Arches, be sure to check out these Baby Travel Free Stuff Ideas!  From car seat covers to winter hats, these will make your trip so much easier!
Now that you've seen these Arches National Park Hikes, don't miss out on these other National Park Travel Tips!  It's time to continue planning your Southwest road trip!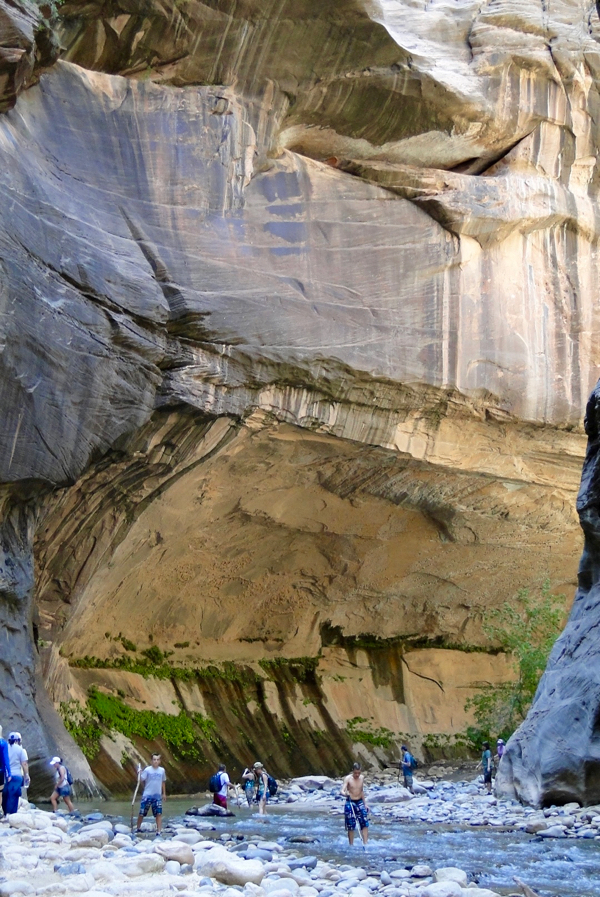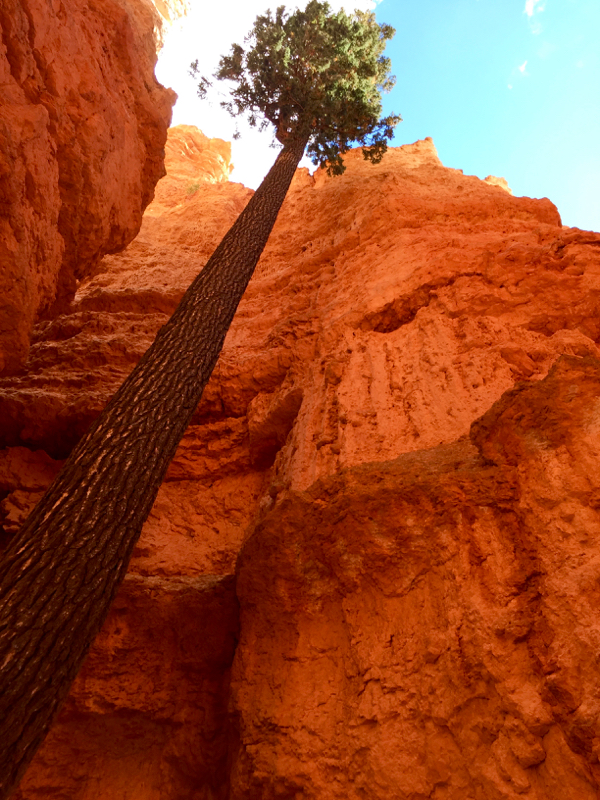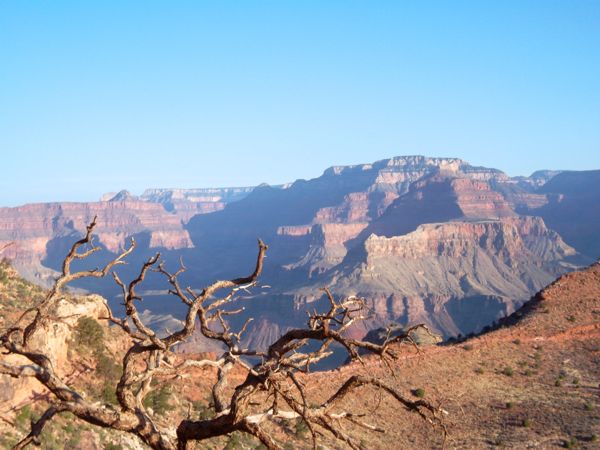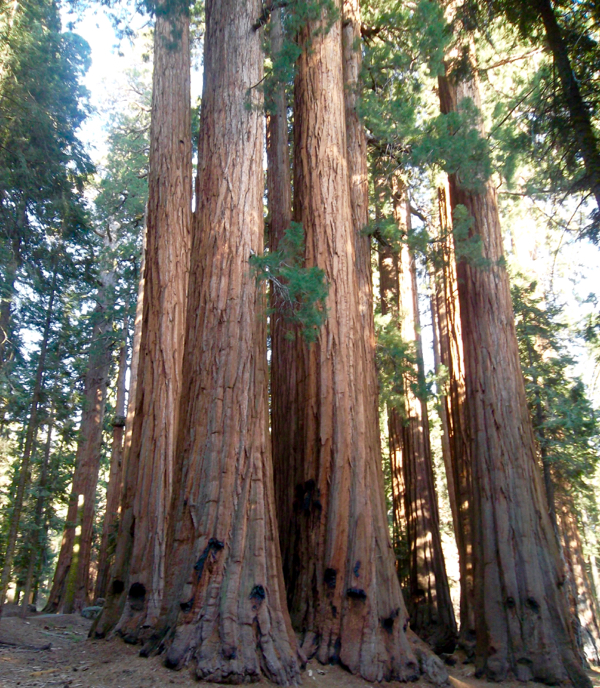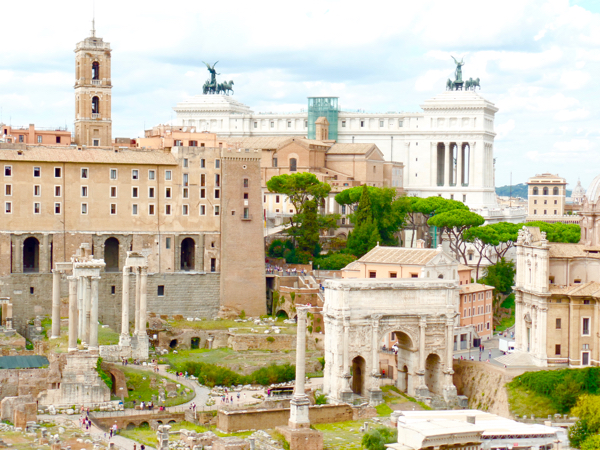 Don't miss out!  Follow along with Never Ending Journeys for more fun Travel Tips and Ideas!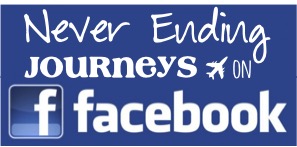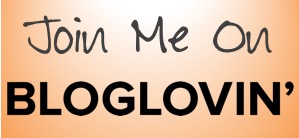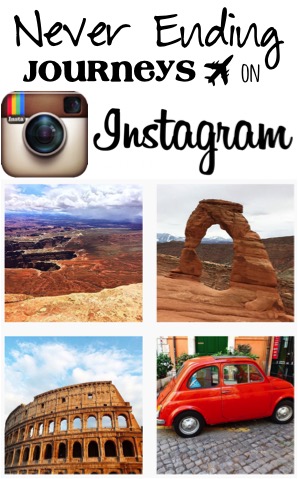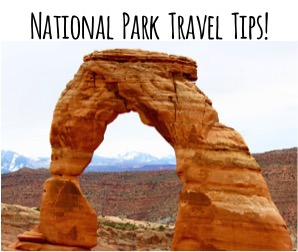 Have YOU ever been to Arches?
What are YOUR favorite Arches National Park Hikes?  Leave a comment & share!