Going to Utah?  Do yourself a huge favor and use these Bryce Canyon Travel Tips to plan your trip!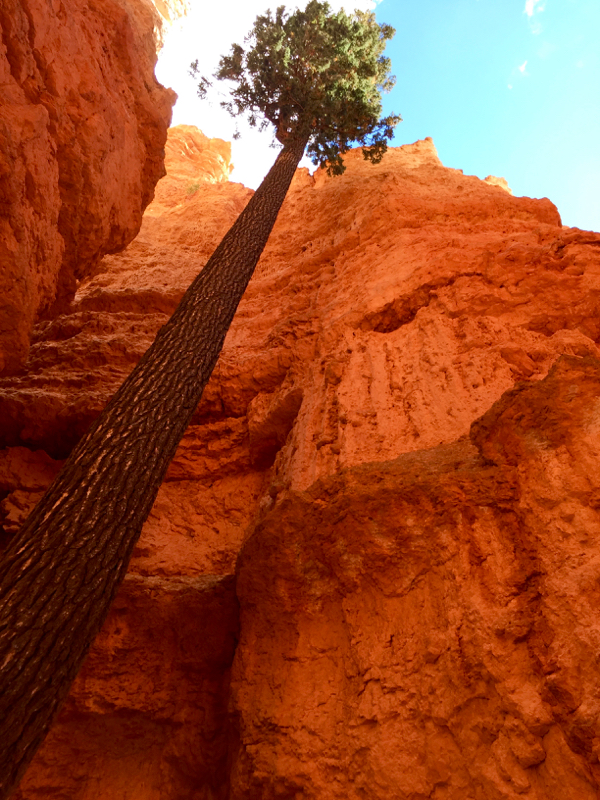 Planning your trip to Bryce Canyon??  After hiking through its narrow slot canyons, taking selfies by waterfalls, and craning your neck to look up at towering reddish-orange hoodoos, it really is one of those places that you'll fall in love with and want to keep visiting over and over again! (I speak from experience on that matter)
These Bryce Canyon Travel Tips will show you the best hikes, viewpoints, and tips for your visit to Bryce!  But remember: after you visit once, you'll already be booking your second visit before you return home! 😉
Are you ready to start exploring Bryce Canyon National Park?  Here we go…

Bryce Canyon Travel Tips
Best Hikes at Bryce Canyon:
Wall Street to Queens Garden (Approx. 3 Miles)
Warning: if you hike this trail, you will end loving it and wanting to hike it several more times in a row!
To do this hike, you start at Sunset Point, and take the Navajo Trail down into 'Wall Street', an extremely narrow slot canyon!  And, once you hike through the slot canyon, you'll see some soaring Douglas Fir trees that will make your neck sore from looking up… and you won't even mind!
After you pass the tall trees, the canyon widens out, and you'll walk along the floor of the Bryce amphitheater for about one mile, before coming to a three-way junction in the trail.  Be sure to take the Queen's Garden trail after you get to the junction!  Over the course of the next 2 miles, you very gradually ascend from the floor of the canyon to the rim of the amphitheater, and the last 20 – 30 minutes of the hike have really incredible views!
Descending into Wall Street – Can you spot the people and the slot canyon to the left of the tree below?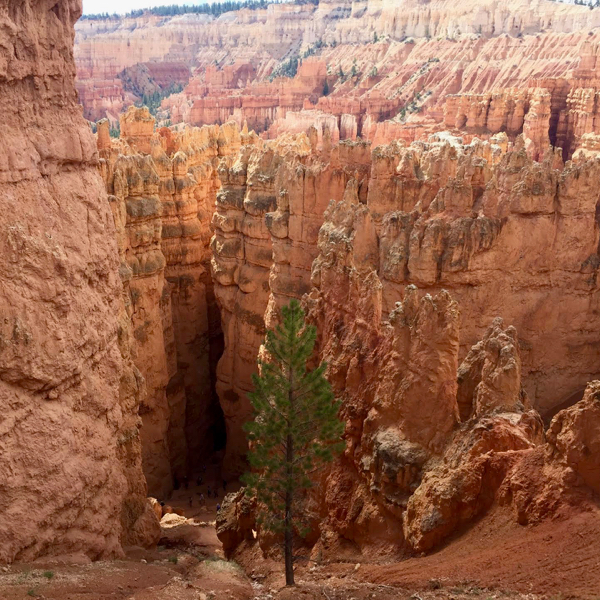 There's a reason they call it Wall Street… the trees and rocks are like skyscrapers!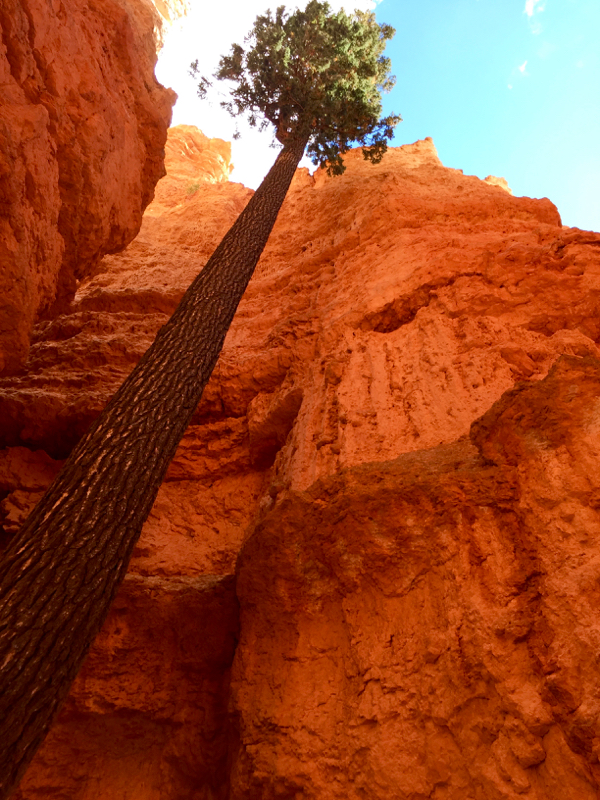 Waterfall at Mossy Cave Trail (0.8 Miles)
Tucked away in a little scenic valley, this waterfall is one of the less visited attractions in the park and one of my favorite hikes at Bryce!  You start by entering a wide, short canyon, hiking along a fast-flowing stream with orange hoodoos towering over you.  You cross the stream twice, on sturdy metal bridges, and you can see the waterfall for the first time from the second bridge!  If you keep on hiking, you'll come to a split in the trail.  Staying to the right will bring you right up to the waterfall.  The waterfall is especially beautiful in the Spring, when the water flow really picks up from all of the snowmelt!
What about the cave, though?  After all, it is called Mossy Cave Trail, right?  If you also want to see the cave, you'll take a left at the trail's junction.  As the name of the trail suggests, it really is a cave with a mossy entrance! 🙂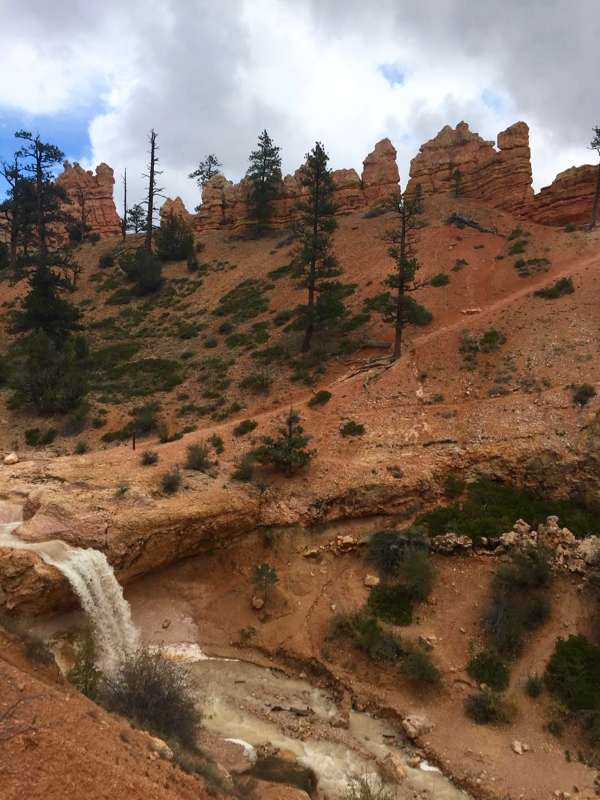 Rim Trail (11 miles)
Chances are, you'll find yourself on the Rim Trail at one point or another, hopping to and from different viewpoints and trails.  It's the only trail that stays open during the winter, and the views of Bryce Canyon blanketed in freshly fallen snow are always breathtaking!
Fairyland Loop Trail (8 miles)
If you want to hike a trail and have the entire canyon to yourself, I recommend hiking the Fairyland loop trail!  When I last hiked it, I only encountered 20 or so people the entire hike!  And like every other trail in Bryce Canyon, the views are simply amazing!
Are you noticing the trend here with the trails at Bryce?  They're all very beautiful!
Best Viewpoint at Bryce Canyon:
Natural Bridge
Utah may be famous for being the home of Arches National Park, but it's not the only place you're gonna find incredible natural arches… Bryce Canyon's Natural Bridge is equally as impressive!  The arch is truly gigantic, over 200 feet tall!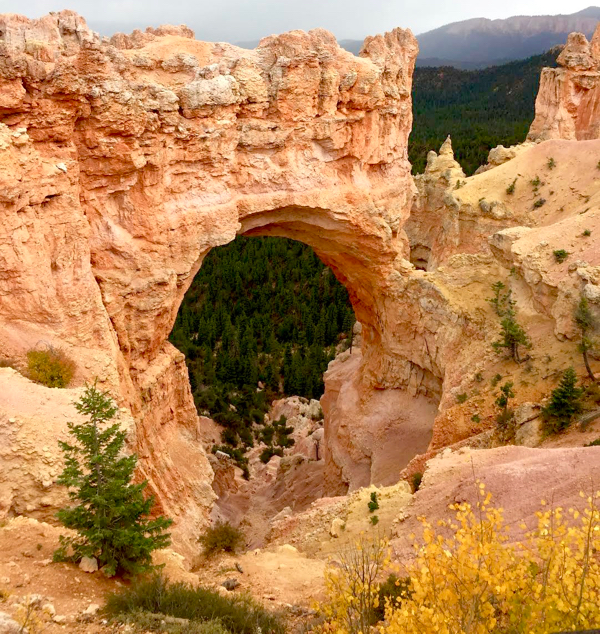 Before You Go: Entrance + Things to Know
Entrance Fee is $30; OR, you can make that only $0 if you plan your visit with these Free National Park Days in 2017!
Zion National Park is only 1 1/2 hours from Bryce, and is the perfect addition to your Utah vacation!  If you stay in Kanab, which is where I usually stay, you're about 30 minutes from the entrance to Zion, and 1 – 1.5 hours from Bryce.
Bryce Canyon has a free shuttle service.  If you'll be using the shuttle, check out the operating times here.
Before You Go: When to Visit
Like the rest of Utah, Spring and Fall are the best times to visit, with nice, cool weather… but look out for those thunderstorms that seemingly roll in out of nowhere!
If you plan a visit during the summer, early morning or evening hikes are best, when the weather is cooler.
Winter is a the perfect time to take a walk along the rim trail and catch a beautiful snowy landscape!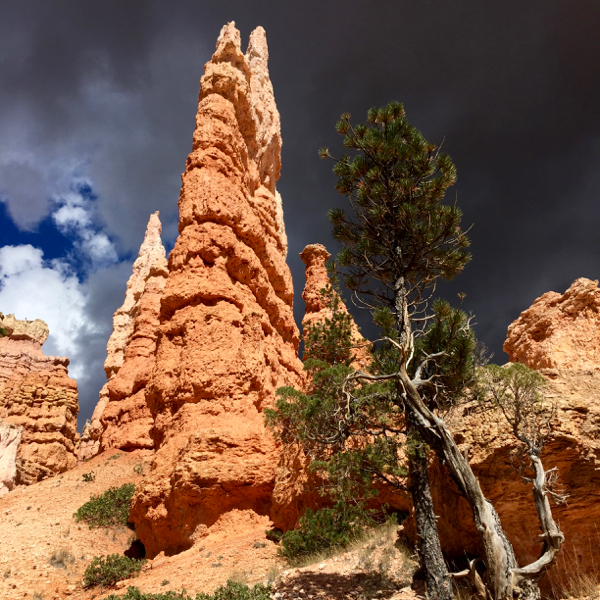 Before You Go: What to bring to Bryce Canyon
Hiking Shoes
Skip the wimpy shoes!  It's so important to wear sturdy, broken-in hiking shoes that feel comfortable… especially when you hike down into Wall Street!  So, grab yourself a nice pair of hiking shoes, and avoid blisters on your feet – a souvenir you don't want to bring home!
Hiking Shoes for Men | Hiking Shoes for Women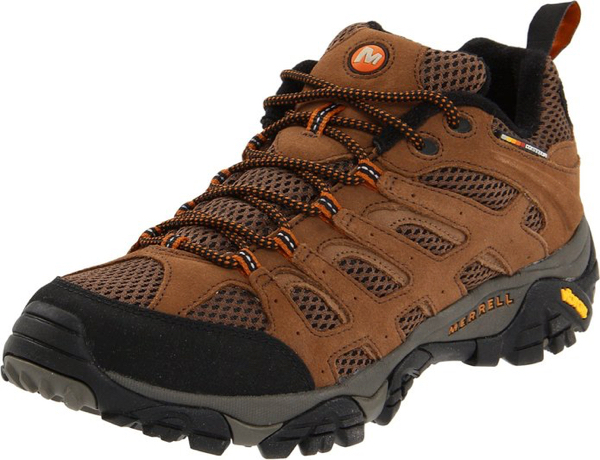 Stay Warm and Dry – Bring a Fleece and a Rain Jacket!
The rim of Bryce Canyon is located extremely high – 9,000 feet in elevation – so, the weather can be a little crazy!  When I hiked the Wall Street-Queens Garden trail, the weather went from being sunny and warm to freezing and raining, and 15 minutes later it was hot and sunny again!  I recommend bringing a fleece and a rain jacket along in your backpack… they are seriously life savers!
Fleeces for Men | Fleeces for Women
Rain Jackets for Men | Rain Jackets for Women

If you'll be traveling with your baby to Bryce Canyon, be sure to check out these Baby Travel Free Stuff ideas!  From car seat covers to winter hats, these will make your trip so much easier!
With so many amazing hikes and viewpoints, Bryce Canyon is really one of the most spectacular places you can visit in Utah… and the world, for that matter! 😉 Now that you've read these Bryce Canyon Travel Tips, check out these Utah and National Park travel tips below…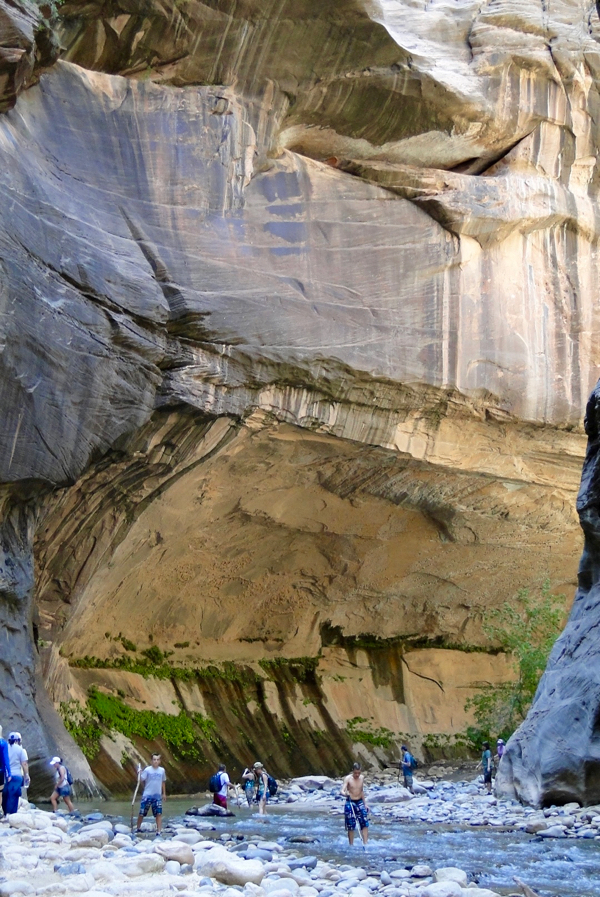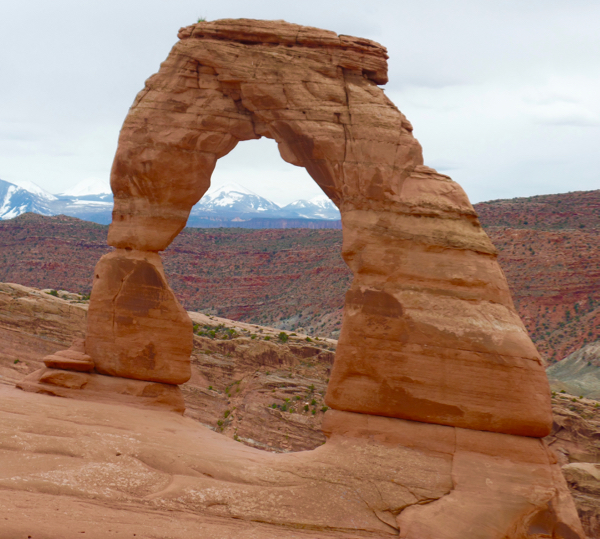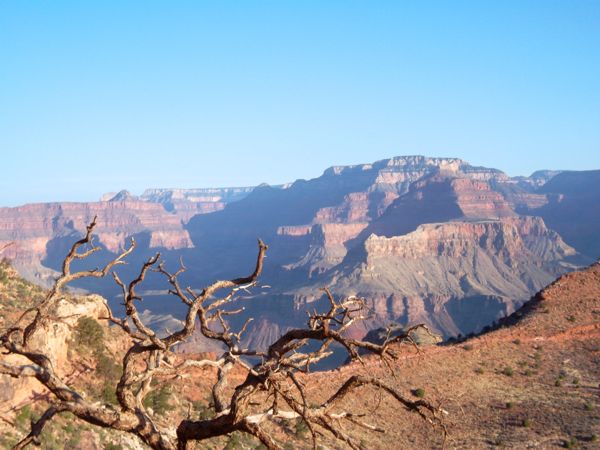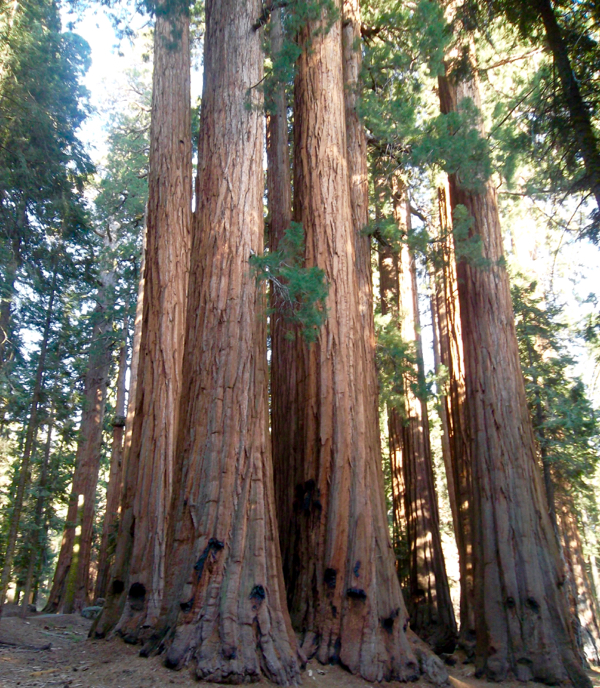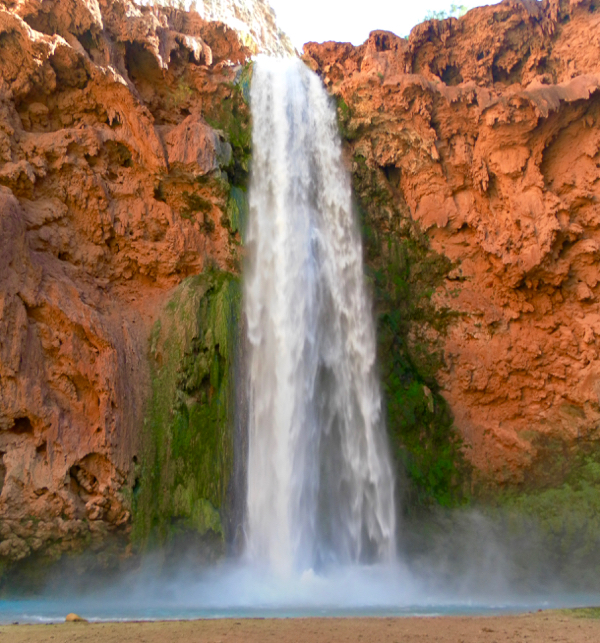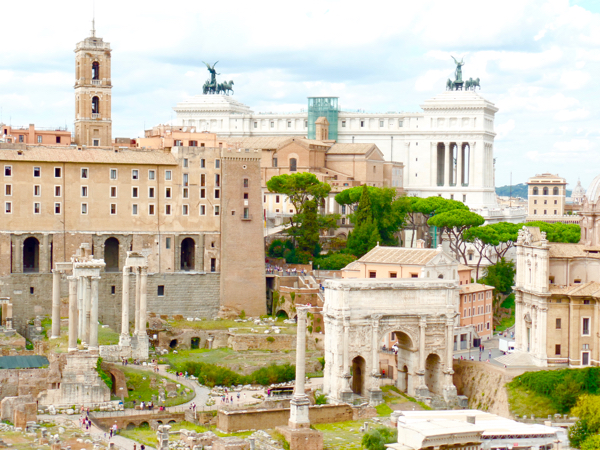 Don't miss out!  Now that you've read these Bryce Canyon Travel Tips, follow along with Never Ending Journeys for more fun Travel Tips and Recipes!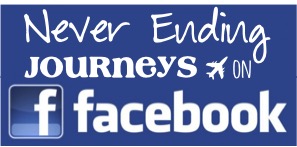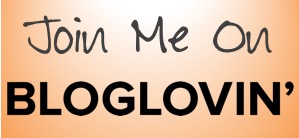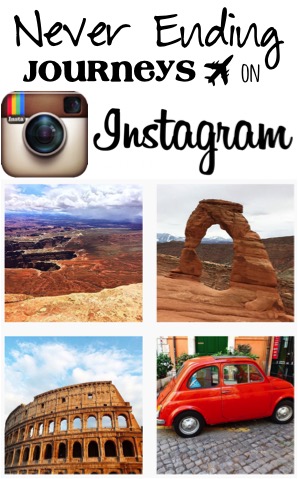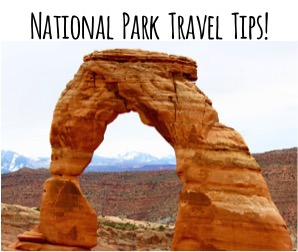 Have YOU ever been to Bryce Canyon?
What is your favorite part of the Bryce Canyon Travel Tips?  Leave a comment & share!