Looking for a fast introduction to the American Southwest? This Itinerary Las Vegas to Grand Canyon Trip is for you!
Looking for an epic adventure this year? There's nothing that beats an action-packed road trip through the Southwest!
This epic road trip itinerary will show you the best of Las Vegas and Northern Arizona in 7 days. From the bustling neon streets of Vegas to the incredible depths of the Grand Canyon, and Route 66 nostalgia in the high alpine city of Flagstaff, you'll get the opportunity to experience the best of this beautiful region.
Overall, this Las Vegas to Grand Canyon Trip is an excellent way to see some of the highlights of the Southwest in a short time frame. If you have more time, you'll want to check out this 14-day American Southwest Road Trip Itinerary from Las Vegas.
Ready to plan your epic getaway? Keep reading to find out more…
Las Vegas to Grand Canyon Trip
Day #1: Fly into Las Vegas
Your first day in Nevada is all about flying in and checking in to your accommodations. Depending on how early you arrive, you may be able to explore the Las Vegas Strip a bit! Grab some dinner, and head over to Paris Las Vegas. Go up into the 'Eiffel Tower' for great views over the Bellagio Fountains and city.
Day #2: Day Trip to the Valley of Fire
For the second day of your Las Vegas and Grand Canyon road trip, you'll want to take a day trip out of Las Vegas to the Valley of Fire State Park in southern Nevada. It only takes an hour or so of driving from the Strip, and is definitely worth it.
First off, the Valley of Fire is simply epic. Endless red and white sandstone formations seem to rise out of nowhere in the middle of the arid Mojave Desert. In the park you'll find caves, slot canyons, buttes, petroglyphs, arches, historic buildings, and more!
When you visit, be sure to visit the Atlatl Rock petroglyphs, Elephant Rock arch, and The Cabins. For hiking, take the easy Petroglyph Canyon to Mouse's Tank trail, or the White Domes trail. You can learn more about here with these Valley of Fire State Park Hikes and Tips.
Spend the evening exploring Las Vegas by grabbing some dinner, and exploring some epic hotel lobbies like The Mirage, Caeser's Palace, Bellagio, New York New York, and more.
Day #3: Explore Las Vegas
Your third day is all about exploring Las Vegas!
Some epic hotels and budget-friendly attractions include
The 'Welcome to Fabulous Las Vegas' sign (a must visit!)
Paris Las Vegas (with the replica Eiffel Tower)
Mandalay Bay (Aquarium)
The Mirage (the hotel with the erupting volcano)
Luxor Hotel (Pyramid shaped, Egyptian themed hotel)
New York New York (roller coaster, arcades, and more)
the LINQ Hotel and mall (shopping)
The High Roller Ferris Wheel
Caesar's Palace (Renaissance-themed hotel)
The Venetian (Venice-themed hotel with indoor shopping mall)
… and so much more!
I do recommend creating a game plan for what you want to see and do, then working your way from south to north or north to south. This will maximize your full day in Las Vegas.
For in depth Las Vegas advice and for the attractions listed, check out this Las Vegas Budget Travel Guide. Perfect if you don't want to spend (or lose!) too much money.
Day #4: Drive to Flagstaff
You'll want to get an early start for the fourth day of your trip. Luckily, the drive from Las Vegas shouldn't take more than four hours of actual drive time, give or take some time for traffic. Along the way, you'll want to stop at the Hoover Dam Overlook, where you can walk across the Mike O'Callaghan – Pat Tillman Memorial Bridge.
Once you arrive in Flagstaff, take the afternoon to check into your hotel/AirBnB or set up your campsite, and spend the evening in town. Walk around Downtown Flagstaff, where you can see store and shops dating back to the Route 66 era! Hope in your car and drive a few minutes up to Salsa Brava, which serves up excellent Mexican and Navajo cuisine, with some fusion style dishes included.
Day #5: Day Trip to the Grand Canyon
Day five is where your trip gets exciting! From Flagstaff, it's about 1 1/2 hours to the South Rim of the Grand Canyon. This is true whether you enter in from the south or the east.
One idea is to drive up the 89 to Cameron Junction, and take the eastern route in by the Desert View Watchtower. Stop there for the great views, before continuing on to Yaki Point / South Kaibab Trail. From here, you can either explore the rim, or hike down the South Kaibab Trail to Cedar Ridge for epic canyon views!
In the evening after you're done exploring, drive back to Flagstaff via the 64 / 180. Be prepared to be met with excellent sunset views of the San Francisco Peaks, home to Humphrey's Peak, the highest point in the state of Arizona.
Day #6: Explore Flagstaff Surroundings / Or Sedona
For the sixth day of your trip, you have two choices! You can either:
Explore Wupatki, Sunset Crater Volcano, and Walnut Canyon National Monuments,
Or drive through Oak Creek Canyon to Sedona.
Are you interested in visiting both pueblo and cliff dwelling ruins, and seeing ancient cinder cone volcanos? Choose #1. Or do you want to see red rock cliffs, enjoy a scenic drive, and explore a pleasant small town? Choose #2.
In Wupatki, visit the Lomaki Pueblo, Box Canyon Pueblo, the Citadel, Wupatki Pueblo, and Wukoki Pueblo. Seeing all of these should take 2.5- 3 hours or so. Drive into the adjacent Sunset Crater Volcano park and see the Cinder Cones Overlook and hike the short Lenox Crater Trail. Finally, drive down to Walnut Canyon and hike the epic 'Island Trail', which will take you from the rim down past numerous cliff dwelling ruins.
Wupatki Ruins
Alternatively, you can take the 89 down Oak Creek Canyon into Sedona. When in Sedona, hike the Cathedral Rock Trail for epic views over the entire town and Verde Valley. See the architectural masterpiece, the 'Chapel of the Holy Cross', which was built into the red sandstone rock. And finally, go to Crescent Moon Picnic Site for great views over Cathedral Rock.
Sedona
You can't go wrong with either choice. Choose whichever one sounds more fun!
Day #7: Drive Back to Las Vegas.
Your final day is about driving back to Las Vegas, which again is about four hours from Flagstaff. If you get an early start, and arrive by the early afternoon, you could catch an evening flight out of the city.
What to Bring on Your Road Trip
What should you bring to the Southwest? Well, this itinerary will include walking around cities (Las Vegas and Flagstaff), as well as hiking (Valley of Fire and the Grand Canyon). Some nicer outfits and good walking shoes for walking around town would be necessary, as well as casual hiking clothes and sturdy hiking shoes.
Related: Best Suitcase Packing Tips
Save Money on Hotels / Accommodation
If you want to save money on hotels in Las Vegas and Flagstaff, you'll want to check out these 10 easy Hotel Hacks to Save Money.
Alternatively, you could consider staying in an AirBnB or VRBO, or even camping. You can camp in the Valley of Fire which is one hour from Las Vegas, and there are plenty of campgrounds in and around Flagstaff, too.
Nevada and Arizona Road Trip on a Budget
For even more great ways to save money on your Nevada and Arizona Road Trip, you'll need these tips for planning a Road Trip on a Budget.
So, looking for even more great Nevada and Arizona travel tips? Go check these out below…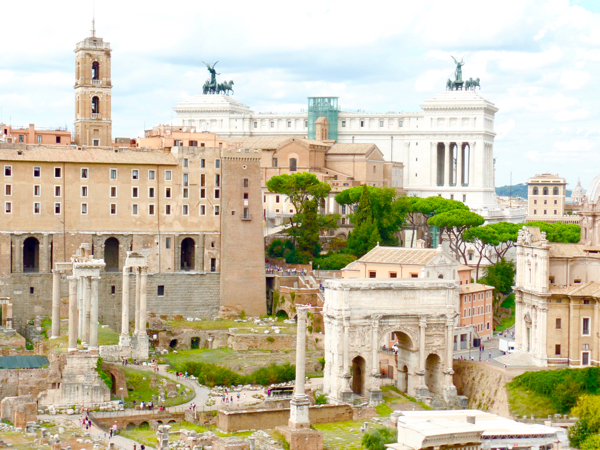 Don't miss out! Follow along with Never Ending Journeys for more fun Travel Tips and Insider Tricks!
So, have YOU ever been to Las Vegas or Northern Arizona? What are your favorite things to see and do?
Leave a comment and share!