Heading to Northern Arizona? You need to check out this Flagstaff Arizona Travel Guide!
So, wondering what there is to do in Flagstaff? Whether you're planning a weekend trip, or just passing through on a road trip, there really is something for everyone in this lovely high elevation city!
This comprehensive Flagstaff Arizona Travel Guide will show you the best things to do in Flagstaff including hiking, shopping, historic destinations, and more! All around, it's a great place to spend the warm summer months, or even to take advantage of the skiing in wintertime.
So what are you waiting for? Keep reading to find the best things to do in Flagstaff below…
Flagstaff Arizona Travel Guide
Is Flagstaff Worth Visiting?
Yes, Flagstaff is worth visiting. This high elevation alpine town has great restaurants, scenic hikes, and is very close to the Grand Canyon and Sedona. Flagstaff is an excellent place to base yourself out of while exploring Northern Arizona.
What is Flagstaff Arizona Known For?
Flagstaff is known for snowy winters, Route 66 nostalgia, the Lowell Observatory (where Pluto was discovered), as well as being close in proximity to the Grand Canyon.
How Many Days do You Need in Flagstaff?
If you want to see everything in and around Flagstaff, you'll ideally want at least two days. This would include walking around downtown, paying a visit to the Lowell Observatory, driving to Wupatki, Sunset Crater, and Walnut Canyon, trying a Mama Burger, and riding the ski lift in the San Francisco Peaks. Add more time if you want to see Sedona or the Grand Canyon.
Things to do in Flagstaff:
#1: Downtown Flagstaff
Flagstaff's lovely downtown area straddles both sides of the former Route 66 (now US 180). Full of early 20th century buildings, you'll find an abundance of restaurants, some hotels, Flagstaff's Amtrak station, and outdoorsy stores geared towards those looking to participate in all sorts of summer and winter sports in the area. It's the best place to start a day of exploring in Flagstaff!
#2: Lowell Observatory
If you've seen Flagstaff at night, you'll notice the extremely dark skies around the city, a result of the dim light policies. This makes making it completely unlike other cities in the region, such as Las Vegas or Phoenix. The reason for this is Lowell Observatory, which is immediately west of the city. It was here where Pluto was discovered in 1930.
You can actually take tours of the observatory. You'll be able to see the large telescopes up close, and maybe even look through some!
#3: Buffalo Park
When you walk through Buffalo Park right in the heart of Flagstaff you'll be met with breathtaking mountain views! In the summer months you may even see thunderstorms in the distance.
This city park has miles of trails suitable for walking, biking, or running, making it perfect to get acclimated to the high elevation! Stop by Buffalo Park before attempting a challenging hike – your lungs will thank you!
#4: Arizona Snowbowl
The Snowbowl is one of three ski resorts in Arizona, and is located in the San Francisco Peaks. At 9,200 feet, the Snowbowl is actually higher than many of the Colorado ski resorts! As the San Francisco Peaks catch a lot of moister coming from California, there is plentiful snow in the winter.
In the summertime, you can ride the ski lift to over 11,000 feet in elevation, and take advantage of stunning views in all directions.
#5: Humphrey's Peak Trail
This very challenging trail ascends over 3,000 feet to Arizona's highest mountain. Do not do this unless you are in very good hiking shape! It help to have already spent a few days in Flagstaff, acclimating to the elevation. Go for some runs in Buffalo Park, do a lot of walking, and adjust to that thick mountain air.
At the top of the mountain, you'll be rewarded with 360 degree panoramic views. These include the North Rim of the Grand Canyon!
#6: Wupatki National Monument
Wupatki is home to a handful of historic pueblo ruins dotting the painted desert landscape. The two best ones to visit are Wukoki Pueblo – one you can walk inside. The other is Wupatki Pueblo, a huge 100 room pueblo you can walk around.
Wukoki Pueblo
Wupatki Pueblo
In addition to those two, you can visit Citadel Pueblo, one atop a hill with great views of the San Francisco Peaks.
Then, you've got the box canyon pueblo, also with good views of Sunset Crater Volcano and the San Francisco Peaks.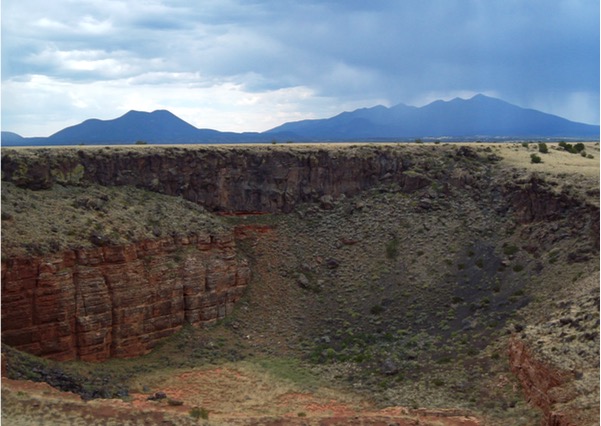 Sunset Crater Volcano (left), the San Francisco Peaks (right), and Box Canyon (bottom).
#7: Walnut Canyon National Monument
This beautiful park showcases cliff dwelling ruins, as opposed to the pueblo ruins which are found in Wupatki. There is one main trail that descends from the rim down into Walnut Canyon, and goes past a whole series of different dwellings you can explore. All around, it's a very cool place!
Flagstaff Travel Guide – Nearby Destinations:
#8: Sedona
Sedona is just 45 minutes down the road – and a beautiful drive through Oak Creek Canyon. What makes Sedona unique is that it sits just below the Colorado Plateau, the massive rift of land which Flagstaff is located on, and that stretches all across the four corners states. As Sedona is just below, you'll find the ponderosa pine forests giving way to red and orange eroding cliffs, creating an incredibly scenic sight.
Go check out my Sedona Arizona Travel Guide to learn more.
#9: Grand Canyon – South Rim
Just an hour and a half north of Flagstaff is Arizona's premier attraction: the Grand Canyon! You just can't beat a visit to the south rim. Sunrise and sunset are always incredible.
Go check out my Grand Canyon National Park Travel Guide here.
#10: Petrified Forest
An hour and a half down I-40 lies the strange yet interesting Petrified Forest, one of the most incredible landscapes in the region. In the park, you'll see 'groves' of petrified logs, the beautiful painted desert landscape, and more!
Go check out my full Petrified Forest Travel Guide here.
#11: Page
Page is about 2 hours north of Flagstaff, and the gateway to some incredible landscapes! You've got Lake Powell, Antelope Canyon, and Horseshoe Bend all within a few minutes from town. With several hotels in town, you should't have a problem finding a place to stay.
What to Know About Visiting Flagstaff
At 7,000 feet above sea level, Flagstaff has very thin air! Don't plan any activities that are too strenuous for your first day.
History lovers will enjoy visiting the pueblo ruins in Wupatki and cliff dwelling ruins in Walnut Canyon.
Foodies will enjoy tasting visiting 'Mama Burger' for classic Americana cuisine, and Salsa Brava for Mexican-Navajo fusion.
Campers will be happy to hear there is plenty of Bureau of Management Land to the west of town, with free camping (just no amenities!)
Hikers will enjoy acclimating to the elevation in Buffalo Park, before attempting Humphrey's Peak!
So, now that you've seen this Flagstaff Arizona Travel Guide, go check out even more great travel tips below…
Now that you've read this Flagstaff Travel Guide, don't miss out! Follow along with Never Ending Journeys for more fun Travel Tips and Ideas!
Have YOU ever been to Flagstaff?
What was YOUR favorite part of this Flagstaff Arizona Travel Guide? And what are YOUR favorite things to do in Flagstaff? Leave a comment & share!