I may get
paid
for ads or purchases made through links in this post.
Wondering how to make Roasted Walnuts? You're going to love this easy and delicious Candied Walnuts Recipe!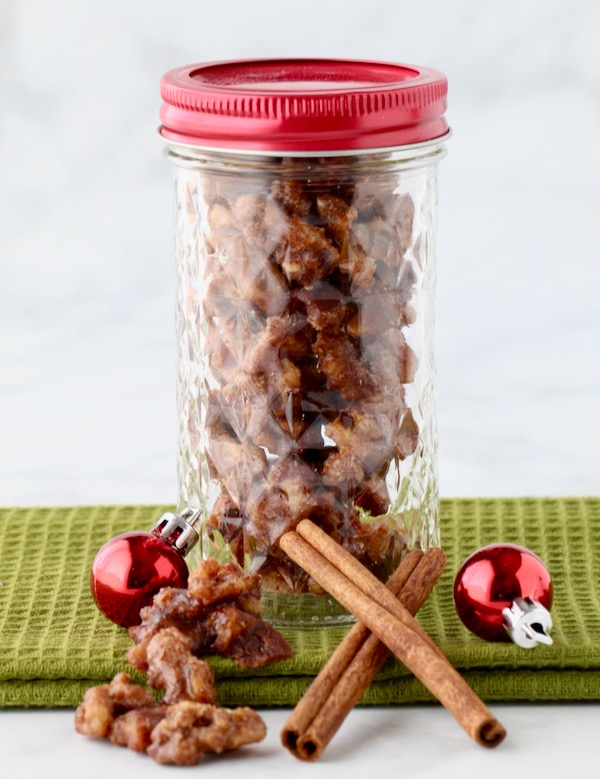 Need an easy and delicious dessert to send your holiday menu over the top? This Candied Walnuts Recipe is calling your name!
An irresistible blend of strong and savory walnuts collide with a decadent cinnamon and sugar coating to create this treat. They're always a hit at holidays, parties, and get-togethers! Friends and family alike will keep on coming back for more. 😉
Whether you need a dessert to get you through the week, or are looking for a great Christmas treat, these spiced candied walnuts are so easy to make. The best part is, they only take several simple ingredients!
So, what are you waiting for? Here's what you'll need to make your cinnamon sugar roasted walnuts…
Candied Walnuts Recipe
What are candied walnuts made of?
These candied walnuts are made of Walnuts, Granulated Sugar, Brown Sugar, Ground Cinnamon, Vanilla, Salt, and Water. This combination of ingredients gives these walnuts a sweet and savory coating that is simply irresistible.
How long can you store candied walnuts?
You can store these candied walnuts with brown sugar in an airtight container for up to one week, or in the refrigerator for up to three weeks. In either case, they're an excellent make-ahead food for events!
Can you freeze candied walnuts?
An excellent alternative to storing walnuts in the fridge, is to simply freeze them! When you store candied walnuts in an airtight container, you can freeze them for up to two months.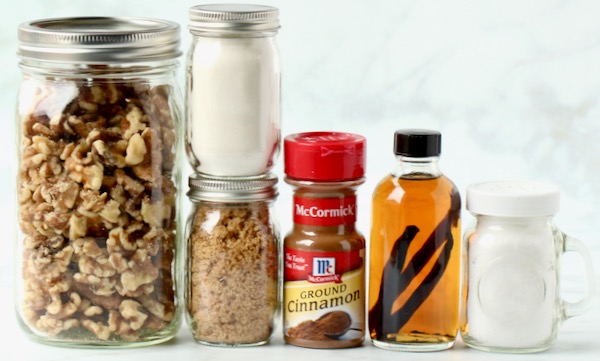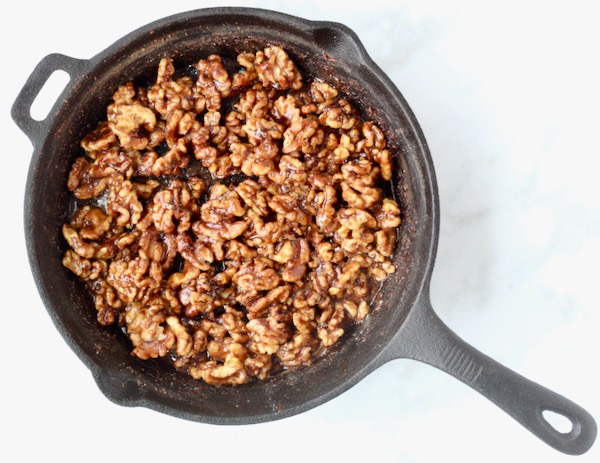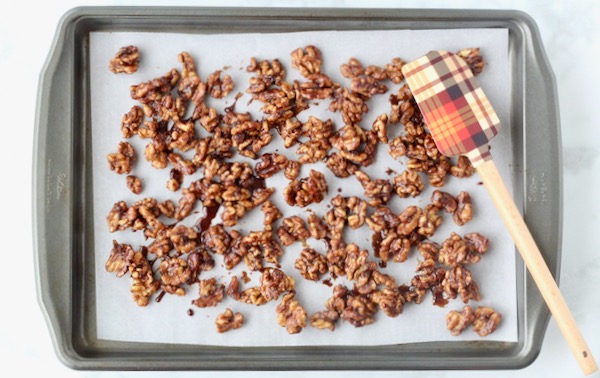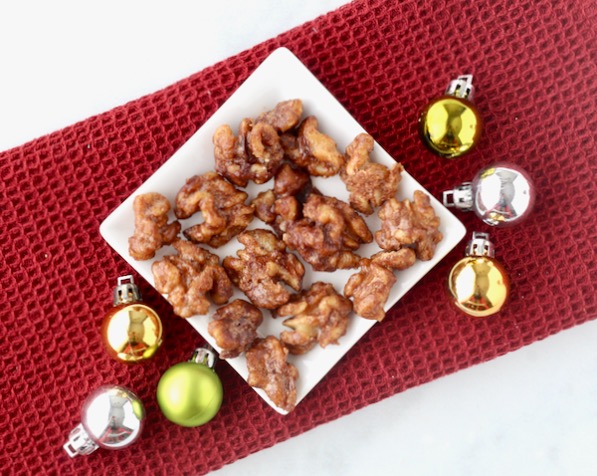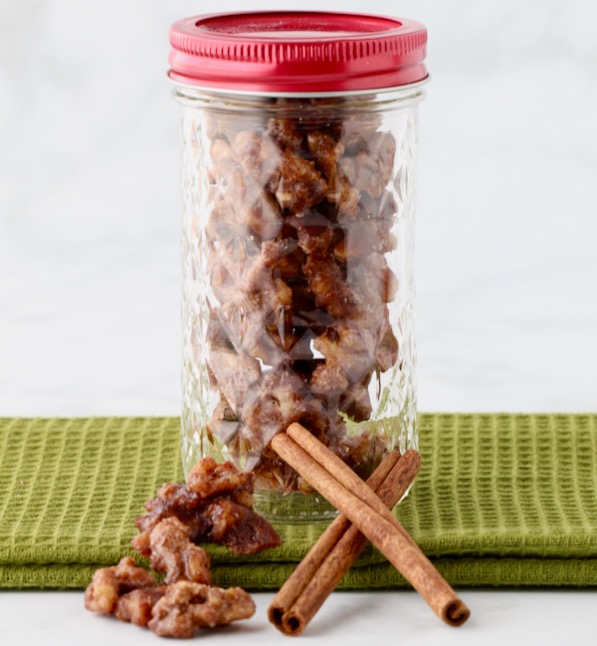 Candied Walnuts Recipe
Wondering how to make Roasted Walnuts? You're going to love this easy and delicious recipe!
Ingredients
2

cups

Walnuts

1/2

cup

Granulated Sugar

+2 tsp for sprinkling on top

1/2

cup

Brown Sugar

1

tbsp

Ground Cinnamon

1 1/2

tsp

Vanilla

1/4

tsp

Salt

4

tbsp

Water
Instructions
Preheat your 10″ Cast Iron Skillet on low heat.

After is has warmed a little, turn heat up to medium. Then add sugar, cinnamon, vanilla, salt, and water to skillet, and cook over medium heat for 1-2 minutes, stirring well with a wooden spoon until mixture turns into a glaze and begins to bubble.

Then add Walnuts to skillet, and continue stirring, coating all the nuts with the glaze. This should take about two minutes.

Transfer Walnuts to a cookie sheet lined with waxed paper.

Flip each walnut over so it's right side up, and spread out so none are left touching.

Then sprinkle walnuts with additional sugar.

Leave them out overnight so they can cool. Enjoy!

Store in a mason jar or airtight container for up to one week, or for up to three weeks in the fridge. Enjoy!
So, looking for even more delicious dessert recipes? Go check these out below…
Blending the savory crunch of walnut, the sweet decadence of chocolate, and the irresistible butter base, these Walnut Chocolate Chip Cookies are an incredibly tasty dessert. So whether you need this cookie recipe as a weekend treat, or as a holiday dessert, it's got you covered!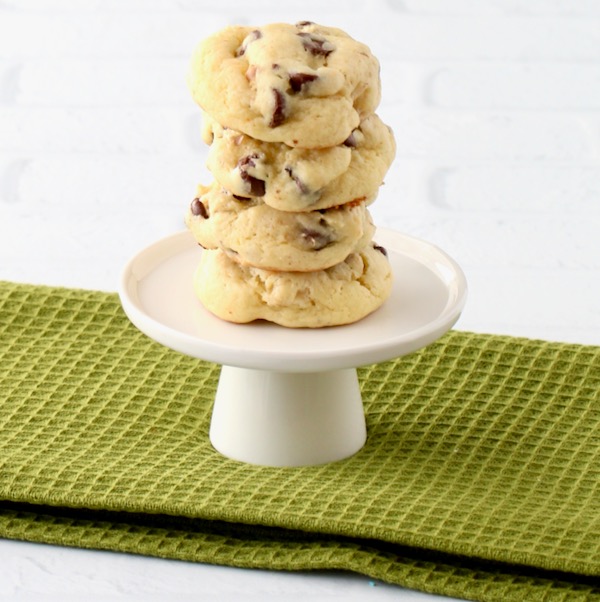 Nothing quite says Christmas like cold weather, festive lights, and of course, delicious cookies! And if you're looking for the best cookies to make this holiday season, look no further than these Cranberry White Chocolate Walnut Cookies. These cranberry nut cookies are sweet, rich, decadent, and all around irresistible. Trust me… they are the ultimate treat!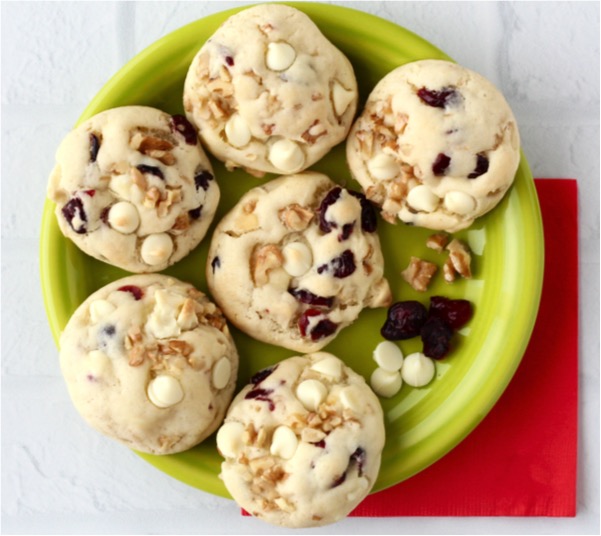 Are you ready to meet your new favorite Dessert? You're absolutely going to LOVE these Chocolate Chip Pecan Cookies! The rich chocolate paired with the crunchy pecans in the soft cookie creates an irresistible dessert. Also, making these cookies is a snap, as they only take 5 Basic Ingredients!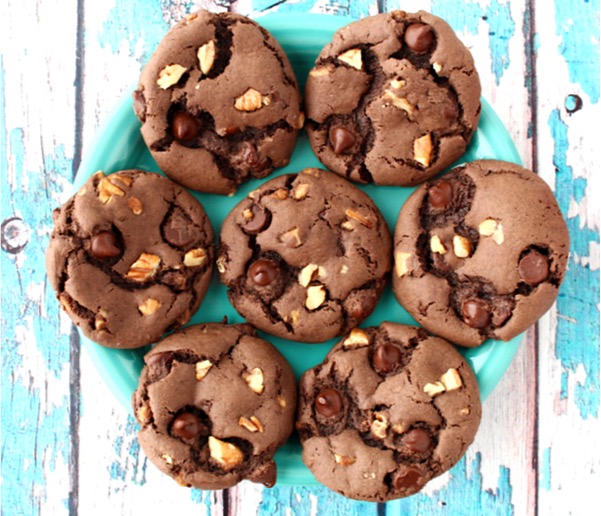 Are you craving a delicious chocolatey addition to your holiday dessert menu? This Chocolate Pecan Fudge Recipe is your answer! No Thanksgiving spread or Christmas dessert table is complete without these decadent bite sized desserts. The rich chocolate flavor combined with the crunchy Pecan nuts is pure delectable perfection. And above all, this easy chocolate fudge happens to be ridiculously easy to make – just 3 ingredients!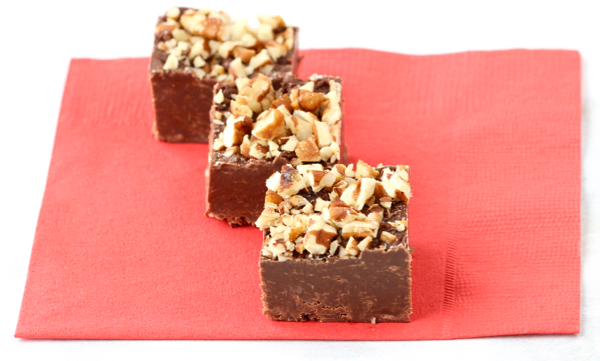 Looking for a decadent new dessert to try? Bursting with sweet and decadent flavors, these Oatmeal Chocolate Chip Cookies are the tastiest addition to your Thanksgiving, Christmas, or weekend menus! Taking just six simple ingredients, making them is a cinch. With butter and cake mix as a base, these cookies are undeniably addictive. Plus, the sweetness of the chocolate chips and savory oats come together to create a cookie that friends and family alike will enjoy!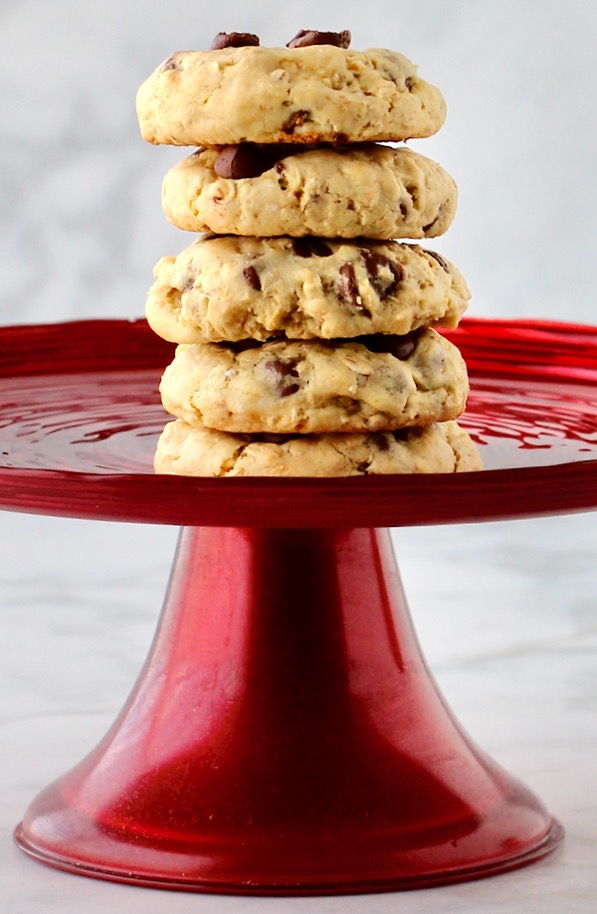 Looking for a delicious new cookie recipe to try? And not just any ordinary cookie, but one with over-the-top delicious flavors that will make you go, "Wow!"? If so, then you're going to love these Cake Mix Oatmeal Raisin Cookies! With just several simple ingredients, these oatmeal raisin cookies are soft and chewy. The savory oats, chewy raisins, and sweet brown sugar all collide to create an irresistibly delicious dessert! Plus, a dash of cinnamon and butter as a base sends these cake mix cookies over the top.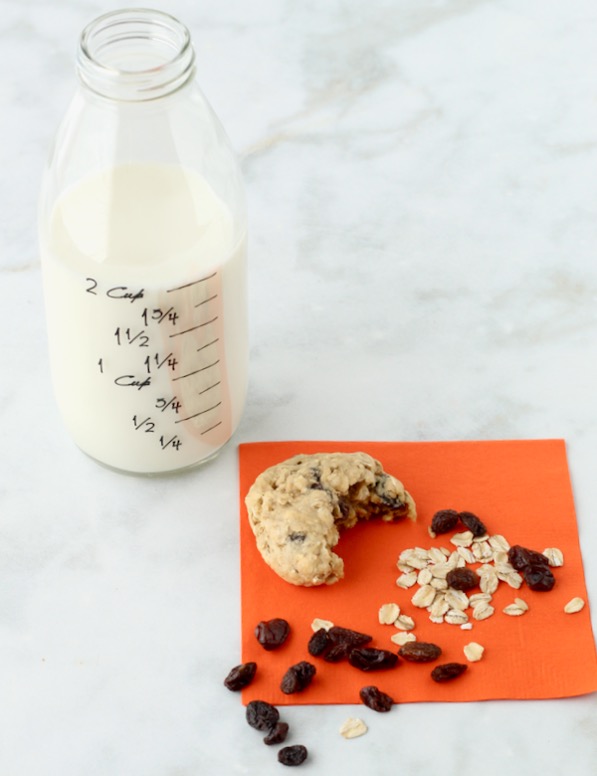 Don't miss out! Follow along with Never Ending Journeys for more fun Travel Tips and Recipes!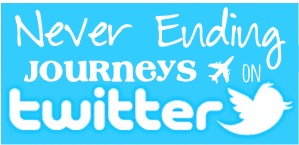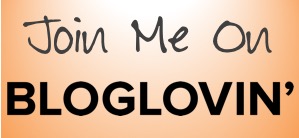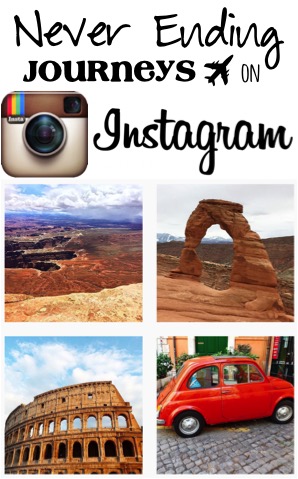 So have you tried this Candied Walnuts Recipe yet?
Leave a comment & share!