I may get
paid
for ads or purchases made through links in this post.
Wondering what's for dinner this week? This Blackberry Jam Chicken Recipe is the ultimate tasty addition to your menu!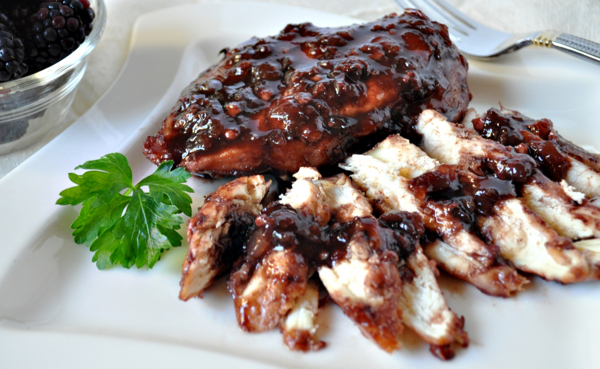 Following is a delicious dinner recipe and guest post from Team Holly with The Healthy Cooking Blog. ENJOY!

Need a dinner that's not only flavorful, but bound to be a hit with your family? This Blackberry Jam Chicken Recipe delivers big time!
The sultry blend of blackberry jam and balsamic vinegar infuse the chicken with unbeatable flavors while the caramelized onions make a slightly sweet and savory sauce. All around, it's one of those dinners you'll want to keep making again and again!
So, are you ready to make your blackberry chicken? Here's what you'll need…
Blackberry Jam Chicken Recipe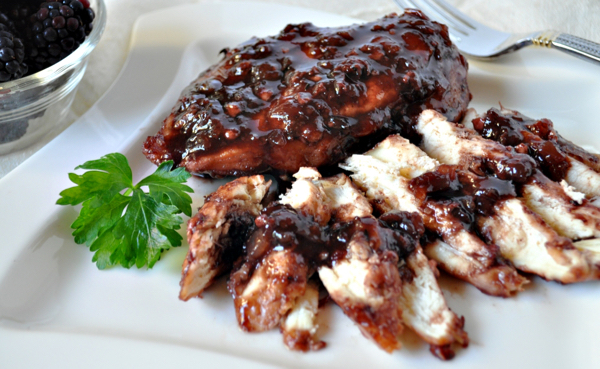 Blackberry Jam Chicken Recipe
Need a dinner that's not only flavorful, but bound to be a hit with your family? This Blackberry Jam Chicken Recipe delivers big time!
Ingredients
1

teaspoon

olive oil

1/2

cup

chopped red onion

1 1/2

pounds

boneless

skinless chicken breasts

1/2

teaspoon

dried thyme leaves

Salt and pepper to taste

1

tablespoon

all-purpose flour

1/2-3/4

cup

fat-free chicken broth

1/2

cup

seedless blackberry jam

2

tablespoons

balsamic vinegar
Instructions
1.In large nonstick skillet, heat olive oil and sauté onion 5 minutes. Season chicken with thyme and season to taste. Dust with flour.

2.Add chicken to pan, cooking until browned on each side, about 7-10 minutes. Add broth and continue cooking another 15 minutes.

Add jam and balsamic vinegar, bring to boil, reduce heat, and cook chicken for another 15-20 minutes or until tender.
Notes
Nutritional information per serving:
Calories 339 Calories from fat 15% Fat 6g Saturated Fat 1g Cholesterol 99mg Sodium 113mg Carbohydrate 31g Dietary Fiber 0g Sugars 27g Protein 40g Dietary Exchanges: 2 other carbohydrate, 5 very lean meat
Spicy Advice: The longer the chicken cooks in the sauce, the better it gets!
Recipe from Holly Clegg's Trim and Terrific Too Hot in the Kitchen cookbook
So, looking for even more delicious dinner and blackberry recipes? Go check these out below…
This sweet and spicy Easy Baked Pork Tenderloin delivers big-time with its incredible sauce glaze and savory flavors! Balancing the perfect blend between spicy dijon mustard and sweet honey, there's something simply irresistible about it.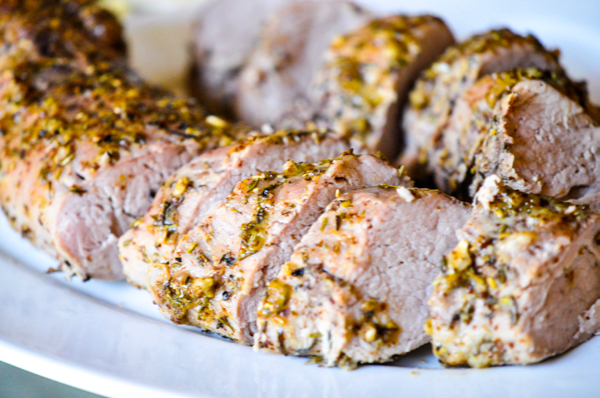 "Pork tenderloins make a quick and healthy last minute meal. Have you ever tried fig preserves in your marinade? Wow does it add amazing flavor, and best of all it's fast yet tastes like it has marinated all day! You will fall in love with this simple, full-flavored diabetic friendly Glazed Pork Tenderloin recipe that is out-of-this-world delicious. Did you know cuts of meat ending in a "loin" or "round" are the leanest?"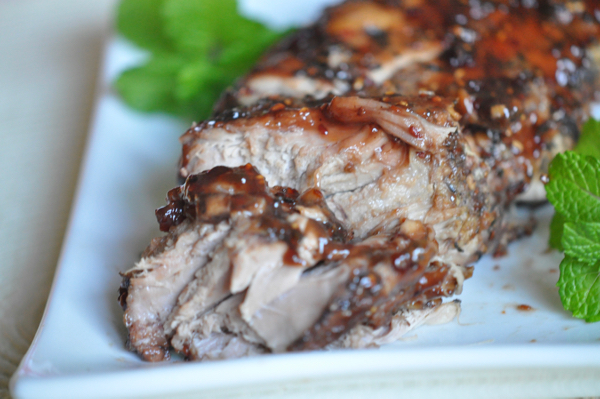 Looking for the ultimate sweet summer dessert?? Whether you're craving a delicious blackberry dump cake or epic blackberry cobbler, this Skillet Blackberry Crumble is the perfect mix, and sure to satisfy your cravings!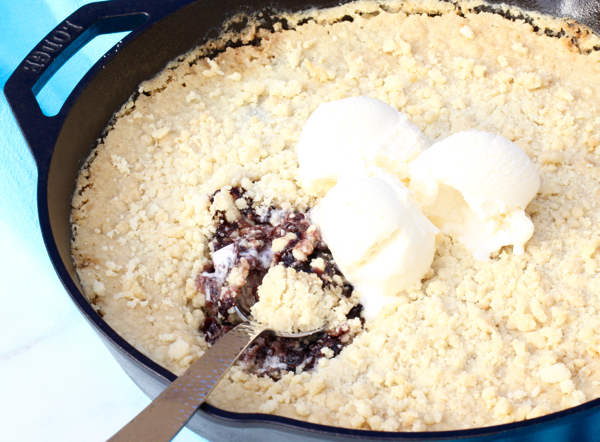 Are you ready for a fun new Dessert to add to your menu? One that's not only bursting with the sweet and tangy flavors of summer, but also very easy to make? Today is your lucky day! This crazy delicious Crockpot Blackberry Cheesecake Dump Cake is so incredibly rich and delicious, and perfect for any occasion. Taking just 4 Simple Ingredients, making this dump cake is a breeze!