This mouthwatering Glazed Pork Tenderloin Recipe has a secret ingredient you'll never guess!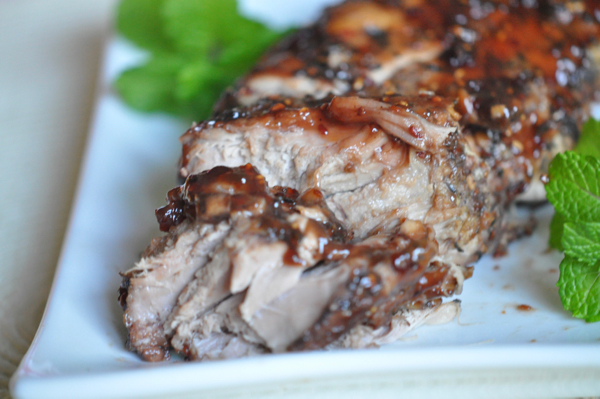 Following is a delicious dinner recipe and guest post from Holly Clegg with The Healthy Cooking Blog.  ENJOY!
Pork tenderloins make a quick and healthy last minute meal.  Have you ever tried fig preserves in your marinade?  Wow does it add amazing flavor, and best of all it's fast yet tastes like it has marinated all day!  You will fall in love with this simple, full-flavored diabetic friendly Glazed Pork Tenderloin recipe that is out-of-this-world delicious.  Did you know cuts of meat ending in a "loin" or "round" are the leanest?  Serve it with this effortless Oven Baked Risotto and roasted veggies for a quick and easy complete meal!
I promise it's worth buying fig preserves as you'll repeat this recipe often.  The combination of sweet figs, fiery chili powder, soy sauce and tart vinegar makes an intoxicating marinade.  Cook it in the oven or grill — either way this is a hit.