Light, creamy, and with just the right amount of zing, you're going to love this easy Authentic Hummus Recipe!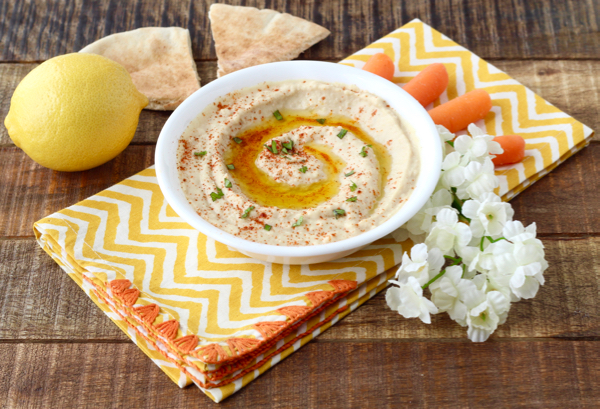 Craving some hummus?  I've got you covered!  This easy Authentic Hummus Recipe is so simple to make, and delivers BIG time on flavor!  You'll never go back to store bought hummus again!
This savory and zingy Mediterranean dip is perfect for any occasion!  Whether you've got friends coming over and need an easy Appetizer, or you're just having a Snack attack and want a healthy treat…  there's nothing as delicious as hummus.   This simple hummus recipe with tahini will become your go-to favorite.
Are you ready for the best part?  This decadent Classic Hummus Recipe takes just 5 minutes to make!  Seriously… you're just a few minutes away from hummus heaven!  It's perfect for dipping pita bread, chips, pretzels, or carrots.  It also makes a great topping on pita wraps for your Greek gyro dinners!
So what are you waiting for?  Here's everything you need to make your simple delicious hummus…