I may get
paid
for ads or purchases made through links in this post.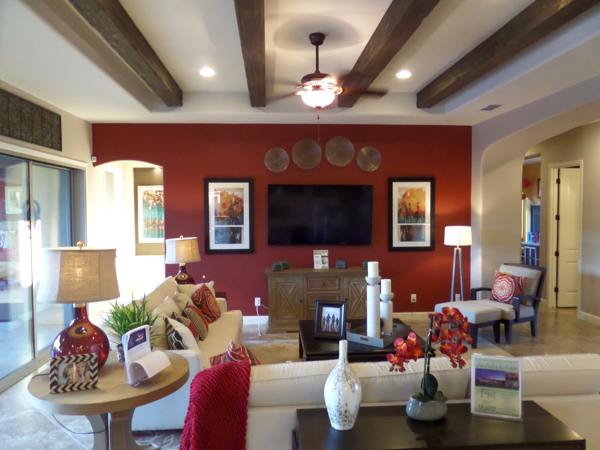 Thank you to CSI Soundcore for sponsoring today's post.
Affordable Living Room Makeovers – They're Possible!
We all know that the interior and exterior of your house have to undergo a makeover occasionally. Especially the living room of your house requires periodic makeovers to freshen it up. Thankfully, there are many different creative ways to update the look of your living room that are affordable!
Here are some fun and unique ideas on affordable living room makeovers…
Wall Paints and Art
In the living room, the walls and their decorations matter a lot. If you have to do a makeover, the first thing you need to concentrate on is the walls. They are the wide and large part of the living room. So, to decorate them with a limited budget is easy with wall paints and art.
Wall paints are available in various types. You can even create patterns and designs on the wall with wall paints. Some wall paints are washable, too. When it comes to wall art, this is what adds liveliness to the living room. They are often colorful and are adaptable to any type of living room. The best part is, they are available in a wide range of prices, so you can always find affordable options.
Acoustic Art Panels
Acoustic art panels are the panels which are acoustic in nature and yet artistic to look at. They have several layers in them. One of which is an acoustic layer that absorbs unwanted noise and reflects the waves. It also diffuses the sound waves in the living room. Acoustic art panels have the surface layer meant for the artwork, and can be customized to your interests. You can easily add acoustic panels to walls as part of your living room makeover.
Wall Hangings
If you do not want to change your wall paint or add new artwork, then consider wall hangings. They occupy a small space on the wall, but are very effective in their impact. Plus they can showcase your taste and culture. You can either buy them, or get creative and make some yourself.
Acoustic Fabric Wall Covering
Wall coverings are another great idea! They are a great way to get texture and pattern on your walls, and bring a fresh look to the room. You can even use them to cover the wall flaws. Acoustic fabric wall coverings are a type of wall covering where they are acoustic by nature and are made of mostly fabric. It is a wall covering with a fabric surface. Acoustic fabric wall coverings are a great idea for a room makeover.
Elegant and Comfortable Furniture
The purpose of furniture is basically meant to sit and relax at home. Usually in the living room, we try to add the best furniture as it is also used by guests. So, the furniture you place in your living room has to be comfortable. The best of both worlds is to add furniture that is comfortable to sit in and looks elegant. For elegant and comfortable furniture, you don't have to go for costly ones. There is furniture available at affordable prices too. Look for good looking and comfortable furniture to add to your living room.
Acoustic Wall Panels Decorative
Wall panels are the best way to make your walls elegant. There are trendy wall panels like decorative acoustic wall panels. They decorate the wall easily, and they even reduce the noise and sound disturbances in the living room. Plus, they are customized to suit the purpose of your room. So, be sure to add acoustic wall panels decorative to your makeover list.
Interior Décor
Little things matter a lot in a makeover. The interior decor must be placed in appropriate places. Decor is available in various sizes and prices. It all depends on the material and the design of the décor. So, search for pieces that suit your living room and also your budget. When shopping, keep in mind that some pieces can stay in trend for a long time. It is a brilliant idea to add more classic pieces of decor to your living room.
Acoustic Wood Panels
If you have tried different types of themes and want to try a nature theme, go for a wood theme. It can result in a stunning makeover for your room. To make your work easy, use acoustic wood panels. They are cost-effective and amazing at changing the appeal of the living room.
Adaptive Accessories
The living room has many accessories to consider during the makeover as well. The mats, curtains, cushions, coverings and many more. Add new mats and curtains which suit the colors of your living room decor. Let the chairs, sofas, and their coverings be comfortable enough for sitting, and stylish enough to add some flair to the room.
Perfect Lighting
The last finishing touch to your makeover would be beautiful lights. The color and the intensity of the lighting matters a lot in the appeal of your living room makeover. To highlight your makeover during dark times like late evenings and night, use dim lights. It is a good idea to also add some ceiling lights for times when you need brighter lighting. The proper lighting can be very effective in pulling your entire makeover together.
Conclusion
Above are just a few ideas on affordable living room makeovers. They are cost-effective and reliable ways to pull off an entire living room makeover. Keep in mind, you'll want to spend less on trendier pieces that may go out of style, and invest more in soundproofing and durable classic pieces that you'll want for a long time. Most importantly, get creative and have fun with your living room makeover!