Unstuffed Cabbage Roll Casserole Recipe! (Crock Pot)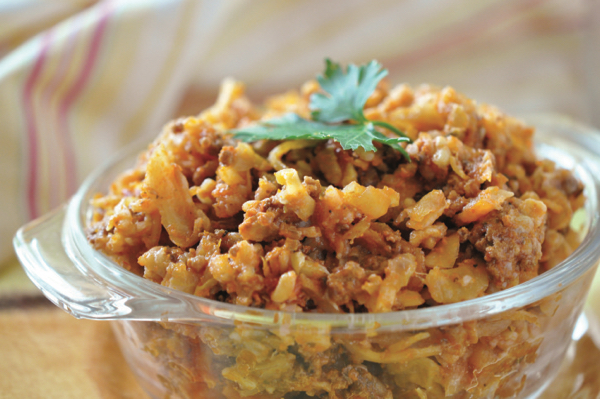 1½ pounds Ground Sirloin
1 Onion, chopped
1 teaspoon Minced Garlic
¼ teaspoon Black Pepper
3 cups Instant Brown Rice
1 (16-ounce) bag Cole Slaw
1 (24-26-ounce) jar Marinara Sauce
¼ cup light Brown Sugar
In 3½ - 6 quart slow cooker, insert plastic liner if desired.
In large skillet, cook meat, onion, and garlic over medium heat until meat is done, about 7 minutes. Drain any excess liquid, then add pepper.
Add meat with remaining ingredients to slow cooker.
Cover and cook on LOW 4 - 6 hours, or until done.
Nutritional information per serving:
Calories 359; Calories from Fat 19%; Fat 8g; Saturated Fat 2g; Cholesterol 47mg; Sodium 396mg; Carbohydrates 48g; Dietary Fiber 5g; Total Sugars 16g; Protein 23g;

Dietary Exchanges:
3 starch; 1 vegetable; 2½ lean meat
Recipe by
Never Ending Journeys
at https://neverendingjourneys.com/2018/12/18/unstuffed-cabbage-roll-casserole-recipe/