This mouthwatering Glazed Pork Tenderloin Recipe has a secret ingredient you'll never guess!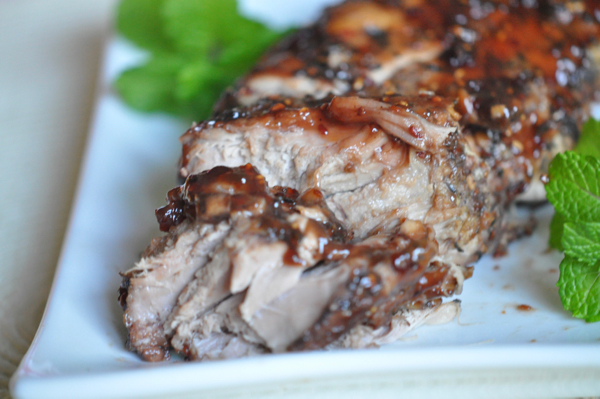 Following is a delicious dinner recipe and guest post from Holly Clegg with The Healthy Cooking Blog.  ENJOY!
Pork tenderloins make a quick and healthy last minute meal.  Have you ever tried fig preserves in your marinade?  Wow does it add amazing flavor, and best of all it's fast yet tastes like it has marinated all day!  You will fall in love with this simple, full-flavored diabetic friendly Glazed Pork Tenderloin recipe that is out-of-this-world delicious.  Did you know cuts of meat ending in a "loin" or "round" are the leanest?  Serve it with this effortless Oven Baked Risotto and roasted veggies for a quick and easy complete meal!
I promise it's worth buying fig preserves as you'll repeat this recipe often.  The combination of sweet figs, fiery chili powder, soy sauce and tart vinegar makes an intoxicating marinade.  Cook it in the oven or grill — either way this is a hit.
Glazed Pork Tenderloin Recipe

Glazed Pork Tenderloin Recipe
Prep time:
Cook time:
Total time:
Ingredients
⅓ cup fig preserves
1 tablespoon chili powder
1 teaspoon minced garlic
2 tablespoons seasoned rice vinegar
1 tablespoon low-sodium soy sauce
2 (1-pound) pork tenderloins, trimmed
Salt and pepper to taste
Instructions
In plastic resealable bag, combine fig preserves, chili powder, garlic, vinegar, and soy sauce. Season tenderloins to taste and place in bag. Refrigerate one hour or longer, time permitted.
Preheat oven 350°F. Place tenderloin on baking sheet covered with foil. Cover tenderloins with some of the marinade, toss out remaining marinade.
Cook tenderloins, basting after 20 minutes with marinade in pan and continue cooking another 20 minutes or until thickest part of tenderloin registers 160°F.
Notes
Nutritional info per serving: Calories 241, Calories from Fat 27%, Fat 7g, Saturated Fat 2g, Cholesterol 100mg, Sodium 143mg, Carbohydrates 10g, Dietary Fiber 1g, Total Sugars 7g, Protein 33g, Dietary Exchanges: ½ other carbohydrate, 4 lean meat
For more delicious recipes like this Glazed Pork Tenderloin Recipe, order your copy of the Kitchen 101 Cookbook.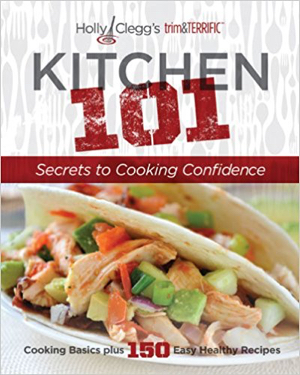 I Promise it's Worth Buying the Secret Ingredient Fig Preserves!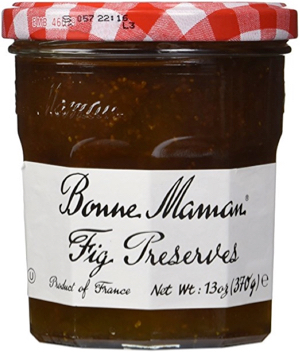 About Holly Clegg
Watch Holly on The 700 Club on June 14th! Holly Clegg is a culinary expert, author, and blogger. Her easy healthy cookbooks, including the trim&TERRIFIC® and Eating Well series, have sold 1.5+ million copies, and she has been featured on The Harry Connick Show, Fox & Friends, NBC Weekend Today, USA Today, Web MD, Huff Post, and several other media outlets for her expertise. In addition, Holly has consulted for Walmart, Teflon, The Coca-Cola Company, and numerous hospitals across the U.S. She is also a columnist and corporate wellness consultant.
Follow Holly: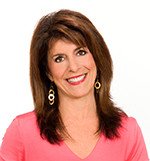 Then… check out more delicious dinner recipes below: