Heading to Utah?  Check out these Zion National Park Hikes to help plan your trip!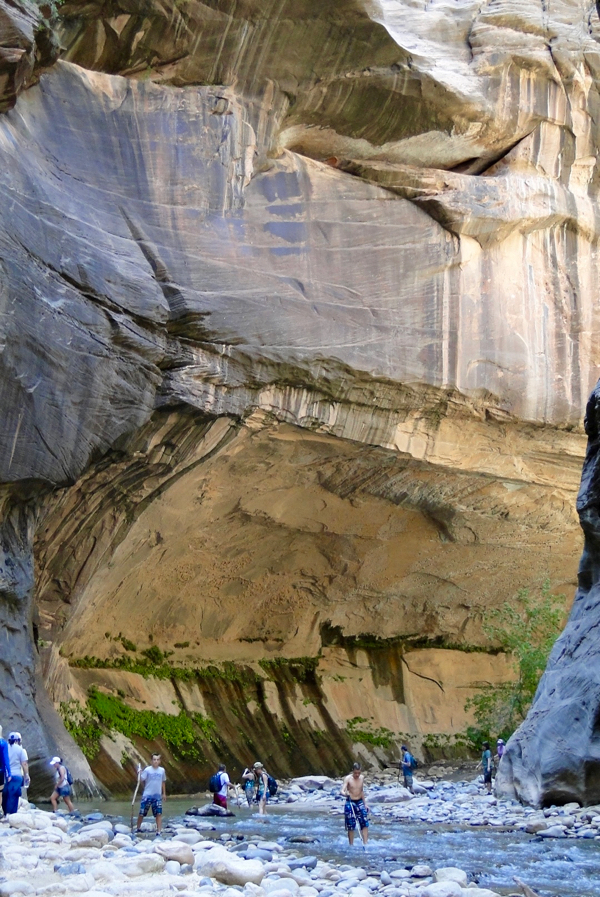 Planning a trip to Zion National Park?
With its colorful cliff walls, narrow slot canyons, towering waterfalls, and miles of scenic hiking trails, Zion has so much to offer!
However, because there is so much to do, it can be a bit tricky trying to narrow it all down.  Don't worry, though: these Zion National Park Hikes will show you the most scenic trails + tips on when to visit and what to bring to Zion!
Are you ready to explore Zion National Park?  Let's get started…

Related: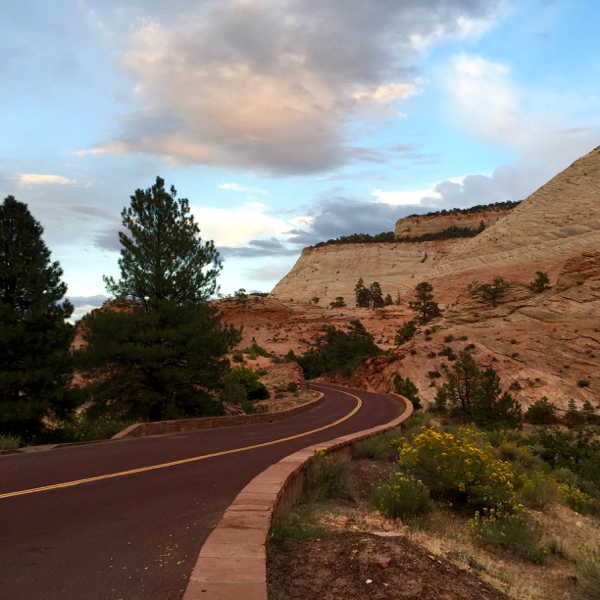 Zion National Park Hikes + Viewpoints
Best Hikes at Zion National Park:
Angel's Landing (5.4 Miles Roundtrip)
Angel's Landing is by far the most epic and thrilling of all hikes in Zion!
You start by gradually working your way up the red canyon walls, before entering a mini canyon, up high.  After that canyon, you hike up "Walter's Wiggles", a series of scenic switchbacks with a rather funny name.  Then, after ascending Walter's Wiggles, you come out onto a narrow ridge, with long drop-offs on both sides and a chain running down the middle for support.  Crossing the ridge is the fun part of Angel's Landing!
After the ridge, you finally reach the top of Angel's Landing!  The views from there are absolutely breathtaking… it's the kind of place you want to hang around for awhile and enjoy the scenery!
Note: to do this hike, you'll need to hop off the shuttle at Shuttle Stop 6 (The Grotto)
hiking up the red cliff walls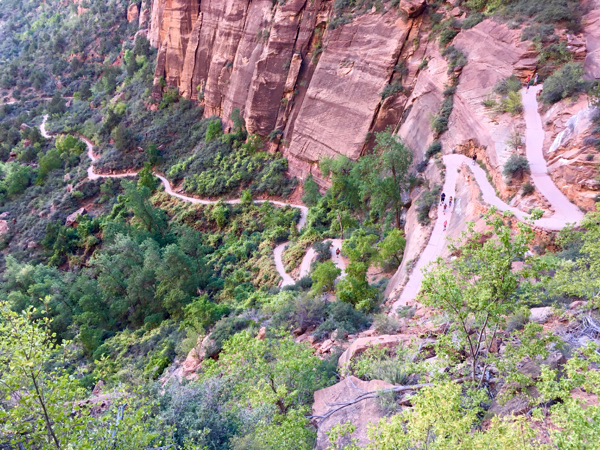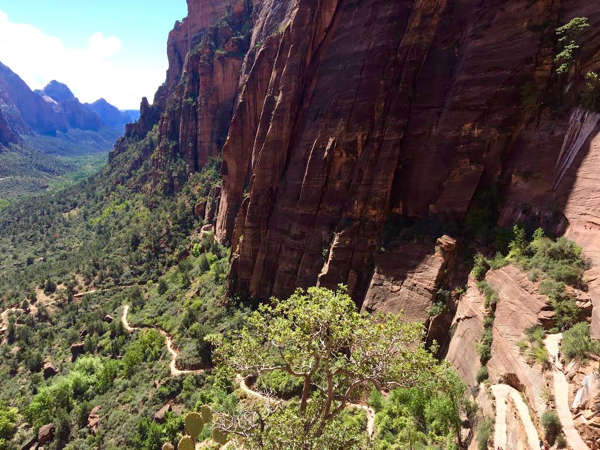 Ascending Walter's Wiggles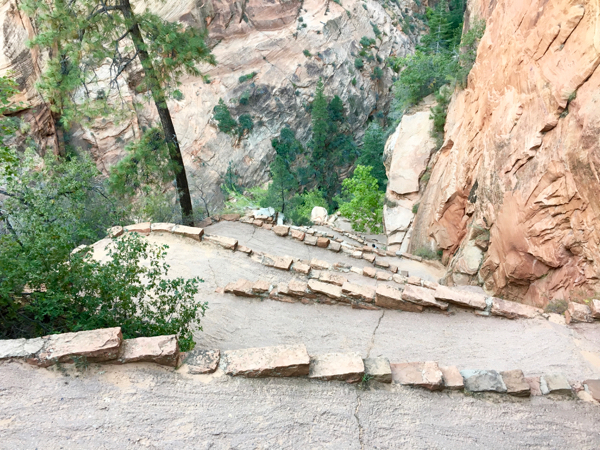 The narrow ridge line with the chain!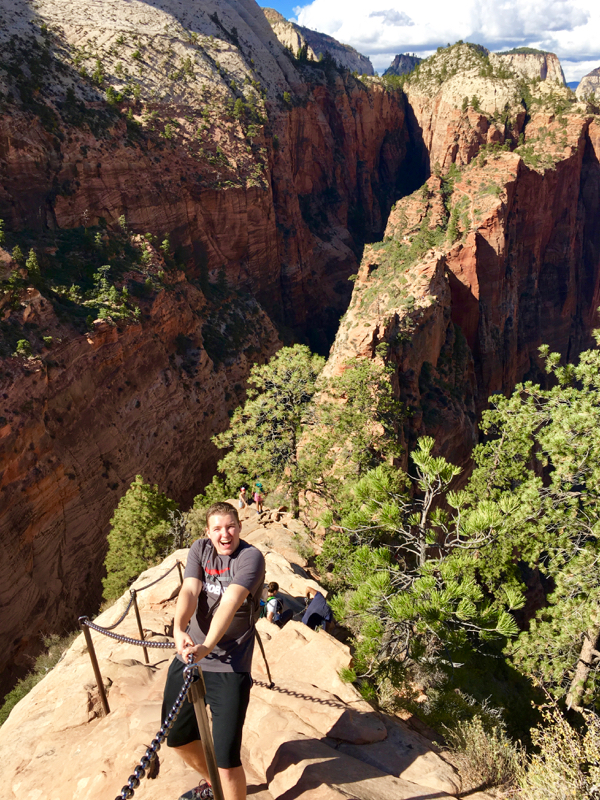 The view from the ridge line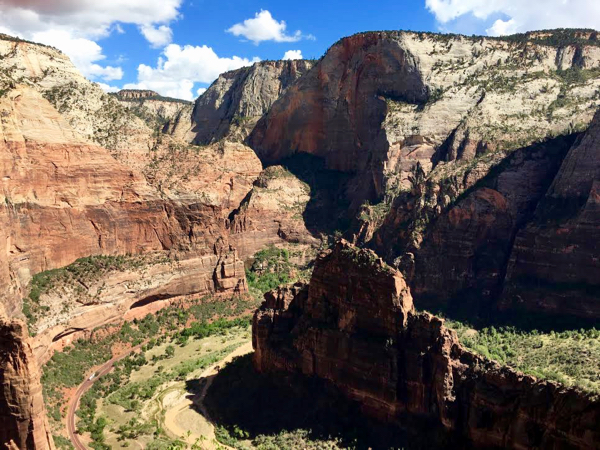 The view from the top of Angel's Landing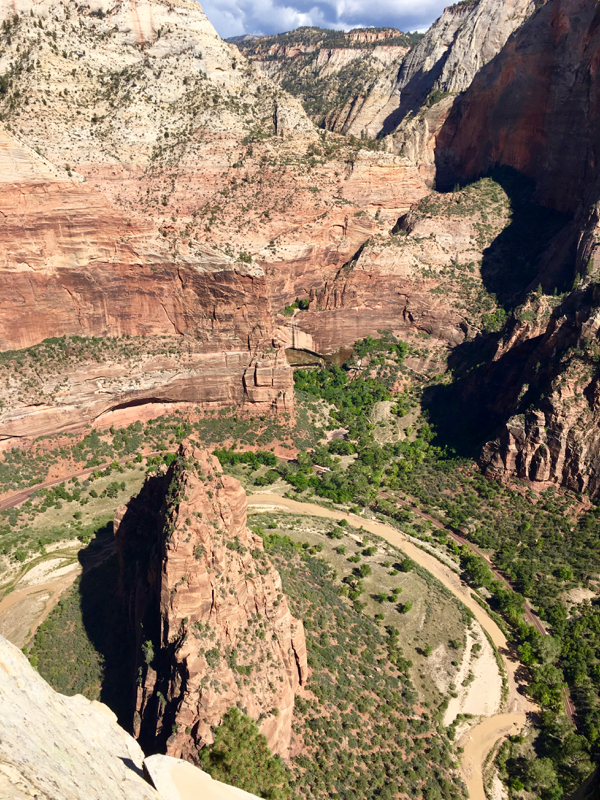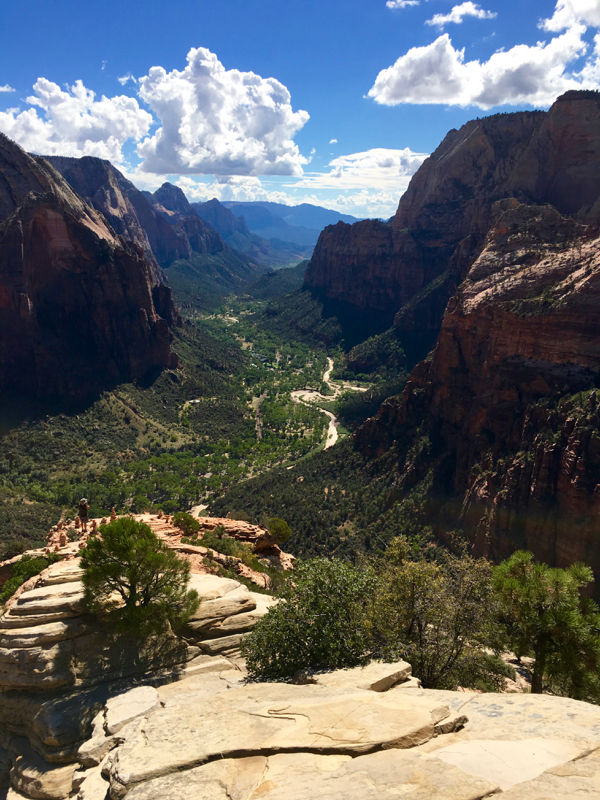 Hidden Canyon (2.4 Miles Roundtrip)
This trail is located literally right across the canyon from Angel's Landing.  It offers scenic views of Zion Canyon, before going straight up into a lush, mini slot canyon up high!
Note: you'll need to hop off of the shuttle at Shuttle Stop 7 (Weeping Rock)
Hiking up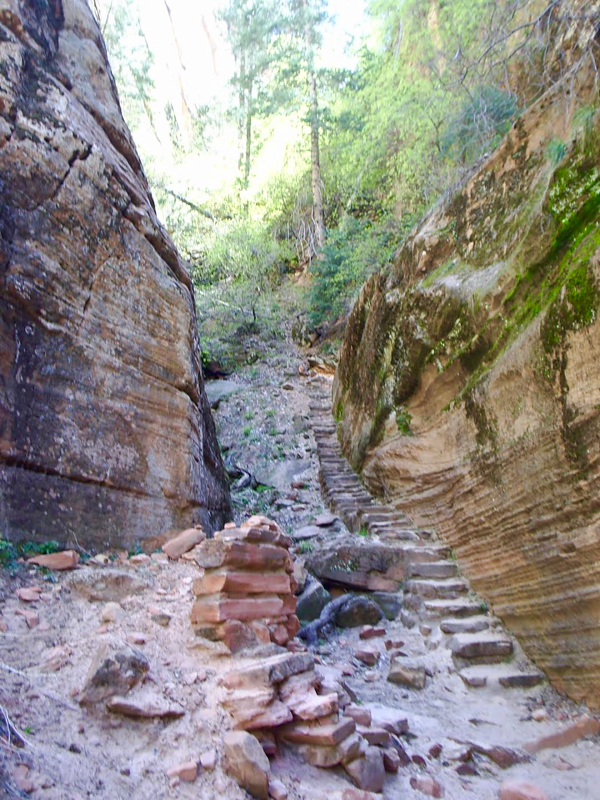 The slot canyon!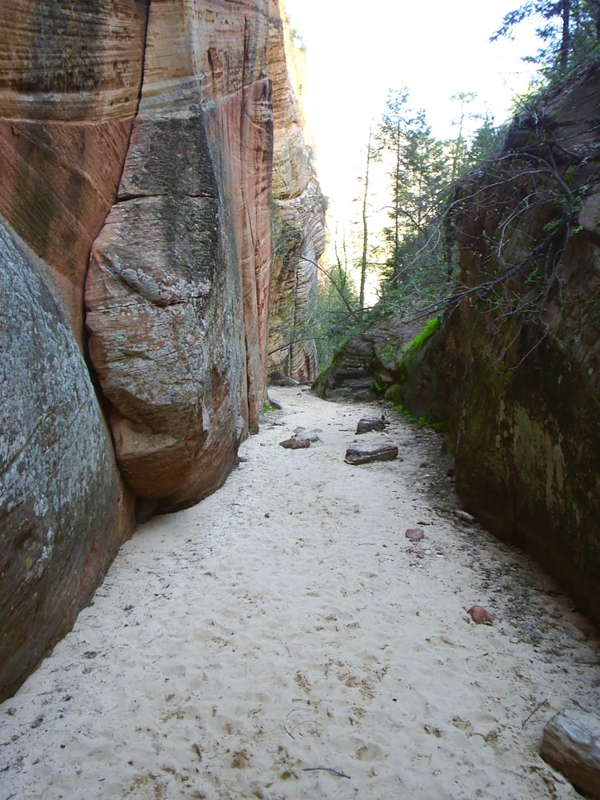 The Narrows Day Hike (2+ Miles Roundtrip)
The Narrows is probably the most scenic, and my favorite of the hikes in Zion National Park!
To do this hike, you start by hiking the 'Riverside Walk', a paved trail that runs between the Virgin River and the cliff walls for 1 mile.  Then, the paved trail ends, and the Narrows begin!  At this starting point, there's a pile of driftwood hiking poles that come in really handy when crossing the river.
So, pretty much, you can hike back for as far as you want to… the beginning of the trail usually tends to be crowded, but once you get back 1-2 miles, things quiet down.
Note: you'll need to hop off of the shuttle at Shuttle Stop 9 (Temple of Sinawava).  It's also the very last shuttle stop.
The Riverside Walk.  Zion Canyon is a lot smaller at this point!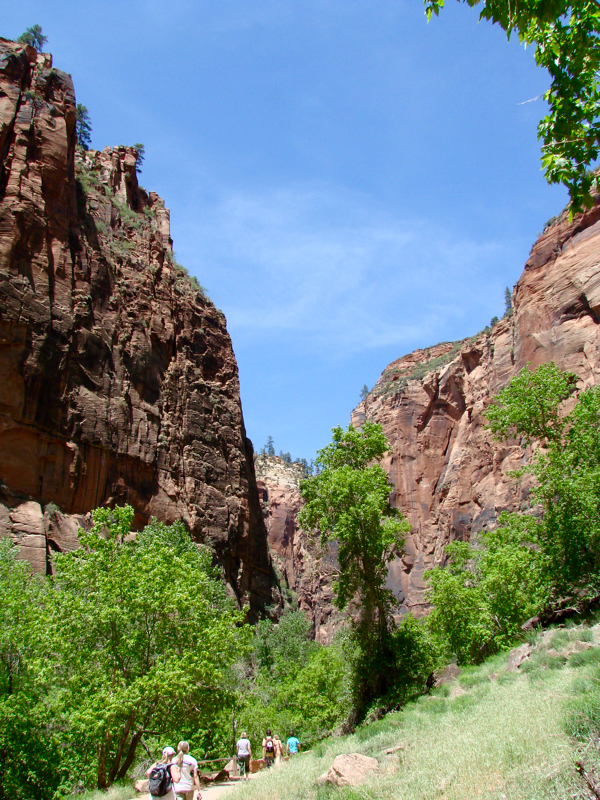 The Narrows, a couple of miles upstream from the endpoint of the Riverside Walk.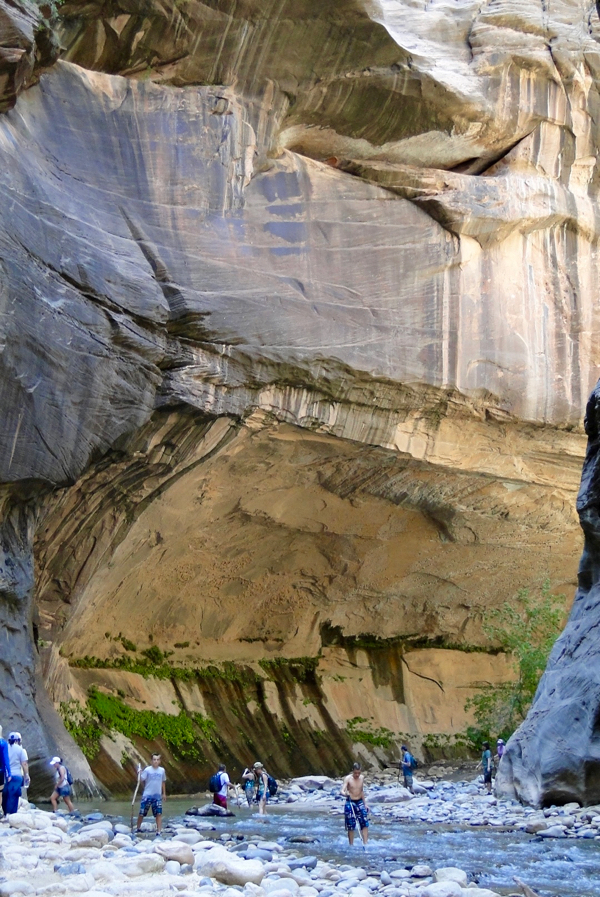 Weeping Rock (0.4 Miles Roundtrip)
Weeping Rock is an overhanging section of cliff that you can walk under, with drops of water that constantly drip down.  The hike there is short and easy.  Really, if you've never seen a rock cry before, here's your chance!
Note: you'll need to hop off of the shuttle at Shuttle Stop 7 (Weeping Rock)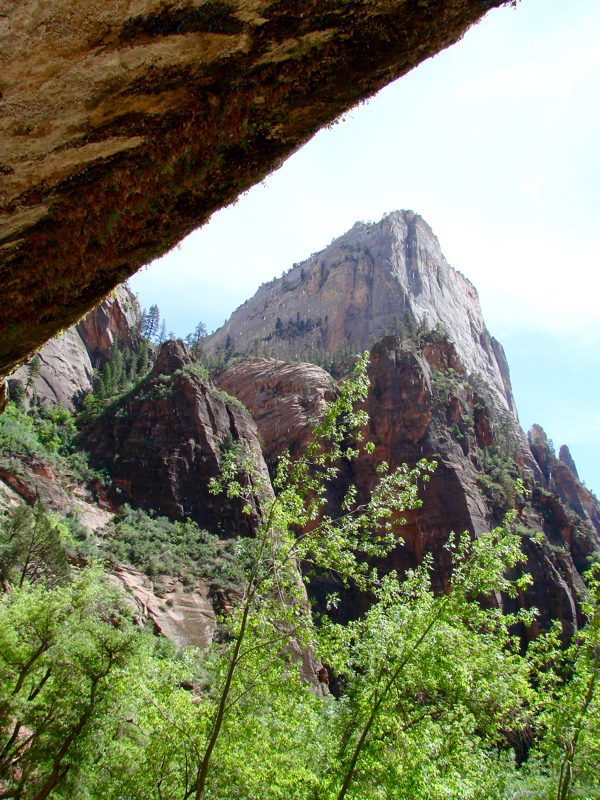 Emerald Pools (1.2-3 Miles Roundtrip)
The Emerald Pools are 2 levels of pools you can visit, connected by a middle trail.
The Lower Emerald Pools are easier to get to – there's only 1.2 miles roundtrip of hiking, with an elevation change of about 70 feet.  There are two streams that run over the cliff face, and the waterfall becomes extremely powerful in spring!  If you don't have very much time, you should stop here and enjoy the falls.
However, if you have more time on hand, I recommend hiking up to the Upper Emerald Pools.  A powerful waterfall tumbles over a towering cliff face, which makes this the much more dramatic of the waterfalls.  To get up to this point, you'll need to hike 3 miles roundtrip, with 350 feet of elevation change.
Note: you'll need to hop off of the shuttle at Shuttle Stop 5 (Zion Lodge).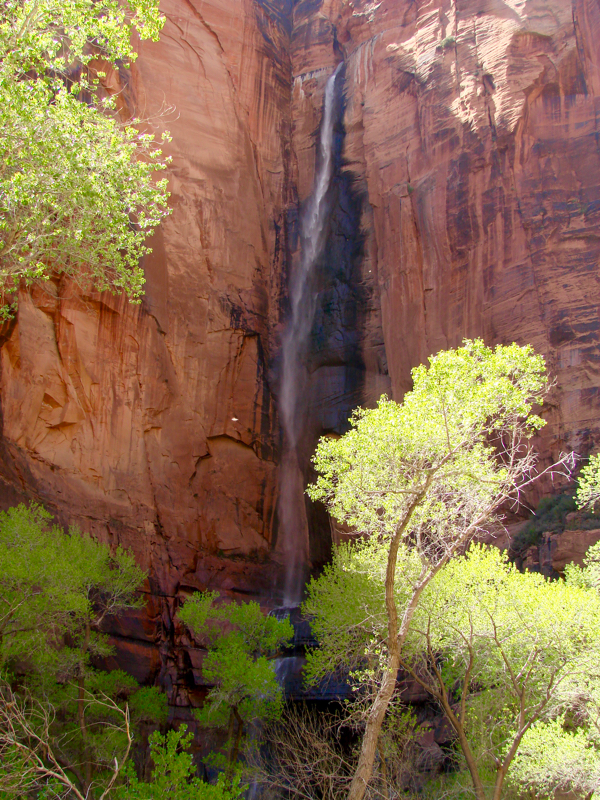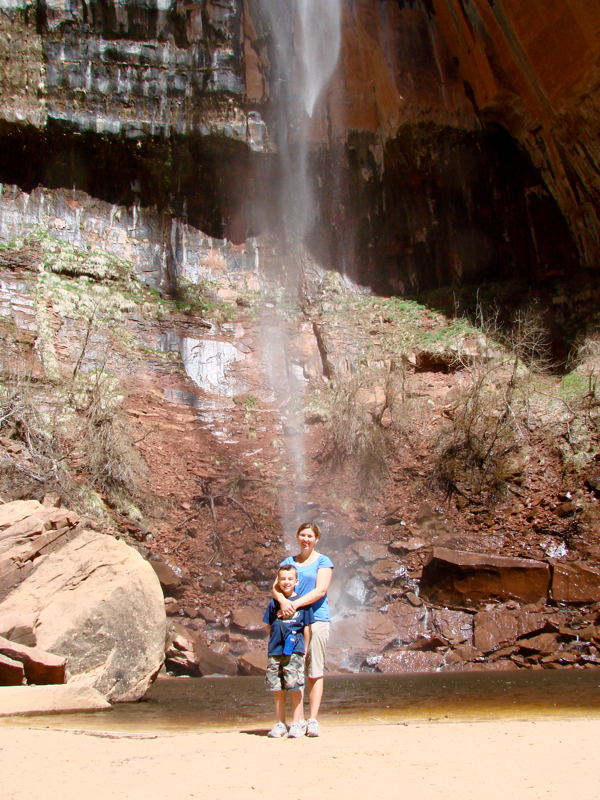 Canyon Overlook Trail (1 Mile Roundtrip)
This short trail offers sweeping views over the steep cliff faces of Zion Canyon.  The trailhead is located along the Zion-Mt Carmel Highway, on the eastern end of the long tunnel.  Overall, it's the perfect introduction, or last hurrah to Zion!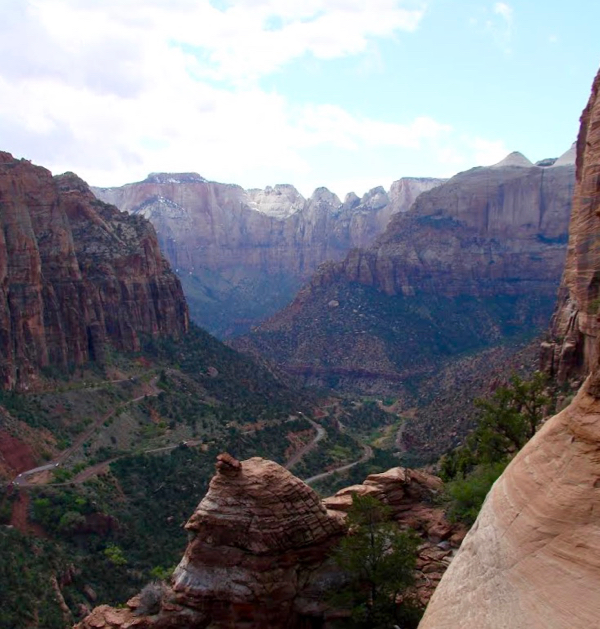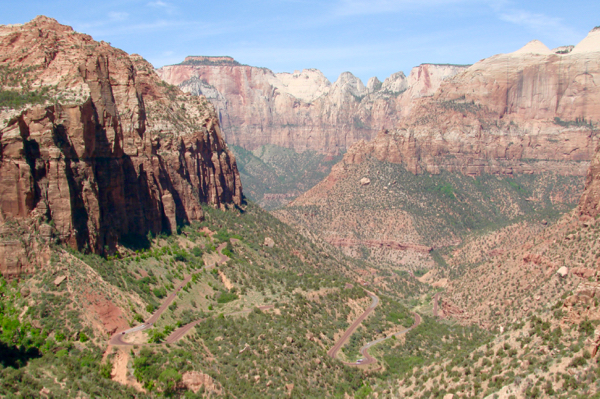 Rock Scrambling (Pull-Off on Road is 4 Miles East of Canyon Overlook Trail, and 0.7 Miles West of Checkerboard Mesa)
If you want some choose-your-own-trail time, you need to check out this epic spot to go rock scrambling off of Highway 9!  After you park at the pull out, on the side of the road, you can go hike in either direction, going wherever you want to!  Just stay off the road, it can be fairly busy. 😉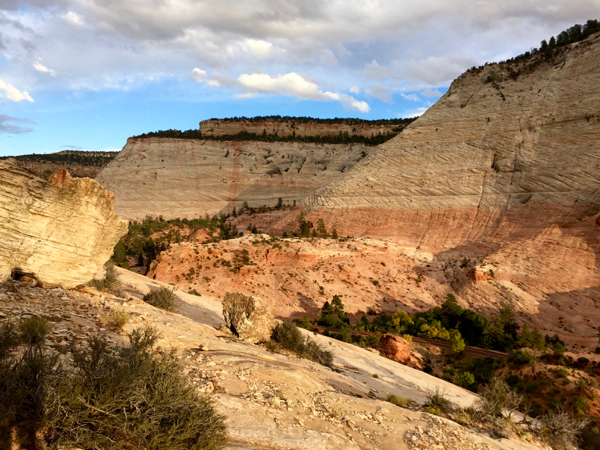 Best Viewpoint at Zion National Park:
Checkerboard Mesa
After your Rock Scrambling session, you can stop by Checkerboard Mesa, a scenic pullout 0.7 miles West of the rock scrambling area.  If the Canyon Overlook Trail is the best 'last hurrah' trail, Checkerboard Mesa is the best 'last hurrah' viewpoint!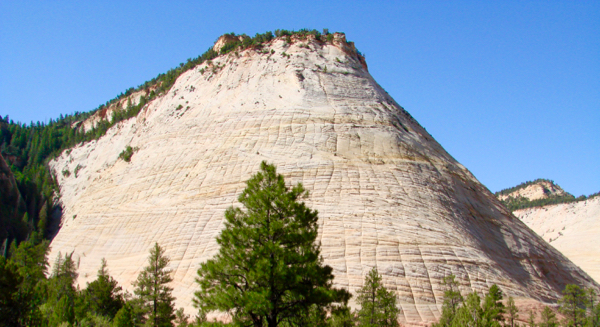 After you see this unique rock, you can continue on to Bryce Canyon National Park, which is about 1 1/2 hours from this point (2 hours from Springdale).  You won't want to miss Bryce Canyon, with it's unique orange and white hoodoos, filling huge natural amphitheaters!
Also, if you're doing a grand tour of Utah's national parks, you definitely want to consider visiting Arches National Park, with endless red rock cliff walls, full of many interesting arches of all shapes and sizes!
Related: Bryce Canyon Travel Tips | Arches National Park Hikes
Now that you've seen these Zion National Park Hikes, keep reading these tips below to help plan your trip there…
Entrance + Things to Know: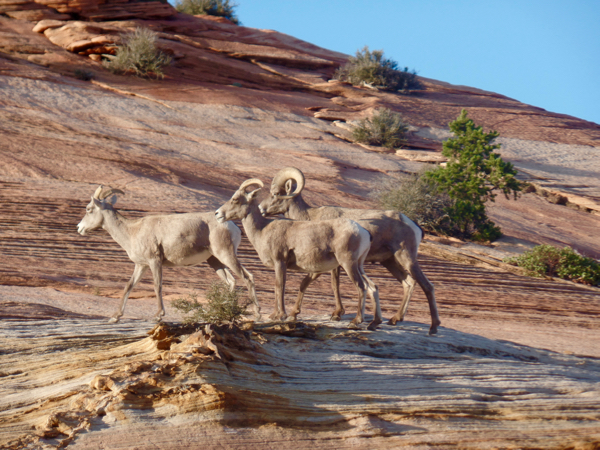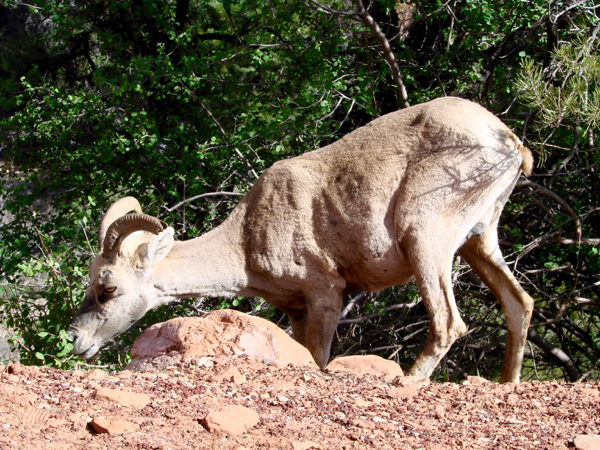 What to Bring to Zion:
Water Shoes (For The Narrows)
Hiking through the Narrows is an amazing experience, but if you're wearing bad shoes, the only thing you'll remember are the blisters you got.  Wearing solid water shoes (like below) will make walking over the slick river rocks so much easier, and you'll have many less blisters!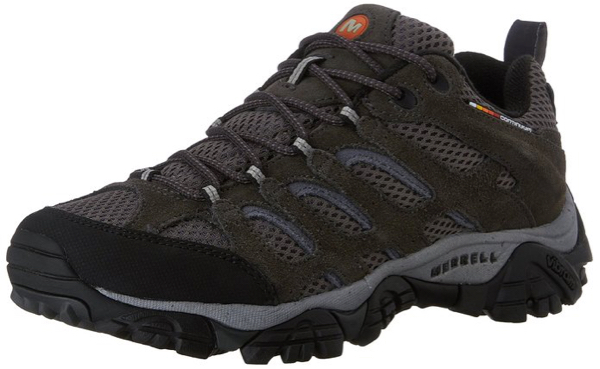 Sunglasses
Basically, if you don't want to spend your entire visit to Zion squinting in the bright sunlight, bring sunglasses along!  After all, you want to see the pretty scenery, right?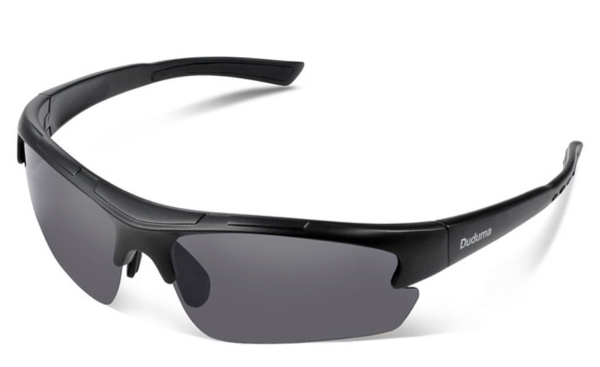 Visor
Speaking of the sun, you should bring a visor along unless you want your face to get very burnt.  It'll help protect your face from the harsh sun!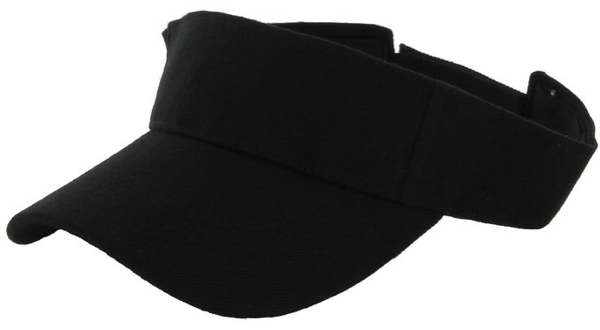 Fleece
At Zion, when the sun goes down, the weather gets cold… and fast.  Even in summertime.  However, if you just bring a fleece along, you can avoid that drama and stay warm!!
A day on the Canyon Overlook Trail, with particularly gloomy weather!  This was taken in early Spring… can you see the patches of snow on the cliffs in the distance?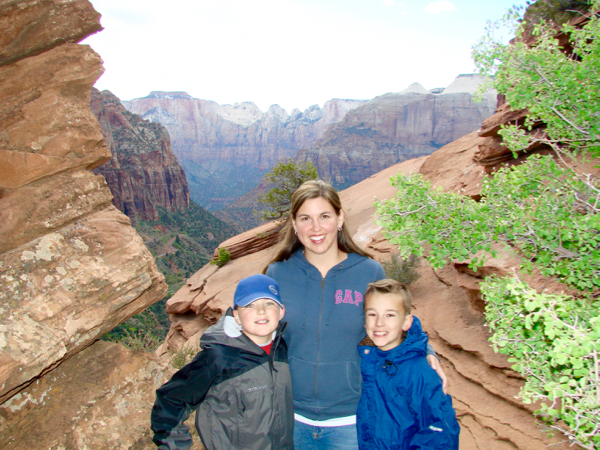 Rain Jacket
Zion may get lots of sunny weather, but often times, there are so many quick and unpredictable thunderstorms that roll through.  What I've learned is that letting 15 minutes of rain ruin your day is no fun – just bring a rain jacket instead!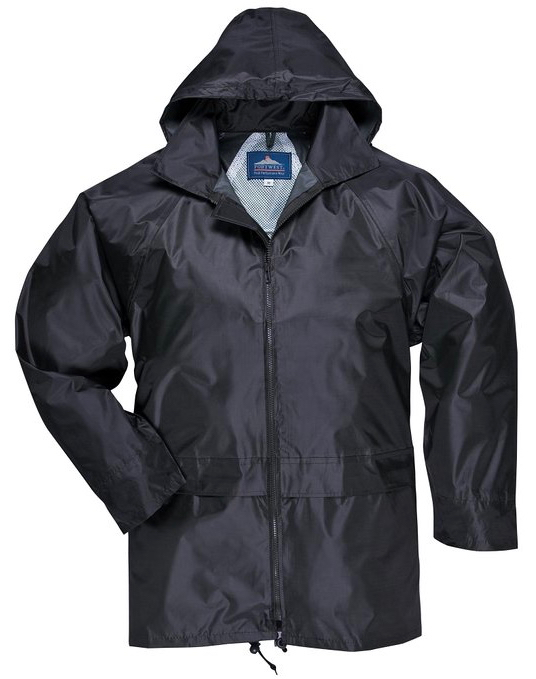 For more handy hiking gear to bring along, check out this Backpacking Gear Guide.  If you're visiting Zion with your baby, check out this useful  Baby Travel Free Stuff.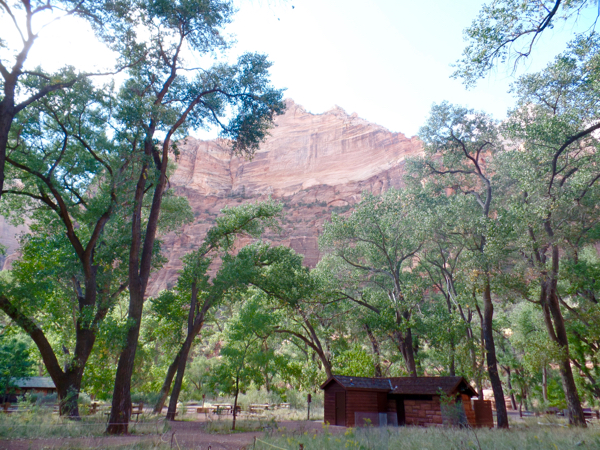 To put it simply, Zion National Park is an amazing travel destination!
From the sweeping views at Angel's Landing to hiking through the Narrows, and the thundering waterfalls at the Emerald Pools… Zion really does have it all.
Now that you've seen these top Zion National Park Hikes + Travel Tips, keep planning your Southwest road trip with these National Park travel tips below!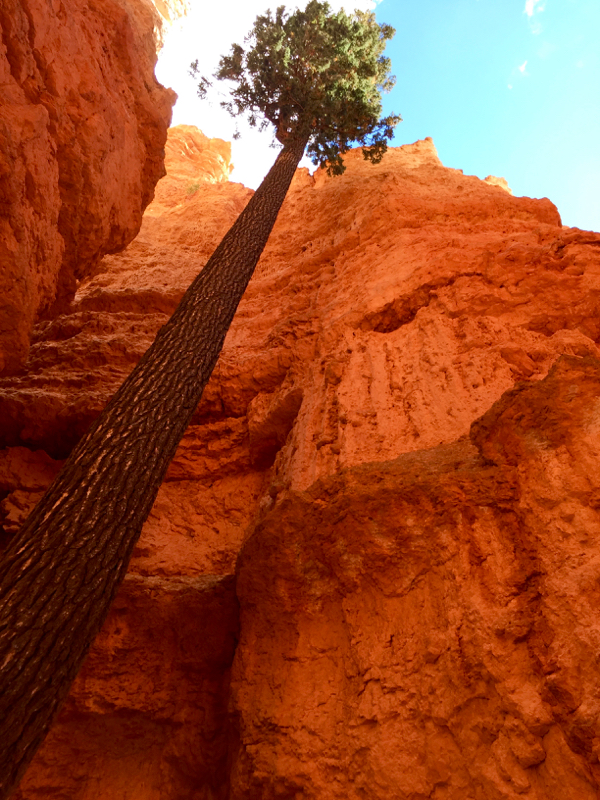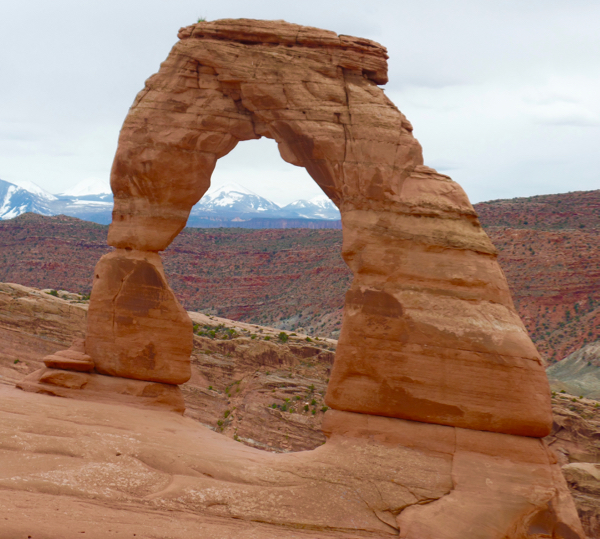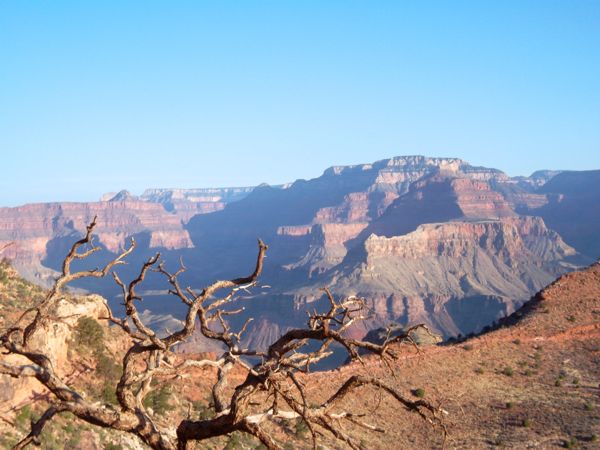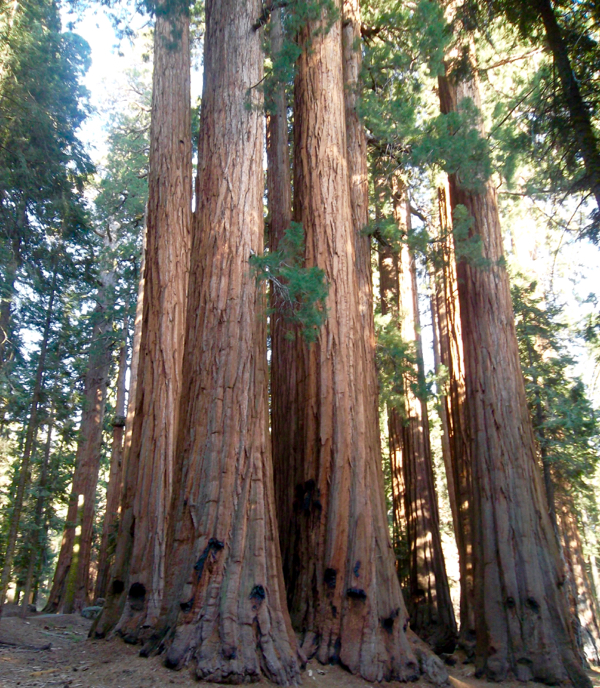 Now that you've seen these Zion National Park Hikes, don't miss out any longer!  Follow along with Never Ending Journeys for more fun Travel Tips and Inspiration!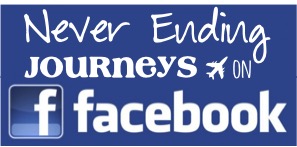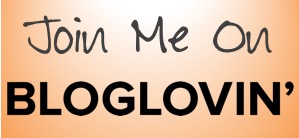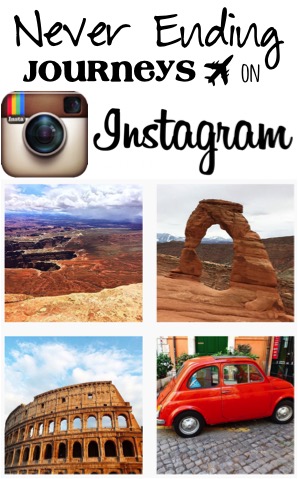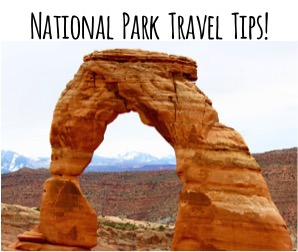 Have YOU ever been to Zion National Park?
What are YOUR favorite Zion National Park Hikes?  Leave a comment & share!